Procedure Time: 30 minutes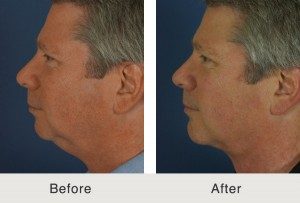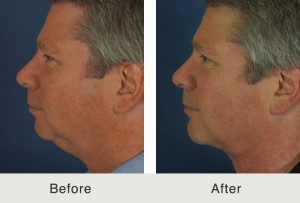 Anesthesia: Topical numbing cream
Recovery: Little to no recovery time
Results: Immediate results
Other information: Procedure reversible and temporary
Other names: Chin enhancement / Liquid chin lift / Chin filler
Remarkable Results, Exceptional Care 
Our injectors, Dr. Kulbersh, Heather Bryant PA-C, and Courtney Whitley, FNP-C at Carolina Facial Plastics are experts in injectable fillers and can help balance your profile with a stronger chin, without surgery. The chin is one of the most important parts of our profile and facial appearance.  When the chin is recessed, undefined, or weak, it can impact our appearance and our self-esteem. A non-surgical chin augmentation using dermal fillers is an option for those who want to try out the look of a chin augmentation without committing to surgery, for those who do not want a chin implant, or for those with minor issues who want to better define their chins and jawline.
What is non-surgical chin augmentation & sculpting?
Chin augmentation using dermal filler is a common procedure performed at Carolina Facial Plastics. This is an office-based, non-surgical procedure that enhances the appearance of the chin and lower face using injected dermal filler. Strengthening a weak chin with filler injections can also help to create a stronger-looking jawline.
What Can
Non-Surgical Chin Sculpting Help Correct?
A chin disproportional to the face

A weak chin or under-projected chin 

A chin without definition

A weakened jawline

The appearance of 'jowling'
What fillers are used during a non-surgical chin augmentation?
The most common types of fillers used at Caroline Facial Plastics for a non-surgical chin augmentation are hyaluronic acid fillers. Among the most popular of these types of fillers include Restylane and Juvederm products. The fillers used most often for non-surgical facial augmentations include: Restylane Lyft, Restylane Defyne, and Juvederm Voluma.  The selection of specific products is patient-dependent and will be discussed during your consultation prior to your treatment.
Can chin augmentation help with my jawline?
Absolutely. Non-surgical chin augmentation extends the projection of the chin by the placement of dermal filler. As a result, there is an outward projection of the skin which can lead to a more defined jawline. Dermal filler can also be added directly to the jawline itself during the same procedure as chin augmentation to help strengthen the appearance of the entire lower face. 
What is the procedure for non-surgical chin augmentation?
A non-surgical augmentation is a customized procedure depending on the needs of the patient. At the time of your procedure, our expert injectors will do a consultation to thoroughly discuss your goals for the procedure so that you both have the same concept of your vision. A topical anesthetic will be applied to the treatment area, then a very small needle or micro-cannula will be used to deliver precise volumes of dermal filler in the targeted areas of the chin and jawline.  The dermal filler also contains a small percentage of lidocaine which helps to reduce any discomfort during and after the procedure. The entire injectable procedure can be performed in-office in less than an hour.
Will the procedure hurt?
The procedure is very comfortable with little to no pain.  We use a topical numbing cream on the skin prior to the treatment, and all of our fillers also contain lidocaine, which is a numbing medication to help minimize discomfort.  In addition, our injectors are experts in cannula use.  A cannula is a needle-less injection technique to create a more comfortable experience and decreases bruising or swelling, allowing the patient to show off their new look faster than they could with traditional needle injections. 
Who is a good candidate for non-surgical chin augmentation?
Dermal filler injections can offer outstanding results for needing only mild to moderate adjustments to their chin.  For patients with a severely recessed or weak chin, a chin implant may be a better option.  Both of these procedures are routinely performed here at Carolina Facial Plastics and can be discussed at the time of your consultation.
Surgical vs. non-surgical chin augmentation … which is better?
This decision is based on the patient's goals, availability for downtime, and general health. Both can be great options for patients. 
Pros of non-surgical chin augmentation:         Cons of non-surgical chin augmentation:
• In-office procedure                                                                                         • Temporary results
• No incisions                                                                                                     • Mild to moderate improvement in contour
• Little to no downtime
Pros of surgical chin augmentation:              Cons of surgical chin augmentation:
• Permanent results                                                                                         • Surgical procedure
• Significant contour improvement                                                               • Incision under the chin 
• Less expensive option in the long run                                                       • Some downtime/recovery required
How long do the results last from a non-surgical chin augmentation?
Dermal filler injected as part of a non-surgical chin augmentation typically last between 6-18 months depending on how much filler and the type of filler that is used.
Why choose Carolina Facial Plastics for your non-surgical chin augmentation?
At Carolina Facial Plastics, you will receive custom-tailored treatment from highly trained professionals who have a deep understanding of the skin and facial structures.  Dr. Kulbersh is a Beverly-Hills trained and double-board certified facial plastic surgeon. He and his expert injectors (Heather Bryant PA-C and Courtney Whitley NP-C) bring a wealth of understanding of both anatomy and aesthetics to every injection they perform. Our injectors can achieve amazing results that are natural-looking and subtle, ensuring that our patients are more than just satisfied.