Chin Implants
It's all about your face. When Charlotte facial plastic surgeon Dr. Kulbersh has a consultation with a patient, his goal is to accentuate each person's natural beauty. He believes this is best accomplished by bringing different areas of the face into proportion. One area that is commonly a concern is the chin.
A harmonious chin is one that is not too big or too small for the face.
When it is too small it can:
Make a man look weak or soft
Create the appearance of a large nose
Shorten the jawline
Create a sagging neck
As a chin augmentation and chin implant surgeon in Charlotte, North Carolina, it's important for patients to remember that it plays an important role in improving the balance and the overall appearance of the face.
In Office Chin Implant at Carolina Facial Plastics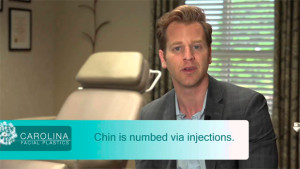 Dr. Kulbersh received specialized Beverly Hills training in facial plastic surgery and he has developed a well-trained eye for facial balance and symmetry, something other general plastic surgeons may not possess. His expertise in facial proportions provides surgery patients with unparalleled results, as he is able to create it to balance your face.
If you are seeking a chin augmentation and chin implant in Charlotte, schedule a consultation with our cosmetic facial surgeon so he can help you achieve the facial appearance you desire.
Advanced Aesthetic Surgery and Exclusive Post-Operative Recovery in Charlotte
Dr. Kulbersh is also the medical director of Fairview Surgical Suites and Fairview Recovery Retreat, two state-of-the-art facilities dedicated to providing patients with advanced surgical treatment followed by post-surgery care in a luxurious 5-star hotel setting.
Both facilities are designed to ensure the best possible results following face and neck surgery. Schedule your chin augmentation and post-operative recovery at Fairview Surgical Suites and Fairview Recovery Retreat today.
Dr. Kulbersh Discusses an Increase in Chin Implants
What is a Chin Augmentation?
Chin augmentation, also know as mentoplasty, is a surgical procedure to reshape it by enhancement with an implant or by moving the jawbone forward. It may be weak due to congenital deficiency, age-related bone absorption or abnormal alignment of the teeth. If it is small because of bone absorption or a patient was born with theirs weak , then a chin implant or non-surgical chin augmentation may be a great option.  If patients have misalignment of the teeth, they may need to consider orthodontic or oral surgery as an additional option to chin implants in Charlotte.
What are the Different Types of Mentoplasty?
There are 2 chin augmentation techniques our cosmetic surgeon can use to improve your facial balance. The different types of mentoplasty in our Charlotte office are implants and non-surgical fillers.
Chin Implants
There are several synthetic chin implant options, including silicone elastomers, ePTFE and porous polyethylene. All of these chin implant options are very malleable and porous, which allow the implant to be held in place by soft tissue, and grow into the existing bone while healing. Dr. Kulbersh prefers to use silicone for chin implants as they can be easily customized to create the ideal shape.  Additionally, should the patient wish to have the procedure reversed in the future, silicone implants can be easily removed.
The incision for a chin implant is hidden in a crease underneath it.  This scar is small and is well hidden for minimal visibility.
Non-Surgical Augmentation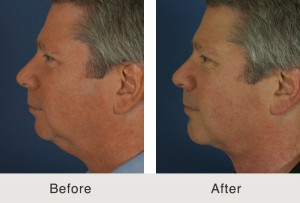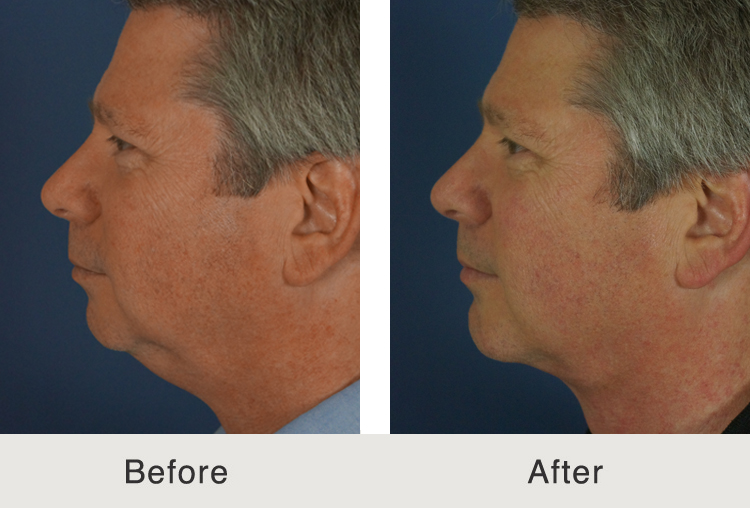 Some patients do not actually require surgery for improvement. Our Charlotte injectable filler expert can use products like Restylane, Perlane or Restylane and collagen stimulator such as Sculptra and Radiesse to make it look larger or improve it if it is recessed . These injectables can even help reduce lines and wrinkles around the upper neck and jawline.
Additionally, our facial plastic surgeon can place fillers in your cheeks, temples or nose to create a more balanced appearance.
For more information on chin augmentation and chin implants, visit medlineplus.gov.
Frequently Asked Questions
Q: Who is a good candidate for Mentoplasty?
A: First and foremost, you must be in good health and have realistic expectations for the outcome of your cosmetic surgery. If yours is receding that is not in balance with the rest of your face, you may be a candidate for a chin implant. On the other hand, if it is too large and overly prominent, you might be a candidate for a chin reduction. Schedule a consultation with our plastic surgeon to find out your  augmentation options.
Q: Can a Mentoplasty be performed with other cosmetic surgery procedures?
A: Yes. In many cases our cosmetic plastic surgeon will recommend additional procedures in order to obtain optimal facial balance. After he examines your face he might also recommend a cheek augmentation, facelift, necklift, rhinoplasty, liposuction, fillers or Botox to create a naturally balanced facial structure.
Q: What is recovery like?
A: After a chin augmentation you will be bruised and swollen for the first 5-7 says. Many patients say the swelling during their chin surgery recovery resembles inflammation from wisdom teeth removal. You will be able to return to work approximately five days after surgery.
Recovery After a Chin Implant
Q:  How long does it take to get a chin implant?
A: The procedure lasts about one hour.
Q: When will I see the final results of my chin augmentation?
A: It takes about three months before you see the true appearance of your new face. The swelling takes time to go down, so do not be alarmed if it is not the size you want it to be right after the surgery.
Q: How long does a chin implant last?
A: Generally, chin implants may last your lifetime. However, in some cases the implant might need to be replaced.
Q: How much does a chin implant cost?
A: The chin augmentation cost varies from patient to patient. To find out your specific surgery cost, schedule a consultation with our facial plastic surgeon.
Q: When can I exercise after mentoplasty surgery?
A: You may start light exercise about one week after surgery and start strenuous physical activity about three weeks after surgery.
Q: Surgical vs non-surgical augmentation: Which is better?
A: This decision is based on the patient's goals, availability for downtime, and general health.  Both can be great options for patients.  For this reason, Dr. Kulbersh in Charlotte will spend time with the patient to explain the pros and cons of each option in a way that is specific to the individual circumstances.
Q: How can I get rid of double chin?
A: Facial liposuction is a better treatment to reduce its appearance Here is more information on facial liposuction.
If you are interested in mentoplasty or chin implants near Columbia, South Carolina, contact Dr. Kulbersh to schedule your consultation.
Next, learn about Forehead and Brow Lift.