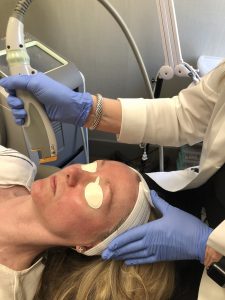 Carolina Facial Plastics in Charlotte offers a wide range of laser and IPL treatment to improve the quality of the facial and neck skin.  To create a comprehensive anti-aging treatment plan, Dr. Kulbersh strongly believes in medical grade skin care regime that includes IPL and laser treatments. These lasers treatment can improve the tone, texture, and fine lines of the entire face and neck, including skin issues that can't be treated with surgery such as unwanted pigmentation. A surgical facelift to tighten and lift the skin combined with a laser treatment for sunspots or fine lines can help achieve a superior result.
These laser treatments can also be done on their own to help resolve skin concerns without surgery, and can be combined with facial fillers or other non-surgical procedures for a completely non-surgical treatment plan. This can be used to prevent facial aging and to improve the quality of skin in both patients with early and more advanced changes to the facial and neck skin.  During your consultation, Dr. Kulbersh and our medical aesthetician, Terri Edson, are experts in facial lasers and can tell you the best combination of skin care treatments for your skin type and goals. Terri has over 15 years of experience and has performed more than 1,000 laser procedures. Her expertise is customizing laser treatments to the precise needs of each of her patients ensures the best possible results every time.
Remarkable Results, Exceptional Care 
At Carolina Facial Plastics, we offer a range of laser modalities to treat different skin concerns. Read below about the different options.
Profound RF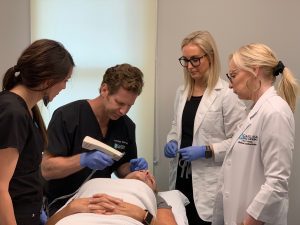 Profound RF (radiofrequency) is great if you're looking to tighten, smooth and contour wrinkled sagging skin, but are not yet ready for a surgical facelift.  Profound uses hair-thin needles that pierce your skin thousands of times, stimulating a wound-healing response. The RF energy travels through the needles to boost the healing response. As your skin repairs itself over the next weeks and months, it grows smoother, tighter, firmer, and more youthful-looking. What's more, you only need one procedure to produce these results. It requires no downtime. Your skin will heal in a week. Afterward, you will start to see results in 2-3 weeks with skin looking tighter and healthier. Full results will appear in 6 months to a year as the skin continues to boost collagen and elastin production.
Subnovii Plasma Pen
The Subnovii™ Plasma Pen is a nonsurgical skin tightening and rejuvenating treatment that enhances the tone and texture of the skin. During your treatment, the Subnovii Plasma Pen directs a steady stream of ionized oxygen and nitrogen gas (plasma) into your dermal tissue. This stream of plasma creates micro-wounds deep within your skin tissue, triggering your body's own healing response. As your skin begins to repair itself, it stimulates cell regeneration and new cell growth that strengthens your connective tissue fibers. As a result, fine lines and wrinkles, sagging skin, acne scars, hyperpigmentation, and other common skin concerns start to diminish. The Subnovii Plasma Pen is an ideal treatment if you're hoping to tighten and improve the appearance of your skin without surgery.
Limelight Intense Pulsed Light Treatments
Limelight Intense pulsed light (IPL) is wonderful at treating pigmentation and vascular issues such as brown spots, broken capillaries, spider veins, and redness. The IPL used at Carolina Facial Plastics has three wavelengths to choose, and it can be customized to treat individual pigmentation issues with the greatest versatility and for the best results. Limelight IPL can be used to treat pigmentation changes of the face, neck, chest, and hands.
Limelight IPL treatments downtime is minimal to non-existent. This laser does not damage the outer layer of skin, but rather penetrates into the dermis to improve skin from the inside out. Following a Limelight IPL treatment, you can resume your daily activities immediately.  Depending on the severity of your skin damage, patients may require 3-6 treatments spaced about 1 month apart.  This treatment is associated with minimal to no pain.  Once desired results are obtained, we recommend a yearly Limelight IPL treatment to maintain the results.
In some cases, we recommend a combination of IPL and chemical peels to get the best results for patients with pigmentary issues.
Skin Rejuvenation with Laser Genesis

Laser For Skin Tightening- Titan Laser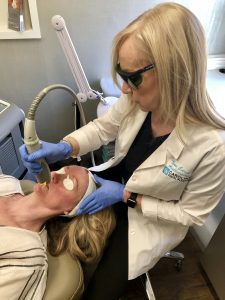 The type of laser we use for skin tightening is the infrared light Titan laser.  The light is used to provide an even energy source to heat the deeper levels of the skin that results in tighter and increasingly firm skin. If you are in the early stages of experiencing skin laxity and want to tighten the skin, this is a good treatment choice.  Its infrared light penetrates beneath the skin to stimulate collagen production, which in turn leads to a tightening, firming, and smoothing effect over time.
The treatment does not involve any downtime, and full results may be seen over a series of 3-6 treatments. How many treatments are needed depends on the individual and their personal goals and condition of their skin.  This treatment involves minimal to no pain.  This type of treatment is commonly used in combination with other treatments to improve the overall results.
Make the Face Glow with No Downtime – Genesis Laser
The Genesis laser is great for subtle rejuvenation of the entire face. It can help treat large pores, uneven skin tone and texture, diffuse redness, and even some shallow acne scars. After a series of Genesis treatments, you can see a noticeable improvement in your overall facial condition, with brighter, clearer, healthier looking skin.
Genesis is a mild, non-ablative laser that requires no downtime. A series of four to six treatments is needed for full results, depending on individual goals and skin condition. The treatment itself is very comfortable, and it is a very popular laser due to its rejuvenating effects, lack of downtime, and great results.  The Genesis laser is a YAG type laser.
A genesis laser treatment is great treatment to have before a big event.  It will instantaneously improve the quality of skin and create the glow of healthy skin.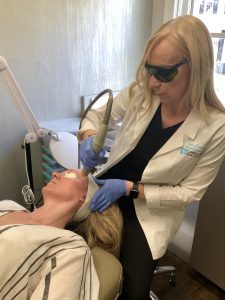 Laser for Fine Lines/Skin Tightening – Pearl Laser
Pearl is an ablative, one-stop laser that can treat multiple skin conditions at once. Fine lines and wrinkles, unwanted pigmentation, and uneven skin tone and texture can all be treated with Pearl, and unlike with non-ablative lasers, only one to two treatments are needed for full results. However, your skin will be red and look sunburnt for up to a week following a Pearl laser treatment, so it's best not to have it right before any major events.
Pearl is a great option for people who want quick results and are okay with a little bit of downtime. It works by removing the outer layer of skin, revealing fresh new healthy skin below. It's a more comprehensive treatment than the other lasers, and the results are more dramatic.
Schedule a Facial or Neck Laser Treatment at Carolina Facial Plastics
If you are interested in a facial laser treatment, call Carolina Facial Plastics to learn more about each individual laser that Dr. Kulbersh and Terri perform and to schedule your consultation to see if any are right for you. Dr. Kulbersh is a double board-certified facial plastic surgeon who trained in Beverly Hills with some of the best, most renowned facial plastic surgeons in the world, and now he's bringing his expertise to the North Carolina community.  Our office is located in the Southpark region of Charlotte. Learn more about lasers as well as all of the other services offered at Carolina Facial Plastics call (704) 842-3644 or fill out the online contact form.
Next, read about laser facial resurfacing.