Cheek Augmentation in Charlotte Overview
Treats: Cheeks that lack or have lost fullness and definition
Length: 15 minutes to two hours, depending on the procedure performed
Anesthesia: None for fillers or fat, awake for implants
In/Outpatient: Outpatient
Side Effects: Mild bruising or swelling with fillers or fat, which may persist for a few days. Surgical side effects include bruising, swelling and tenderness for the first week after the procedure.
Risks: Anytime a patient has surgery, there is a risk of bleeding, infection, scarring, or side effects from anesthesia.
Recovery: Patients return to regular activities immediately following fillers or fat transfer. Surgical implants require a few days of downtime.
Duration of Results: 6-12 months for fillers. Fat transfer lasts up to three years and cheek implants can be permanent.
Remarkable Care, Exceptional Results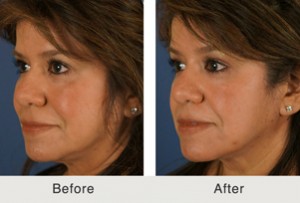 Testimonial
"I have always had a lovely experience at Carolina Facial Plastics and so happy with my recent visit with Heather Bryant. She has the best skill and quality of Botox injections and cheek filler. The results are beautiful and natural. The entire staff is consistently welcoming, knowledgeable and professional. Thank you for your work! I highly recommend Carolina Facial Plastics."
-watchm, RealSelf
Video
Frequently asked questions