Necklift
It's all about your neck. The neck is one of the first areas to show signs of aging. Skin becomes saggy and fat deposits appear on this area as we age, sometimes resulting in "turkey neck".
A necklift, also called a lower rhytidectomy, revitalizes the appearance of your neck and throat. Compared to a traditional facelift, this fat removal cosmetic procedure in Charlotte is a less invasive procedure, requires smaller incisions, and only improves the neck.
Dr. Jonathan Kulbersh has received extensive training from renowned cosmetic plastic surgeons in Beverly Hills and utilizes advanced surgical techniques to provide patients with natural-looking skin tightening results. If you are considering a necklift surgery, schedule a consultation with the top cosmetic plastic surgeon in Charlotte, North Carolina today.
What is Dr. Kulbersh's Philosophy for Necklift Surgery?
Dr. Kulbersh in Charlotte knows that everyone ages differently, and therefore provides his patients with a customized neck lift treatment plan. The goal of a lower rhytidectomy treatment is to erase the signs of sagging neck skin, reduce turkey neck, and leave patients with a beautiful throat and neckline.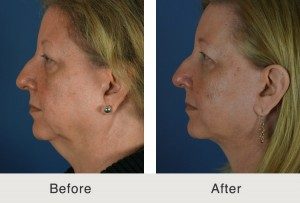 As part of his customized face and neck treatment plan for tightening your neck skin, Dr. Kulbersh provides patients with the option to not undergo general anesthesia during the procedure. Instead, this cosmetic surgery treatment can be done under local anesthesia in order to meet the individual needs of each patient. During the procedure, a patient will receive medications to help him or her relax and will feel little discomfort during the treatment.
In addition, forgoing general anesthesia in favor of localized anesthesia may result in a quicker recovery time following a lower rhytidectomy treatment. Regardless of the type of anesthesia, the surgery is performed at the same location.
Surgical and Non-Surgical Necklift Options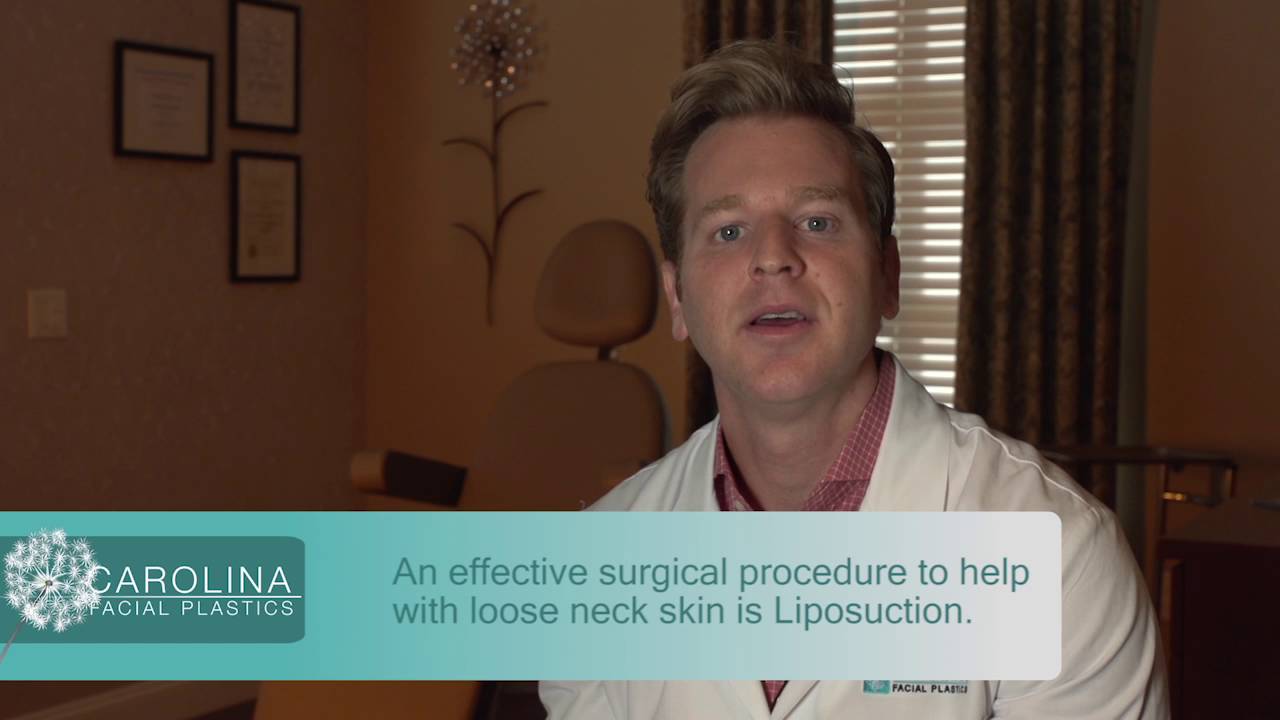 Who is a Good Candidate for a Lower Rhytidectomy?
Those who have loose skin on their necks that have lost its elasticity and have developed a "turkey neck" will benefit most from a necklift surgery. Our cosmetic surgeon will develop an appropriate fat removal treatment plan to correct your unique trouble zones for sagging skin.
How is a Neck Skin Tightening Treatment Performed?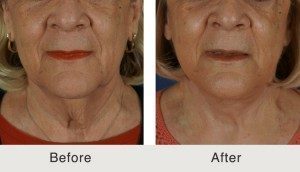 In all of his neckline skin tightening procedures, Dr. Kulbersh believes lifting the deeper tissues, such as the SMAS, and not just the sagging neck skin, provides natural and long-lasting results.
Using what he calls the "hammock maneuver," as it is similar to tightening the sides of a hammock, our expert cosmetic surgeon begins the neck lift surgery by making a small incision that will be hidden underneath the chin. Next, he identifies and tightens the platysma, the muscles of the throat region, to give an angled jawline.
Finally, The cosmetic surgeon tightens the deeper tissue at and around the lower part of the ear to pull up the sagging tissue underneath the jawline and chin. This technique results in a smooth and very defined jawline.
Many patients will also opt to have excess fat on the neck and jowls removed with liposuction at the same time as the surgical necklift to produce optimal results. More information about improving the appearance of your neckline can be found here.
How to Angulate the Neckline During a Facelift

What is Recovery Like?
After surgery, our cosmetic surgeon in Charlotte will apply a dressing to protect the surgery area that will be removed the following day. The procedure is not particularly painful, but pain and anti-nausea medications will be prescribed. Patients should expect one to one and a half weeks of neck lift recovery time.
For more information on neck lift surgery, visit clinicaltrials.gov.
Exclusive Surgical Center and Comprehensive Post-Operative Care
In order to provide patients with expert cosmetic surgical treatment and 24/7 post-operative care, Dr. Kulbersh opened Fairview Surgical Suites and Fairview Recovery Retreat. Whether undergoing a neck lift or other elective aesthetic procedure, patients can expect advanced treatment from board-certified surgeons and around-the-clock post-surgical care in a private, luxurious hotel-like setting.
Schedule your neck lift procedure and recovery at Fairview Surgical Suites and Fairview Recovery Retreat today.
Frequently Asked Questions
Q: What are the limitations of a neck lift?
A: While a surgical lower rhytidectomy can tighten sagging skin, reduce turkey neck, and produce a beautiful jawline, it cannot erase sun damage. Many patients in Charlotte decide to also have a chemical peel or laser resurfacing treatment to remove sun damage and age spots. Combining a neck lift surgery and a chemical peel or laser treatment will give patients optimal results.
Q: How long does a lower rhytidectomy last?
A: The results of a neck tightening surgery can last for approximately 10 years. Keep in mind that you will continue to age, so it is not possible to completely stop the skin on your neck from losing elasticity. If you maintain a healthy lifestyle and protect your skin from sun damage, you can extend the length of your necklift results.
To schedule a neck lift treatment consultation with expert plastic surgeon Dr. Kulbersh in Charlotte, North Carolina, contact our office today.
Next, learn about Chin Implants.