Necklift Overview
TREATS: Aging symptoms under the chin and around the neck, such as skin laxity, submental fat, and horizontal banding
LENGTH: Varies from 2-4 hours
ANESTHESIA: Asleep or awake
IN/OUTPATIENT: Outpatient
SIDE EFFECTS: Patients may experience swelling, bruising, and slight bleeding.
RISKS: Whenever a patient has any type of surgery, there is a risk of bleeding, infection, scarring, or side effects from anesthesia.
RECOVERY: Most patients return to daily activities one week after a neck lift. Some patients choose to take two weeks off. Patients are encouraged to start walking and doing light exercise two weeks after surgery. Full exercise can start 4-6 weeks after surgery.
DURATION OF RESULTS: 10+ years
Remarkable Care, Exceptional Results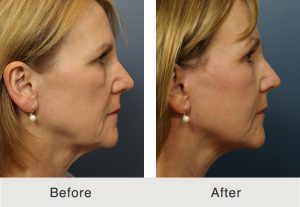 Testimonial
"A+, Grand Slam, a master of this art, the consummate, highly skilled professional with a great support staff. As a 62yo female, I was looking tired; hollow under my eyes, a chin like a turkey & the jowls of a French bull dog. After careful research & consideration, I went into see Dr. Kulbersh for a consult. He impressed me with his first question, "What do you not like about your face…"almost everything" I thought, not really, but close. Three weeks post op of a mini face lift, lipo under the chin & fat grafting, I am healed & looking refreshed, perfect symmetry, with no bruising or scars. I could not be more pleased with the results. He is a true master of this art."
LTeS, RealSelf
Video
Frequently asked questions
While a surgical lower rhytidectomy can tighten sagging skin, reduce turkey neck, and produce a beautiful jawline, it cannot erase sun damage. Many patients in Charlotte decide to have a chemical peel or laser resurfacing treatment in addition to surgery to remove sun damage and age spots. Combining a neck lift with aesthetic procedures that rejuvenate the skin often offers patients optimal results.
The results of a neck lift can last for approximately 10 years. Keep in mind that you will continue to age, so it is not possible to completely stop the skin on your neck from losing elasticity. If you maintain a healthy lifestyle, use medical-grade skincare, and protect your skin from sun damage, you may be able to extend the length of your neck lift results.
You may be a candidate for a neck lift if you have noticed substantial signs of aging in this area. Symptoms might include horizontal banding, skin laxity, the formation of a "turkey wattle," or small accumulations of fat around the neck, chin, and jawline.