Middle Eastern Nose Job in Charlotte, NC Overview
Treats: Size, shape, and asymmetry of the nose
In/Outpatient: Outpatients
Side Effects: Swelling, bruising, slight bleeding, and nasal congestion
Risks: Common risks of any surgery include bleeding, infection, scarring, or side effects from anesthesia
Recovery: 1-2 weeks - some swelling can linger for up to one full year
Duration of Results: Permanent
Middle Eastern Nose Job Before and After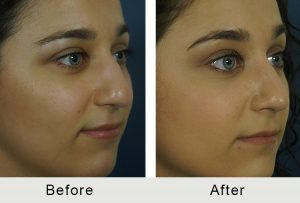 Testimonial
I had wanted a rhinoplasty for over ten years and had a handful of consultations with other cosmetic surgeons by the time I walked into Dr. Kulbersh's office at CFP. After my consultation I finally felt comfortable enough to schedule the procedure! Dr. Kulbersh took the time to truly understand what I wanted and kept me informed every step of the way. The facility is beautiful and clean. And the staff is amiable and professional. I underwent surgery in November and have had 2 or 3 follow-up appointments since. I would absolutely recommend CFP to anyone.
C.laneharris, RealSelf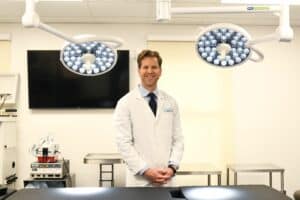 Dr. Kulbersh is the double board-certified facial plastic surgeon that heads up Carolina Facial Plastics. He trained under world-renowned plastic surgeon Dr. Paul Nassif in Beverly Hills, where he studied a wide range of rhinoplasty techniques. His goal for all types of ethnic rhinoplasty is to create natural improvement in the shape and size of the nose while preserving the patient's heritage.
Dr. Kulbersh performs all of his surgeries at his private and accredited Fairview Surgical Suites. Patients may also choose to spend some of their recovery time at Fairview Recovery Retreat, a luxurious center where patients receive round-the-clock nursing care in a luxurious, resort-like setting.
Patients may have a variety of reasons for pursuing Middle Eastern rhinoplasty, including:
Dorsal hump
Droopy tip
Hanging columella
Bulbous tip
Armenian, Arab, Persian, Lebanese, or Iranian noses may have large profiles. They also commonly have a downward-sloping curvature of the bridge. It's typical that they also have nasal tip issues, including a bulbous or hanging tip.
Yara, Arabic, Turkish, and noses commonly have thicker skin and excess fatty tissue. They also can typically have a long or high bridge. Nasal humps and wide bones may also be issues patients wish to resolve. Tip issues are common as well, including having a droopy tip or imbalanced nostrils.
Dr. Kulbersh can address all of these concerns, altering the nose shape, size, and profile to create a more aesthetically pleasing appearance with respect to a patient's ethnicity.
If you're in good health and wish to improve your nasal bridge or tip with surgery, you may be a good candidate for this procedure. Having a positive outlook and realistic expectations is also vital to having a successful experience. Female patients over the age of 15 and male patients over 16 typically have the emotional maturity and facial development to undergo nose surgery.
Learn more about rhinoplasty here.
Dr. Kulbersh has helped hundreds of patients improve their appearance with a customized rhinoplasty procedure. Contact us to schedule your consultation today to learn more about your options in Middle Eastern rhinoplasty.
Frequently asked questions