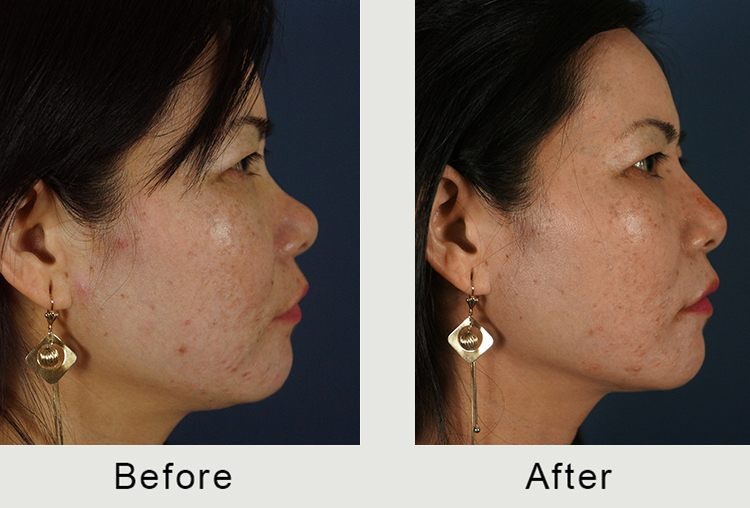 The nose plays a pivotal role in establishing the symmetry and character of the entire face. Even the most subtle bump or curvature can alter one's appearance and beauty. Thankfully, gone are the days of having only one option for achieving a nose that fits the face. Now, dermal fillers provide numerous options for contouring and reshaping the nose in a matter of minutes without the recovery period typically needed after a rhinoplasty.
How Do Dermal Fillers Reshape the Nose?
A non-surgical rhinoplasty is a relatively quick procedure that is performed in-office and requires only a few injections at strategic points in the nose. Prior to the procedure, a numbing cream is applied to the injection sites to help reduce any discomfort. In most cases, a non-surgical rhinoplasty takes only 10 to 15 minutes in order for the soft dermal filler gel to be injected and shaped by the doctor. Dermal fillers can smooth and contour sharp angles, fill in indentations, straighten a crooked bridge, or soften the curved tip of the nose. When strategically placed by a skilled injector, such as Dr. Kulbersh, dermal fillers can provide subtle, natural looking results.
Which Fillers are Best for a Liquid Nose Job Procedure?
There is a wide variety of injectable fillers available to lift and contour almost every part of the face, but some fillers are better suited to non-surgical rhinoplasty than others. Dr. Kulbersh prefers to use hyaluronic acid-based dermal fillers, such as Juvéderm and Restylane, because they are safe, non-allergenic, temporary, and can be dissolved in the event that a patient wants to get permanent results with surgery.
Hyaluronic acid is a substance that can be found in the skin and connective tissues of the human body. When injected as a dermal filler, hyaluronic acid not only adds volume, it also attracts moisture, which helps keep the skin hydrated and healthy.
Which Common Concerns Can Dermal Fillers Correct?
Dermal fillers are incredibly versatile and can be used to shape and contour the features of the nose in so many ways. The most common issues that a non-surgical rhinoplasty can correct include:
Asymmetry – While most facial features are not completely symmetrical, a noticeably asymmetrical nose can detract from one's appearance. A non-surgical rhinoplasty can provide the subtle changes necessary to create symmetrical results.
Nasal Bump – A pronounced nasal bump along the bridge of the nose can make the nose appear crooked or hooked. Dermal fillers can be placed above and below the bump to create an even, straight line that is flattering and more refined.
Crookedness – Dents or depressions can make the nose look very asymmetrical, however, dermal fillers can correct these incongruities and provide a smooth, even surface or structure.
Poorly Defined Nasal Bridge – A flat or wide nasal bridge can be lifted with dermal fillers to provide more defined features.
Upturned or Wide Nose Tip – If the nasal tip curves upward or does not come to a narrow, rounded point, a non-surgical rhinoplasty can subtly reshape the end of the nose for a natural, elegant look.
Flawed Results from a Previous Rhinoplasty – In the event that a previous surgical rhinoplasty did not provide the ideal results, the flaws can be improved with dermal fillers.
To see more examples of what can be done to improve the appearance of your nose, click here for our Rhinoplasty Before & After Gallery.
Choosing Between a Dermal Filler and Surgical Rhinoplasty
A non-surgical rhinoplasty is often an ideal alternative for patients who are looking to make changes or want to see the difference that a surgical nose job may be able to provide. For example, a patient may be reluctant to undergo an operation to correct a noticeable bump along the bridge of his or her nose, but a few filler injections can provide the alterations without the anxiety and commitment of a traditional surgery.
Additionally, hyaluronic acid fillers, such as Juvéderm and Restylane, typically provide results for nine months to one year. However, in the event that a patient is not satisfied with a non-surgical rhinoplasty, hyaluronic acid can be safely dissolved without any negative side effects. The temporary effect of facial fillers can give patients the freedom to see results in much less time than a traditional nose job, as well as the option to make the full commitment to undergo a rhinoplasty once they see the results they want. Hyaluronic dermal fillers may be dissolved from the nose in order to proceed with surgery.
Schedule a Consultation Today
As a double board-certified facial plastic specialist in Charlotte, Dr. Jonathan Kulbersh has years of experience and training in enhancing his patients' facial features both surgically and non-surgically. To learn more about facial injectables and non-surgical rhinoplasty, please schedule an appointment at Carolina Facial Plastics today.
Next, read Facelift 101: What You Need to Know