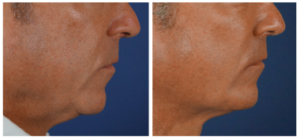 One of the most common questions I'm asked at my practice in Charlotte is how a sagging neck can be improved. As individuals get deeper into the aging process, the skin near the jowls, under the chin, and on the neck begins to become less and less firm each year. To help my patients overcome what has been dubbed a "turkey neck," I often suggest a few different neck rejuvenation treatments dependent on what type of the aging process the patient is in and what their ultimate goals are.
Necklift
If a patient comes to me and is experiencing severe sagging in their neck, the best option is almost always a surgical necklift to trim away excess skin and fat. At my practice in Charlotte, I believe that the best necklift results can be seen through lifting the deeper tissue and not just correcting the saggy outer layers. This not only brings a more natural result to my patients, but also ensures that they see longer lasting results for as many as ten years. After undergoing a necklift, patients can expect to feel better and be back to their everyday activities in just under two weeks. To learn more about necklifts, visit clinicaltrials.gov. Find out if you might be a good candidate for a necklift.
Facial Liposuction
Even with diet and exercise, sometimes certain parts of our body don't seem to lose all of the extra weight we're carrying. For patients who are experiencing a sagging neck due to excess fat in the area, I often suggest they undergo a procedure called facial liposuction. Facial liposuction works to effectively remove additional fat from the neck and lower face or chin to bring better overall symmetry and proportion to the area. When I perform this procedure for my patients in Charlotte, I aim to improve the appearance of the face by contouring it to look more youthful while still maintaining a natural look. To help minimize recovery for my patients, I can perform the procedure under local anesthesia and use a cannula to gently remove fat without causing any additional trauma to the area.
Liquid Necklift
For patients who don't want to undergo a procedure that requires any sort of incision, a liquid necklift can be a great option for the right individual. If I see a patient who is in the early process of neck aging and is experiencing minimal sagging and elasticity problems, I often suggest that these cosmetic problems be treated with a combination of facial fillers and Botox. Fillers are best used to help define the jawline.  Adding volume to this area with fillers such as Restylane, Juvéderm, and Perlane defines the jawline and also pulls up the neck skin.
Schedule Your Consultation With Dr. Kulbersh Today
If you're beginning to show signs of neck or lower facial aging, as an experienced Charlotte facial plastic surgeon, I can help you overcome these initial signs with several different surgical and non-invasive procedures that aim to correct your problem areas, all which are individually catered to the needs of each patient. To learn more about whether or not you might be a good candidate for neck rejuvenation, please call (704) 842-3644 to schedule your initial consultation. Remember, taking the initial steps to conquer the aging process early on may help reduce the amount of damage done to your skin as you continue to age.
For more information about how I help my patients see a youthful and natural neck, please contact Carolina Facial Plastics today.