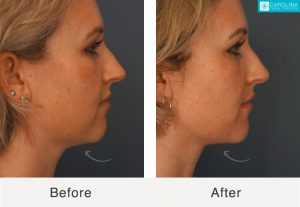 Despite a good diet and exercise routine do you still have excess fat around your neck, chin or cheeks? If you have stubborn fat that you can't seem to lose no matter how well you eat or how much you exercise, facial liposuction might be an effective treatment for you.
Remarkable Results, Exceptional Care 
Dr. Kulbersh uses advanced liposculpture techniques to provide you with the best results possible. He uses a special instrument, called a cannula, which is much thinner that older liposuction instruments, and allows Dr. Kulbersh to artistically sculpt the area of his face he is treating. Dr. Kulbersh's advanced techniques result in less down time and less scarring.
What is Liposuction for the Face?
Facial liposuction effectively removes excess fat from areas on the face and neck. This procedure can eliminate signs of aging, re-contour your face and bring your features into better proportion with the rest of your face. 
Chin and neck liposuction procedures can improve your appearance by removing your double chin, jowls or turkey neck. Facial liposuction can also improve the appearance of your face by contouring it so that it looks more youthful. The results of facial lipo will naturally change the look of your face and neck. Your friends and family will simply think you have lost a few pounds!
 Who is a Good Candidate for Facial Lipo?
Patients who are in good overall health but have fatty areas on the face that are resistant to diet and exercise are good facial liposculpture candidates. Keep in mind that facial lipo is not meant to be used as your sole form of weight. It is a procedure to sculpt "trouble areas" that are unresponsive to your diet and exercise efforts.
What Areas Can Facial Lipo Treat?
Dr. Kulbersh can perform liposuction procedures on the following areas on the face and neck:
Sagging jowls
Turkey neck or double chin
Excess fat around the neck
During your consultation with Dr. Kulbersh, he will assess your face and your trouble zones to determine which areas will benefit from liposuction.
How is Facial Liposuction Performed?
Facial lipo is a minimally invasive procedure and is generally performed under local anesthesia. The areas of fat that you want to be removed will be isolated and then treated with anesthesia.
Dr. Kulbersh will make small, hidden incisions. He uses a cannula to gently remove the excess fat.
While some patients elect to just have facial liposuction, others choose to have it performed in conjunction with other facial plastic surgery procedures. Dr. Kulbersh commonly performs facial liposuction in conjunction with a facelift or facial implant procedures.
Advanced Aesthetic Surgery and Exclusive Post-Operative Recovery in Charlotte
For the best possible facial lipo treatment and recovery, Dr. Kulbersh opened Fairview Surgical Suites and Fairview Recovery Retreat. The two state-of-the-art facilities are dedicated to providing patients with advanced surgical procedures followed by post-surgery healing in a luxurious 5-star hotel setting.
Schedule your facial liposuction and post-operative recovery at Fairview Surgical Suites and Fairview Recovery Retreat today.
Visit medlineplus.gov to learn more about your next facial liposuction procedure.
Facial Lipo Frequently Asked Questions
Q: Does facial lipo hurt?
A: You will be under anesthesia during your procedure so you will not experience any pain.
Q: How many facial liposuction procedures will I need?
A: In most cases, a patient will only need 1 facial lipo treatment. During your consultation with Dr. Kulbersh he will determine how many treatments you will need to achieve optimal facial contouring results.
Q: What should I expect from facial liposuction recovery?
A: Recovery from face liposuction is relatively minimal. You will wear a snug elastic dressing over the treated area for a few days, and possibly at night for a few more weeks. You will need to ice your face for a few days to alleviate pain, bruising and swelling. Most patients return to their normal daily activities 2-4 days after the procedure.
Q: When will I see the results of my facial lipo?
A: Patients generally begin to see facial lipo results within 6 weeks of the procedure. But it takes 6-12 months to see the full results.
Q: How much does facial liposuction cost?
A: The cost of lipo for the face varies from patient to patient. Your cost will depend on the area(s) you are having treated and how much fat needs to be removed. To get a better estimate your price of liposuction schedule a consultation with Dr. Kulbersh.
Q: Will fat come back after I have facial lipo?
A: No. Facial lipo permanently removes your unwanted fat cells. However, if you do gain weight, the fat cells that are present will grow larger.
If you are interested in facial lipo in Charlotte, schedule a consultation with Dr. Kulbersh to find out if you are a good candidate.
Next, learn about Cheek Augmentation.