It's all about your face. Does your facial appearance no longer reflect your youthful personality? If so, facelift and mini facelift procedures might be a good option for you. With office located in Charlotte, NC, Carolina Facial Plastics can help you achieve your facial rejuvenation goals. Cosmetic plastic surgeon Jonathan Kulbersh, MD, provides patients with a safe, effective and comfortable experience. If you are considering a facelift, please call our office to schedule a consultation with Dr. Kulbersh.
Why Choose Dr. Kulbersh as Your Cosmetic Surgeon?
Dr. Kulbersh received extensive training in facial plastic surgery from renowned plastic surgeons Dr. Babak Azizzadeh and Dr. Paul Nassif in Beverly Hills. His expertise in facial plastic surgery and advanced surgical techniques provide his patients with unparalleled results.
Unlike any other facelift surgeon in Charlotte, Dr. Kulbersh does not believe in a one-size-fits-all approach to cosmetic plastic surgery. He develops unique treatment plans, based on the specific needs of each patient. You can rest assured that you are in the hands of an expert and that Dr. Kulbersh will customize a facelift that best suits your goals!
What is Dr. Kulbersh's Philosophy for Facelifts and Minilifts?

Dr. Kulbersh believes that one of the most important aspects of a surgery is the initial consultation. The primary goal of this meeting is to establish a trustworthy channel of communication between Dr. Kulbersh and the patient and to determine the best treatment plan that will meet the patient's facelift goals. The treatment plan is geared towards creating the least invasive and most comfortable facial surgery procedure to obtain the ideal yet realistic results.
Who is a Good Candidate for a Facelift or Minilift?
Those who most benefit from these aesthetic plastic surgery procedures are in good mental and physical health, but have developed signs of aging – sagging skin on the face and fine or deep wrinkles – and are looking to restore their facial appearance.
Since every patient is unique, facelift surgeon in Charlotte Dr. Kulbersh goes to great lengths to use techniques that help enhance an individual's natural beauty. There is not a magic wand procedure for everyone, but for our patients in Charlotte, we develop a personalized treatment plan that typically combines many different techniques to achieve a refreshed and youthful appearance.
Advanced Techniques for Facelift and Minilift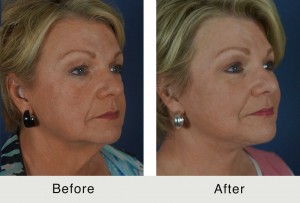 Generally, more dramatic facelift results require a longer recovery time. While this is generally true, Dr. Kulbersh learned many nuances of performing a facelift in North Carolina during his training in Beverly Hills that may speed up the recovery process. With this in mind, Dr. Kulbersh believes that the most important technique during these facial rejuvenation surgeries is to understand the patient's desired results, and balance that information with their tolerance for the expected downtime.
Traditional Facelift 
A traditional rhytidectomy, commonly referred to as a facelift, is a great option for a patient with more advanced signs of aging who wants to refresh their neck, jawline, and cheeks.
Facelift surgery removes excess fat in the neck, tightens the underlying muscles, elevates the cheeks, and removes excess skin that will bring definition to the facial structure and revive the beauty of your youth.
Watch Dr. Kulbersh Discuss Complimentary Facelift Procedures
How is a Facelift Performed?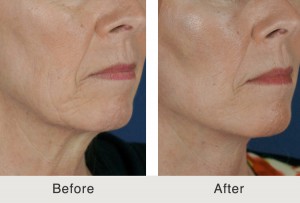 Dr. Kulbersh performs facelift surgery under general anesthesia at an outpatient surgery center. The procedure begins with a small incision hidden underneath the chin. Next, the excess fat is removed from the neck and the neck muscles are tightened, which defines the area underneath the chin. This part of the procedure is called a platysmaplasty.
Next, incisions are made in the temple and hairline and are carried around the ear, where they are hidden inside the ear or in a natural crease.
The SMAS, or superficial muscular aponeurotic system, is made up of deep layer facia and muscle. Once the SMAS is identified, it is lifted in an upward direction in the cheek region and an outward direction in the neck, providing a natural-looking result. This tissue is secured with sutures and the excess skin is removed. The deep sutures allow Dr. Kulbersh to close the incision without any tension so the incisions can heal and eventually become almost invisible. Finally, Dr. Kulbersh will apply a dressing to protect the face that will be removed the morning following the facelift.
What is Facelift Recovery Like?
On the night of the surgery, Dr. Kulbersh usually recommends that the patient stay in our private recovery suite with a dedicated nurse to take care of them. The next morning, Dr. Kulbersh will check on you to ensure your health and safety, then clear you to go home.
Patients will have a bandage in place for one week that can be removed to shower or for temporary errands. Approximately one week after surgery, you will return to our office for removal of all sutures and a full cleaning of the incisions. At that time, the bandage may be worn at night to help speed up the facelift recovery and help resolve the swelling. Patients may experience bruising and swelling for up to 14 days.
After your facelift, Dr. Kulbersh will give you specific care instructions. Generally, strenuous activity needs to be avoided for two weeks. Curling irons, hair dryers, steam baths, and saunas should be avoided for at least two months, though hair dryers may be used on the cool setting. Throughout your experience, Dr. Kulbersh and his staff will be available 24 hours a day for any questions or concerns that may arise. If you're searching for a facelift doctor in South Carolina or North Carolina, we encourage you to contact our office today.
Comfort Minilift
The comfort minilift rejuvenates the lower third of the face, including the jowls and neck. Good candidates for a minilift are those who want to remove five years or more of aging from their facial appearance. One of the benefits of a minilift is that it is a relatively easy facial plastic surgery procedure and provides excellent results.
Watch Dr. Kulbersh Discuss the Comfort Minilift
How is a Comfort Minilift Performed?
A comfort minilift, or mini facelift procedure can be done under local anesthesia without needing to be put to sleep.
In many cases, the comfort minilift is done in coordination with facial liposuction to remove excess fat from the neck and jowls. The comfort miniliftis most appropriate for people with early signs of aging, but who still have good skin elasticity.
What is Minilift Recovery Like?
Patients generally feel better immediately after surgery because they have less throat discomfort, nausea, and fatigue. One of the advantages of the minilift is that since it is minimally invasive and only requires smaller incisions, recovery time is shorter than with a traditional facelift. Patients may experience mild bruising and swelling, but this normally resolves in 7-10 days.
Are Additional Procedures Recommended to Get the Best Facelift Results?
There are a variety of additional procedures that can be used in conjunction with a facelift or minilift to achieve optimal results. Common recommendations include:
Patients with a weak or small chin have the appearance of a blunted neckline and a shorter jaw line. The addition of a chin implant will angulate the neck, and lengthen the jaw line to create a more elegant face in a female or a more powerful look in a male.
Dr. Kulbersh believes fat transfer, or fat grafting, can be the added "wow factor" in the ultimate facelift outcome. Fat transfer can be used to add volume, which makes the face appear more youthful because it increases definition and raises the height of the cheekbones.
Liposuction of the Jowl or Neck
Patients may not only have loose and aged skin, but also excess fatty tissue in the neck and jowl region. The addition of facial liposuction to a facelift can significantly improve the outcome by removing this fatty tissue.
Cheek implants can create high cheekbones, which highlight the mid-face and add a youthful appearance to the facial structure.
Facelifts and minilifts do not improve the fine wrinkles on your face. Fine wrinkles can only be helped by filler injections like Sculptra or Restylane, chemical peels, laser resurfacing, or skincare products.
Facelift Frequently Asked Questions
 Q: How Does Dr. Kulbersh create natural results during a facelift?
Q: What areas of the face benefit most from a facelift or minilift?
A: With a facelift or minilift, the soft tissue of the cheek area can be raised. The indentation on each side of the chin, known as the pre-jowl sulcus, can be smoothed in the facelift, but not with the comfort minilift.
Q: What are there limitations to the facelift and minilift?
A: These procedures will not improve the small, fine wrinkles on the face. Fine wrinkles are best treated with non-surgical treatments like a good skin care routine, medical grade skin peels, and laser resurfacing. The nasolabial folds, the large creases from the corner of the nose down around the mouth, are minimally improved with cosmetic surgery procedures. This area is best treated with non-invasive procedures such as injectable fillers or fat transfer during the procedure.
To schedule a facelift or minilift consultation with Dr. Kulbersh, call (704) 842-3644 today.
Next, learn about Facelift Cost.