The unavoidable aging process can leave you with a furrowed and sagging brow that makes you look older and more tired than you feel, but you don't have to accept these facial changes as they are. A Botox® brow lift can give you a more lifted and youthful brow appearance without surgery.
What is a Botox Brow Lift?
A Botox eyebrow lift is a non-surgical alternative to a traditional brow lift and uses injectable neuromodulators like Botox to lift your eyebrows. Botox works by blocking nerve signals that tell certain muscles to contract. By relaxing facial muscles that pull your brows downward, Botox allows your brow to subtly lift, creating a refreshed and more youthful look.
On top of lifting the brows, the procedure provides the added benefit of smoothing away frown lines and the vertical "11s" between the eyebrows.
Advantages of a Non-Surgical Brow Lift with Botox
Quick, "lunchtime" procedure
No surgery, no scars, no recovery time
Natural-looking results
Can be combined with other non-surgical eye rejuvenation treatments like dermal fillers
Temporary results (ideal procedure for first-time patients or those who are not ready for a surgical procedure)
What to Expect During a Botox Brow Lift
Eyebrow Botox is similar to a standard Botox procedure. Botox treatments at our Charlotte office typically just take 15 minutes or less to complete. You'll receive injections above the eyebrows (in between and at the ends of the brows) where targeted muscles are relaxed, allowing the brows to lift and wrinkles to smooth, providing you with a more relaxed appearance.
The needle used for a Botox brow lift or our other injectable treatments is very small, so the procedure is well-tolerated by most patients without the need for topical numbing.
After your procedure, you may resume your normal activities.
What are the Common Risks and Side Effects of a Botox Brow Lift?
Overall, Botox injections are considered safe. Side effects typically come from the injection site and should be mild and temporary. These side effects include:
Redness
Swelling
Bruising
Other mild side effects from Botox are:
Numbness
Headaches
Soreness
Risks and complications are rare when Botox injections are performed by skilled and experienced providers. These professionals are trained to use the correct techniques, know the precise injection points, and deliver the right dosage to achieve the most natural-looking results.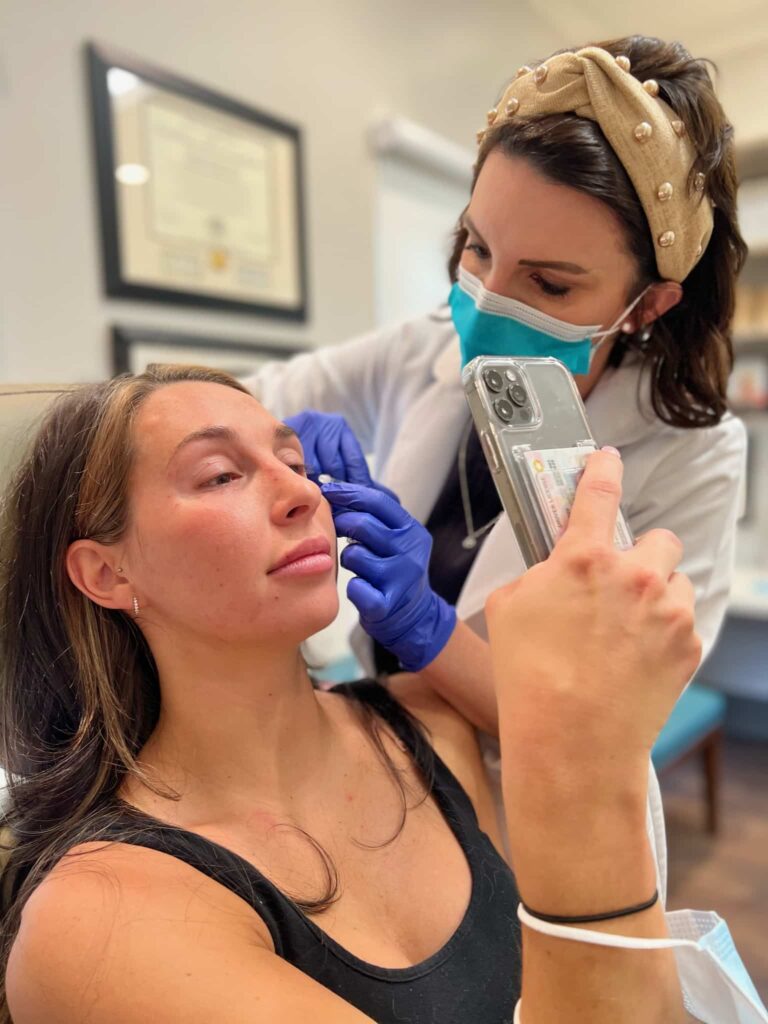 Heather Bryant, MPAS, PA-C, Amanda Piligian, PA-C, and Courtney Whitley, FNP-C all perform our injectable treatments. They understand facial anatomy and are up to date on the latest injection techniques to ensure our patients receive superior care and results.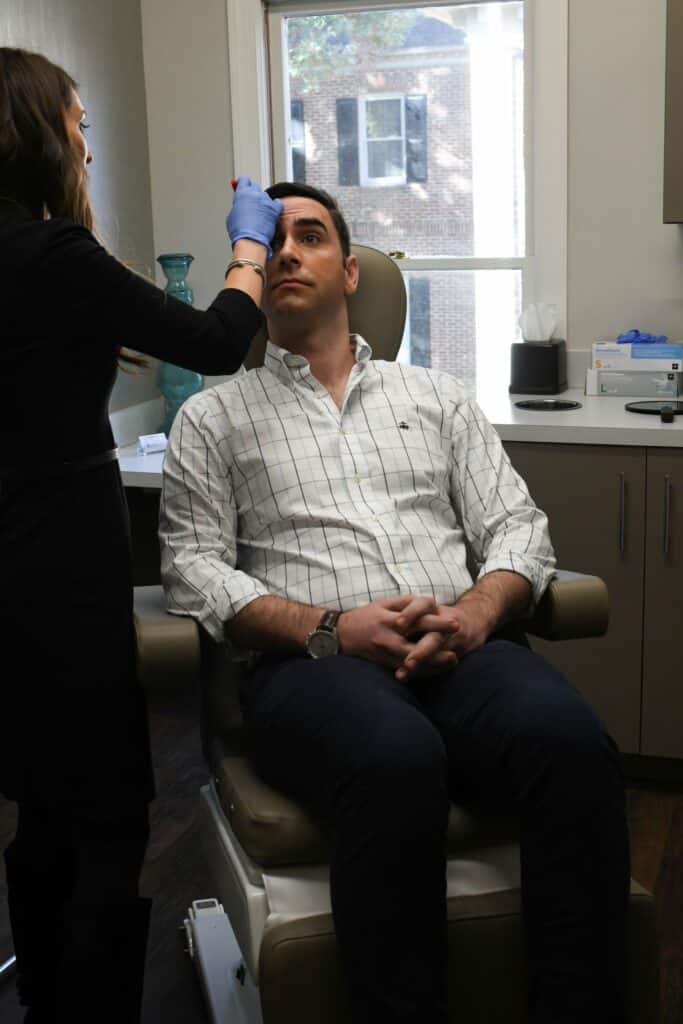 Who is a Good Candidate for a Botox Brow Lift?
A brow lift with Botox is ideal for patients who:
Have mildly sagging eyebrows
Want to lift and contour their eyebrows
Have eyes that appear tired due to long-hanging brows
Want to reduce creases and lines in the forehead
Those with more severe lines and wrinkles may need a more invasive procedure like a surgical brow lift or facelift.
How Much Does a Botox Brow Lift Cost in Charlotte?
The cost of Botox for eyebrow lift varies from patient to patient and depends on the number of units required. Men tend to require a larger dose than women. If requested, you may receive a price estimate of an eyebrow lift with Botox from our staff over the phone.
Alternatives to a Botox Brow Lift
Botox Cosmetic isn't your only option for a brow lift. Other neuromodulators like Dysport® and Daxxify® may also be used for a non-surgical brow lift. The best injectable for your procedure will be determined during your consultation.
Those with more severe wrinkles, droopy lids, and sagging skin will benefit more from surgical procedures that provide more dramatic, long-lasting results.
A brow lift or forehead lift is a surgical procedure designed to elevate a saggy brow and eliminate frown lines between the eyes. It rejuvenates the appearance of the forehead, the brow, and the area around the eyes. The procedure involves raising the soft tissue and skin on the forehead using various incisions and suturing techniques.
An eye lift, also known as blepharoplasty or eyelift surgery, improves the appearance of the upper and/or lower eyelids by surgically removing excess skin, repositioning fat, and tightening loose muscles. It results in an alert and well-rested appearance.
Schedule Your Botox Brow Lift Consultation in Charlotte
If you're ready to refresh your appearance without surgery, we can help. To learn more about whether a Botox brow lift is right for you, please contact Carolina Facial Plastics in Charlotte, NC today.