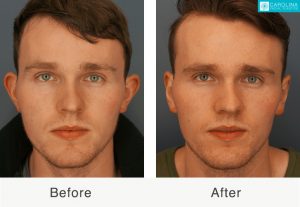 It's all about your ears. Children and adults alike may have ears that protrude from their head. This can be easily corrected in a minimally invasive procedure known as otoplasty.
Otoplasty is commonly performed on children. Unfortunately, children with prominent ears may be subject to teasing from their peers, as they are commonly referred to as having "Dumbo" or "Mickey Mouse" ears. This may affect the psychological development of a child. Pinning ears back to a more inconspicuous position can be a life changing procedure.
Remarkable Results, Exceptional Care 
If the appearance of your ears is a concern for you or your child, Dr. Kulbersh can help. His specialized training in facial plastic surgery procedures allows him to create a natural shape that brings balance and proportion to the ears and face.
What is Otoplasty?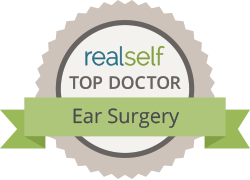 Otoplasty, commonly referred to as ear pinning, is the surgery in which large or protruding ears are reshaped to lie closer to the side of the head. This ear operation can improve the shape, position or proportion of the ear. It can correct a defect in the ear structure that was present at birth, occurred during development, or was caused by an injury.
Who is a Candidate for Otoplasty?
Ear pinning can be performed on patients at least five years of age. At this time the ears are of appropriate size to undergo the procedure. Often it is recommended for children requiring otoplasty to undergo the procedure as soon as possible, to better protect the child from possible teasing by peers. Patients must not have an active ear infection or illness that would prevent proper healing.
Otoplasty can correct the following issues:
Oversized ears
Protruding ears occurring on one or both sides
Dissatisfaction with previous ear surgery
Trauma to the ear
How is Otoplasty Performed?
Cosmetic surgery on ears is a relatively simple procedure. During the procedure the skin and cartilage behind the ears is reshaped. The size and shape of the ear can be altered as well.
The procedure is minimally invasive. An incision is made behind the ear to hide the scar. The cartilage is weakened, reshaped or removed, and finally matched to the shape of the lobe, so the new ear shape looks natural.
How to Fix Prominent Ears During an Otoplasty
Otoplasty Frequently Asked Questions
Q: Is otoplasty painful?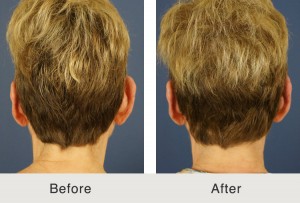 A: During the procedure you will not feel any pain because you will be under anesthesia. However, it is normal for your ears to throb for 1-2 days after the procedure. Medication can help control any discomfort.
Q: What is otoplasty recovery like?
A: Recovery after ear surgery is relatively quick and easy. Bandages will be removed just a few days after surgery. Some swelling is normal and usually resolves within a week or two. You may need to avoid sleeping on the ear for up to two weeks. You should be able to return to work or school within a week.
Q: When will I see the results of my otoplasty?
A: The results of otoplasty are apparent almost immediately in the case of protruding ears or big ears. Once the dressings and bandages are removed you will be able to see the new appearance of your ears.
Q: Will I have visible scars after otoplasty?
A: Surgical scars are usually hidden behind the ear or in the natural creases of the ear. Ear specialist Dr. Kulbersh utilizes minimally invasive techniques to ensure minimal scarring.
Q: Will otoplasty improve my hearing?
A: Otoplasty is simply the reforming of the shape of the ear. It will not have any effect on the ability of the ear to hear.
Q: Can children have ear pinning surgery?
A: Yes. It is very common for parents to bring in their children for an otoplasty. However, it is very important that the child wants the ear pinning procedure as well. Dr. Kulbersh takes the time to make sure the child has positive feelings about the surgery and is ready to change their appearance.
Learn more about ear pinning surgery at ncbi.nlm.nih.gov.
Fairview Surgical Suites and Fairview Recovery Center
For the top facial surgery and recovery in Charlotte, Dr. Kulbersh is proud to announce the opening of Fairview Surgical Suites and Fairview Recovery Retreat. Unlike a hospital, Fairview Surgical Suites is a cutting-edge single operating theater that ensures expert treatment from top medical professionals and staff who are focused solely on a single procedure at a time. Meanwhile, Fairview Recovery Retreat is a pristine spa-like recovery center where patients can relax and heal while under the supervision of aftercare professionals.
If you are interested in an otoplasty to improve the appearance of the shape of your ears or your child's ears, call (704) 842-3644 to schedule a consultation with Dr. Kulbersh.
Next, learn about Chin Implants.