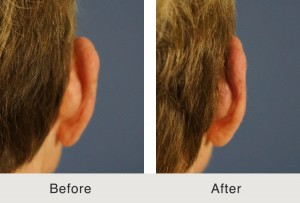 During the first few years of life, infants can change dramatically from month to month as they grow and develop. Some parents may notice that their son or daughter has ears that stick out rather than lay close along the sides of the head. Naturally, these parents will be concerned about how their child's appearance will affect them as they start school and have to face the potential judgment and criticism of their peers.
At Carolina Facial Plastics, Dr. Jonathan Kulbersh has helped many parents make the decision about whether or not to perform an otoplasty to correct prominent ears. This blog will be helpful for patients or parents of patients considering otoplasty surgery.
Why Should a Child have their Prominent Ears Repaired?
It is big decision for parents to consider surgery to correct an aesthetic issue on their child.  A child's sense of self begins to develop around the age of 5.  At that time, children are able to discern what they consider "normal" or "abnormal."  In some instances, ears that stick out too far can be cause for a child to get teased.  This teasing could have a negative impact on the child's long term self-esteem and self worth.  For these reasons, parents may choose to have position of the ears corrected before the start of school to prevent the possibility of teasing.
How Soon Can a Child Undergo an Otoplasty?
Prominent ear correction surgery is deferred until a child has reached five years of age. By five years, a child's ear growth has reached at least 90 percent development and therefore, surgical correction will not interfere with further growth.
What is Involved in an Otoplasty?
Depending on the extent of a child's prominent ears, such as whether they are oversized or protruding on one or both sides, a correctional ear surgery is typically fairly straight forward. The procedure is also known as ear pinning because the tissue behind the ear is repositioned to hold each ear closer to the side of the head. If the crease of the ear is not present, it will be re-created with a suture technique.  In the case of oversized ears, the skin and cartilage can be reshaped with incisions behind the ear so a possible scar will not be visible.
The procedure is typically performed under anesthesia to ensure the patient does not experience discomfort. After the otoplasty, a child may feel discomfort for only a day or two, which is typically alleviated with Tylenol or a light pain medication.  The patient will wear a head dressing for 1 week and can resume non-contact activities in 2 weeks.
Scheduling an Otoplasty Consultation
If you are interested in an otoplasty for your son or daughter to improve the appearance and shape of your child's ears, call (704) 842-3644 to schedule a consultation with Dr. Kulbersh. Dr. Kulbersh is a double board certified facial plastic surgeon.  His team will help guide a parent to make an informed decision about the best treatment plan for a child.
Next, read Breathe Easier with a Functional Rhinoplasty.