Otoplasty is a minimally invasive surgical procedure used to correct large or protruding ears. While this surgery can be performed on adults, it is also commonly performed on children. At Carolina Facial Plastics, I work closely with parents to help them decide if otoplasty in Charlotte is the right treatment plan for their child.
What Is Otoplasty?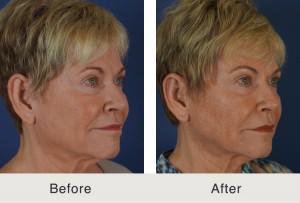 Many people are born with large and prominent ears that stick out from their head in a way that can cause embarrassment. Otoplasty is an ear pinning surgery that allows the ears to be closer to the head. Otoplasty can also be used to correct an ear injury or birth defect. During otoplasty, a discrete incision is made behind the ear so that the scar is virtually invisible. Results can be seen immediately after removing the bandages from surgery. As an experienced facial plastic surgeon, I can reshape the skin and cartilage in order to achieve the most balanced and natural aesthetic.
Is My Child Too Young for Otoplasty?
At Carolina Facial Plastics, I perform otoplasty on patients who are at least five years of age. If the patient is younger than five, the ears are not the proper size to undergo surgery. It is common for parents to bring their children to receive otoplasty in order to avoid teasing from peers and a childhood filled with self-consciousness about their ears. Otoplasty can have a very positive impact on a child's self-esteem and confidence in their appearance. It is important I meet with both parent and child in order to determine if the child also desires the surgery and if they understand that the surgery will change the way they look. In working with children, I exercise the utmost care and concern for their overall well-being in all stages of treatment.
What is the Recovery Process for Otoplasty?
Since otoplasty is a relatively simple procedure, the recovery process is fairly easy as well. Patients can remove the surgical bandages after only a few days. Minor pain and swelling are common in the first week, but the pain is very manageable with medication. While patients are not able to sleep on the ears for two weeks, they can return to school or work after just one week. During my consultation with patients, I make sure that they understand all the post-surgery instructions in order to achieve the most optimal healing process.
Schedule an Otoplasty Consultation in Charlotte Today!
If you have been considering ear pinning surgery for your child, don't hesitate to schedule a consultation to learn more information about otoplasty for children. At Carolina Facial Plastics, I utilize my experience and training in order to deliver natural and balanced results to all of my patients. Call our office today at (704) 842-3644!