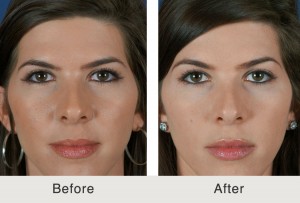 With cosmetic surgery growing in popularity every year, I've been noticing an increase in the number of younger patients seeking facial rejuvenation at my office in Charlotte. Men and women as early as their late 20's are beginning to notice the lasting effects that facial plastic surgery procedures. This prompted me to answer a question that I hear  often: Am I too young for a facelift?
The answer to this question will vary from patient to patient as each of us age differently based on many factors including but not limited to sun exposure, facial anatomy, and skin elasticity.  Generally, patients under the age of 45 are typically candidates for procedures known as a mini lift, liquid facelift or neck liposuction, while a traditional facelift in South Carolina or North Carolina may be ideal for patients older than 45.
Facial Rejuvenation for Patients Under 45
Rejuvenating the face for younger individuals is a much different process than in older patients as different concerns are addressed. Most commonly, patients in this age group are dealing with wrinkles, fine lines, initial volume loss, and minor sagging skin. A liquid facelift in Charlotte can address all of these concerns without the patient ever requiring surgery, as a combination of Botox and facial fillers work to restore a natural and youthful appearance.
A mini-lift, though surgical, is a less-invasive facelift procedure that I perform in Charlotte that involves tightening the skin and muscles of the lower face. Individuals who may be a better candidate for a mini lift are those who are experiencing initial signs of aging in the lower portion of their face, including skin laxity and volume loss near the cheeks and jowls. Many times, individuals who undergo a mini-facelift in Charlotte earlier in life see a lessened amount of overall facial aging as they continue to mature.
Neck liposuction is ideal for patient that have lost definition in the neck secondary to excess fat in the area.  While it is a surgical procedure, it can be done while the patient is awake in a comfortable manner. To learn more about facelifts, visit medlineplus.gov
Facial Rejuvenation for Patients Over 45
After 45, it's common to begin to see volume loss to the under eyes, cheeks, and temples in addition to sagging skin, fine lines, and wrinkles. When this is the case, a traditional facelift or lower necklift is often the correct choice for the individual. When I perform this procedure for my patients in Charlotte, I tighten and tone the skin and muscles in the face while repositioning any fat necessary. I often recommend that a facelift be combined with procedures to restore volume.  This can be both surgically, facial fat transfer, and non-invasive treatments like facial fillers.
Schedule Your Consultation With Dr. Kulbersh Today
At Carolina Facial Plastics in Charlotte, I believe that patients of all ages, skin types, and ethnicities can benefit from a completely customized facial rejuvenation procedure to correct their problem areas. If you'd like to learn more about undergoing a non-invasive or surgical facelift in Charlotte, I encourage you to contact my medical practice today to schedule your initial consultation by calling (704) 842-3644. During this time, I'll be able to examine you in person to determine which type of facelift technique will be best for you.
For more information about undergoing a liquid or surgical facelift in Charlotte, please contact Carolina Facial Plastics Today.