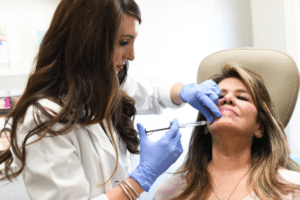 Most people think of Botox when they think of wrinkles. It's no wonder, since Botox is the top performed cosmetic procedure across the globe. However, Botox has also been dubbed the blockbuster drug "that's treating everything" by Time Magazine. Botox as a medical treatment? 
The FDA actually first approved Botox for medical purposes. Through those treatments, doctors discovered its cosmetic benefits. Today, Botox is known for both its medical and cosmetic applications, with a variety of uses in areas throughout the body. You could say Botox is one of the most versatile treatments available.
At Carolina Facial Plastics, our patients' safety and satisfaction is our top concern. Our expert team includes myself, my board-certified physician assistants, Heather Bryant and Amanda Piligian, and my board-certified nurse practitioner, Courtney Whitley. We use Botox and Dysport, as well as a broad range of other injectable options, to address your precise cosmetic concerns. Our Charlotte medical spa offers customized non-surgical treatments designed exclusively for the face to produce optimal outcomes for each of our patients. 
The Beginning of Botox
Botox has a much longer history than most realize. Émile Pierre van Ermengem, a Belgian scientist, was the first to discover that the botulinum toxin was produced by the bacterium Clostridium botulinum during a botulism outbreak. It took many more years before Dr. Edward Schantz understood how to separate the toxin into crystalline form. 
Doctors first used Botox to treat strabismus (crossed eyes) in 1985, but they soon expanded its use to the treatment of lazy eye and uncontrollable eye blinking. Allergan was the manufacturer that licensed the treatment and branded it as Botox in 1989.
Through the process of treating various eye conditions with Botox, scientists realized it also had a positive effect on certain lines and wrinkles around the eyes and nose. After clinical trials that involved treating frown lines (vertical lines that form between the eyebrows) with the product, the FDA approved Botox as a temporary aesthetic treatment in 2002. 
The long history of Botox demonstrates its safety and efficacy for a variety of procedure options. In fact, Botox is the most widely researched treatments of its kind with published studies in more than 500 peer-reviewed scientific and medical journals. FDA approval has also expanded to include Botox for forehead wrinkles and other treatment areas, as well as a broad range of medical applications. 
Using Botox to Treat More Than Wrinkles at Our Medical Spa
At Carolina Facial Plastics, we use Botox and Dysport to:
Prevent Wrinkles
There is no "right" age to start neuromodulators. While some patients wait to use Botox for forehead wrinkles, others might want to stop them before they begin. Our expert injectors offer Botox to patients as early as their 20s or 30s to address the earliest aging symptoms and prevent some lines from forming. As a preventative treatment, Botox works by blocking signals from the nerves, in turn relaxing muscles that typically cause wrinkles by contracting when you make certain facial expressions. Relaxing the muscles early on prohibits them from forming the lines, which can become permanently etched into the face over time.
One study that supports the preventative benefits of Botox involved identical twins. Researchers discovered that the twin who received treatments earlier in life had fewer and less severe wrinkles over time, compared to the twin who did not undergo neuromodulator treatments. Start Botox now and you might not need to pursue more extensive anti-aging treatments as soon as you might without that early intervention. 
Minimize Underarm Sweating
Hyperhidrosis is a condition that causes a person to sweat excessively. While it is not typically a serious medical concern, it can greatly impact a person's social and professional life. Botox treats hyperhidrosis in patients who have not seen positive results from antiperspirants and other topical skin medications. Injections of Botox release the chemicals that trigger the sweating mechanism, actually reducing the amount of sweat produced. A single treatment may produce results that last up to a full year. 
Prevent and Treat Migraines
Migraines are a debilitating condition that can strike multiple times each month, greatly impacting a person's quality of life. We can use Botox to treat chronic migraines, reducing their frequency and intensity. We inject the medicine into areas where it can block the release of chemicals that carry pain signals from the brain to the nerve endings. 
Treat Acne Breakouts
At Carolina Facial Plastics, we offer a specialized treatment known as intradermal Botox or microbotox. This procedure targets the glands and muscles that produce acne breakouts, resulting in smoother, clearer skin. We inject Botox just below the skin's surface, so it can address the causes of acne without affecting underlying muscles and producing a "frozen" appearance. At the same time, patients can see some anti-aging benefits, including a reduction in fine lines, tighter skin, and improved skin tone and texture. 
Improve Your Gummy Smile
If you are self-conscious about your smile because it shows too much of your teeth, Botox can help. By targeting the muscles around the upper lip, our board-certified injectors can prevent the lip from pulling up as much when you smile. The result is a natural expression with less teeth and gum showing. Botox can also correct mouth frown and even address the vertical lines that often appear around the mouth as a result of recurring motions or expressions. 
Lift and Contour
While a Botox treatment is good, sometimes combining Botox with other injectable treatments can be even better. As expert injectors, we know how to use both fillers and neuromodulators like Botox and Dysport to shape or lift the brow, address facial asymmetry, refresh the eye, or lift the nasal tip. Known as a liquid facelift, I tailor this procedure to each patient, producing results that are both natural and beautiful.
Sculpt Your Neck and Jawline
While the face gets plenty of attention, the neck and jawline can also affect your overall appearance. Fortunately, Botox or Dysport can be a help in this area as well, whether you want to narrow the jawline, minimize chin dimples, or smooth away horizontal lines around the neck. By targeting specific muscles in this area (for example, treating the masseter muscles to soften a square jaw or the platysma muscle to eliminate neck lines), we can shape the jawline and turn back time on your neck. In addition, if you are suffering from TMJ, Botox injections into the masseter muscle can reduce persistent clenching and grinding, as well as the uncomfortable symptoms associated with them. 
Learn More About Botox Treatments in Charlotte, NC
Whether you are suffering from a chronic condition like migraines, or simply want to look a few years younger by smoothing away some of those telltale aging signs, we can help. Contact our medical spa today to learn more about what Botox can do for you.