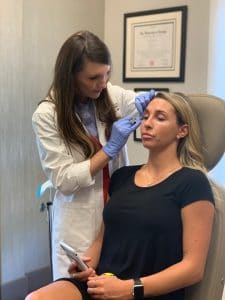 At Carolina Facial Plastics in Charlotte, NC, our mission is to provide the ultimate in holistic and comprehensive treatments for all aesthetic and reconstructive conditions of the face, eyes, and neck. Myself and my team use the latest techniques from Beverly Hills—including the needle-less filler injection technique—to provide the best results while minimizing downtime. By focusing 100% on cosmetic treatments for the face, my team of cosmetic experts, board-certified physician assistant Heather Bryant and board-certified nurse practitioner Courtney Whitley, can perform injection treatments designed to fully enhance each patient's own unique attractiveness and even slow or reverse the clock on aging. 
How Early is Too Early to Start Injectables?
The right age to start getting injectable treatments such as Botox and facial fillers is when you begin to notice lines and wrinkles when your face is resting or you have an area of the face that you want to enhance. Your actual age is not a factor. Genetics, sun damage, and lifestyle habits such as smoking can lead to the early appearance of wrinkles, facial volume loss, and skin discoloration. The right time to get injectable treatments will all depend on how you feel about your balance and proportions, your aesthetic goals, as well as your injector's recommendations.
In Charlotte, NC, Heather and Courtney aim to produce natural and beautiful results with injectable treatments. We want our patients to look rejuvenated and to feel their best. We also ensure that patients receive the highest level of care.
Prevent Aging Symptoms with Injectables
Preventative Botox works under the knowledge that getting treated early can stop wrinkles from ever developing. Using Botox to stop the wrinkles before they become fully developed can help the skin maintain its elasticity. According to a study from pubmed.org, long-term treatment with Botox can prevent the development of imprinted facial lines that are visible at rest, and it can also reduce crow's feet.
Fillers, on the other hand, have also been found to help slow down aging in the long-term. Hyaluronic acid injections may lead to increased collagen production even after the filler has been metabolized, helping to keep the skin looking firmer, plumper, and younger.
Maintaining Your Results
It generally takes about two weeks to see the full effects of your Botox treatment, but you are likely to see visible improvement sooner. Botox results are temporary, so the average patient will need a repeat treatment 3-4 months after their first procedure. Some patients get lucky and maintain longer-lasting results. Some patients also find that after having repeat Botox treatments, they can begin to go a bit longer between sessions. 
You will appreciate immediate results after a facial filler treatment. Depending on the area of the face, results can last between 6-18 months. Areas of the face that move more frequently, like the mouth, will dissolve the filler faster than non-mobile areas (e.g., temples). To help maintain your results, our team can help customize a treatment schedule that works for you.
Injectable treatments only take 10-15 minutes to perform, making them quick and easy procedures you can seamlessly incorporate into your schedule.
Why Do People Get Injectables?
Facial and neck aging comes at different times and in different forms for everyone. It also happens for a variety of reasons. Natural and environmental factors can certainly influence aging, so your age doesn't necessarily dictate when exactly you'll see lines and wrinkles forming on your face. Some begin to see signs of aging in their 20s, while others won't have deep lines until they are in their late 40s. However, beginning neuromodulator (such as Botox or Dysport) treatments early can minimize wrinkles caused by overactive muscles, preventing those unwanted lines from ever forming, and getting injectables later on can stop further damage. So, regardless of your age, if you're starting to notice more wrinkles when you look at yourself in the mirror or would like to prevent signs of aging, then the time might be right to consider giving injectables a try.
Which Injectable Is Right for me?
There are two main categories of cosmetic injectables: neuromodulators and facial fillers. Neuromodulators such as Botox address "dynamic" wrinkles. These are the wrinkles that form as a result of muscle contractions under the skin. Facial fillers, on the other hand, can "fill" a wrinkle or enhance an area with the addition of volume. When injected, fillers push the skin upward, thereby erasing lines and restoring lost volume.
For neuromodulators, I offer Botox and Dysport®. For most patients, there is very little difference between using Dysport and Botox. Some may find that one product works better for them than the other. One difference is that Dysport may have a slightly quicker onset when compared to Botox. Dysport's onset is usually 2-3 days, while the onset with Botox is 5-10 days. 
At Carolina Facial Plastics, we offer a variety of facial fillers. The filler used, amount of filler injected, injection site, and the technique of the injector will determine your results. Personally, I view facial fillers as an art and in my opinion, expert facial injectors are able to critically analyze the complex shapes and interactions of each facial region and understand how adding additional volume will improve facial appearances. Heather and Courtney will listen to your needs and goals, ensuring they provide you with beautiful and natural-looking results.
Schedule An Injectable Treatment Today
The decision of when to start injectable treatments is completely up to you. You should discuss your concerns and desired goals with your cosmetic injector to know your options and to have all the information you need to make the right decision. If you want to talk about facial injectables, or to learn more about the different ways to prevent the signs of aging, contact the top skin care clinic, Carolina Facial Plastics, in Charlotte to schedule a consultation.