Cost | Recovery | Complications | Nose Job Guide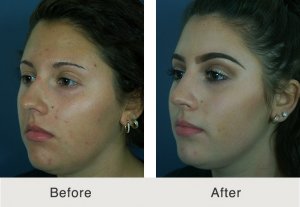 As a Beverly Hills-trained rhinoplasty surgeon in Charlotte, one of the most intricate yet rewarding procedures that I perform is a teen rhinoplasty. Due to the fact that the rhinoplasty is being performed on a young patient, it is crucial to bring natural looking results, as well as an age appropriate look that will be in harmony as facial features continue to grow. A teen rhinoplasty is performed at Carolina Facial Plastics only when the young patient desires the procedure on his/her own desires and not as a result of outside pressures.
Remarkable Results, Exceptional Care 
Dr. Kulbersh is proud to announce the opening of Fairview Surgical Suites and Fairview Recovery Retreat, two cutting-edge medical centers that will provide patients with exclusive, private surgical treatment at a dedicated facility followed by an comprehensive post-operative care in a luxurious 5-star hotel setting with various amenities and services.
Schedule your surgical procedure and recovery at Fairview Surgical Suites and Fairview Recovery Retreat today! Contact the specialists at Carolina Facial Plastics to learn more.
What is Teen Rhinoplasty?
A rhinoplasty, or nose job, performed on patients under the age of twenty is considered a teen rhinoplasty. This rhinoplasty procedure generally involves the same surgical techniques used on adult patients, however the difference is usually a more perceptible outcome. As a board certified head and neck surgeon who underwent fellowship training in rhinoplasty surgery with some of the best facial plastic surgeons in Beverly Hills, I strongly feel that creating a symmetrical, natural-looking nose is the primary goal of teen rhinoplasty. During the initial consultation, we will discuss your concerns and desires and I can then decide whether a closed, open, or non-surgical rhinoplasty would be the best approach to achieving your goals.
Before anyone, particularly a teenager, undergoes a rhinoplasty in Charlotte , I believe it imperative to establis
h the motivations behind the desire for surgery. I strongly urge teen patients to include their family members in the rhinoplasty process, both before and after surgery.
It is common for a teen rhinoplasty to involve more discernable aesthetic changes in comparison to an adult rhinoplasty because the most common goal of a teenage rhinoplasty is to minimize the appearance of an obvious characteristic of the nose that is creating facial imbalance. Some typical reasons a teen may seek a rhinoplasty include the following:
Dorsal Hump
Uneven Nostrils
Crooked Nose
Long or Short Nose
Bulbous Tip
Nasal Injury
Teen Rhinoplasty & Breathing Problems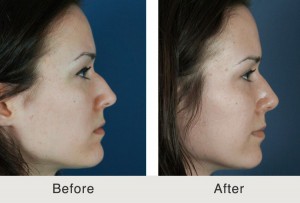 Teen patients seeking a nose job are often concerned with improving their breathing function as well as improving the appearance of their nose. Nasal obstruction often causes fatigue, exercise i
ntolerance, as well as trouble sleeping.
I encourage teens with nasal obstruction to schedule a consultation so that I can evaluate nasal function and determine the exact cause of the problems. Some of the most commonmedical conditions that cause nasal obstruction are:
Allergies
Chronic Sinusitis
Common structural issues that can cause nasal obstruction are:
Deviated septum
Turbinate hypertrophy
Narrowing of the nasal valves (both internal and external)
Steps to Remove a Nasal Hump During Rhinoplasty
If a medical cause is the source of your breathing trouble, it is typically best treated with medication. Structural problems, however, are more commonly treated through surgery, although some patients who have turbinate hypertrophy can use steroid nasal sprays to try to shrink them. Turbinate reduction surgery can be performed, though, if the steroid sprays do not work.
During your consultation at Carolina Facial Plastics, and after a comprehensive examination, I can devise a recommended treatment plan to help restore normal breathing function.
What Makes Teen Rhinoplasty Unique
It is often a tough decision for a parent to agree to allow their child to have a rhinoplasty. There are various thoughts, opinions, and concerns that come up on the subject, but there are no right or wrong answers. It is important to know that your teen wants to undergo a rhinoplasty for the right reasons and be comfortable in your decision.
Visit medlineplus.gov for information on rhinoplasty surgery for your teen.
Teen Rhinoplasty Frequently Asked Questions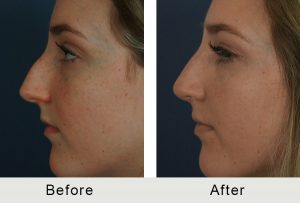 If your teen is considering a rhinoplasty, then you likely have many questions about the teen rhinoplasty procedure. To help you and your teen understand the procedure, I've answered several of the most common rhinoplasty questions to help you in your research.
Q: Who should I see for a teen rhinoplasty?
A: Choosing a highly-regarded, experienced rhinoplasty expert is key to ensuring that the nose is treated with the best care and ideal results are achieved. I am a board-certified head and neck surgeon with specializedtraining in rhinoplasty, trained by the top Beverly Hills facial plastic surgeons. This experience and training allows me to provide my patients, adults and teens alike, with a unique surgical approach that brings natural-looking results. Selecting an expert rhinoplasty surgeon in Charlotte will be one of the best ways to ensure a satisfactory outcome.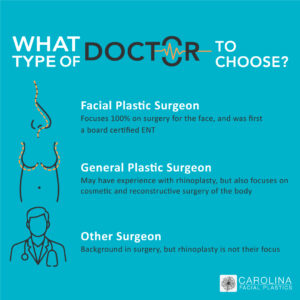 Q: Who is a candidate for teen rhinoplasty?
A: A good candidate for teen rhinoplasty is usually any healthy teen who has the proper motivations for undergoing the procedure. Schedule a consultation to see if you are a good candidate.
Q: How much does teen rhinoplasty cost?
A: Each patient has a unique nose, therefore it is challenging to have one set price for a teen rhinoplasty. During your consultation, however, I will examine your nose, listen to your concerns and desired outcome, and develop a treatment plan tailored specifically to you. After this initial consultation, my patient care coordinator can give you a cost estimate for the teen rhinoplasty.
Q: Am I too young for a teen rhinoplasty?
A: Female patients need to be at least 14 years old before undergoing a rhinoplasty, and male patients should be at least 15. It is important that females do not undergo a rhinoplasty until after their first menstrual cycle. Another important factor in determining whether or not a patient is a good candidate for a teen rhinoplasty is whether they have the maturity necessary to understand the implications of their decision.
How to Ensure the Results of a Rhinoplasty are Natural
Q: What are the risks associated with undergoing a teen rhinoplasty in Charlotte?
A: There are always some risks associated with any surgical procedure. Choosing an experienced, well-trained rhinoplasty surgeon, however, will greatly reduce the risks involved and increase your chances of experiencing a smooth and easy recovery with an optimal outcome.
As a board-certified head and neck surgeon who specializes in rhinoplasty procedures, I know that selecting a surgeon you can trust is crucial when deciding to allow your teen to undergo a rhinoplasty, and I strive to make my patients as comfortable as possible through every step of the rhinoplasty process, from consultation to surgery and recovery. To learn more about teen rhinoplasty in Charlotte, contact me at Carolina Facial Plastics today by calling (704) 842-3644 to schedule your consultation.
To learn more about teen rhinoplasty, please contact Carolina Facial Plastics today.
Next, read about Ethnic Rhinoplasty.