Over the past decades, aesthetic procedures have expanded beyond the traditional surgical facelift to include a versatile range of minimally invasive options for skin rejuvenation. From smoothing lines and wrinkles to lifting and contouring facial features, these advanced non-surgical techniques can achieve dramatic results without the downtime associated with surgery, helping you reclaim a refreshed, more radiant, and youthful-looking appearance. You can even undergo most of these procedures during your lunch break without anyone knowing.
At Carolina Facial Plastics in Charlotte, NC, I take pride in providing not only top-quality surgical procedures but also non-surgical treatments to my patients to help them discover the very best version of themselves. 
With superior care, expertise, and a fully-accredited facility, my team of expert injectors – Heather Bryant PA-C, Amanda Piligian, PA-C, Courtney Whitley FNP-C – help patients achieve their aesthetic goals to boost their self-confidence and look their best even without surgery. From injectables to a threadlift, we're sharing the best non-surgical facelift procedures that will turn back the clock on aging.
What is a Non-Surgical Facelift?
A non-surgical facelift refers to a combination of minimally invasive procedures that are designed to rejuvenate and refresh the appearance. Compared to a traditional facelift, these techniques do not require general anesthesia, large incisions, hospitalization, or a lengthy recovery period.
Despite the non-surgical approach, these procedures can still produce significant anti-aging results – addressing anything from lines, wrinkles, lax skin, and deep creases to sunken cheeks, loss of facial volume, facial asymmetries, and lack of jawline definition.
Non-Surgical Facelift Options at Our Charlotte Plastic Surgery Clinic
The beauty of a non-surgical facelift is that it can be specifically tailored to your unique needs and goals. Each of the following options is safe, effective, and highly customizable, helping you achieve your desired results.
Neuromodulators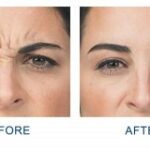 A critical component of the non-surgical facelift procedure, neuromodulators provide unmatched wrinkle-smoothing abilities. Botox® Cosmetic, one of the most popular neuromodulators, is often used to smooth frown lines, forehead creases, crow's feet, and other dynamic wrinkles (lines associated with repetitive expressions).
Neuromodulators contain a specific type of protein that blocks communication between the nerve and the muscle. This muscle relaxation leads to the reduction of muscle movement, resulting in the smoothing of the skin, as well as improvement in the appearance of lines, wrinkles, and furrows. Neuromodulator results last for 3-4 months.
Dermal Fillers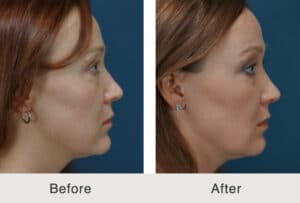 Another key element of a non-surgical facelift is dermal fillers. While neuromodulators target dynamic wrinkles, dermal fillers effectively treat static wrinkles by "filling" the skin to restore lost volume, plump sunken areas, and smooth the skin.
Wrinkles are reduced, facial contours are enhanced, and dark shadows are eliminated, creating a radiant, younger-looking appearance. 
These smooth-gel injectables are made of hyaluronic acid (HA), which is already produced and found in the body and is known for its moisturizing and plumping abilities.
Examples of HA fillers are Juvéderm® and Restylane®. We also offer RHA fillers, which are new HA fillers that are effective in treating areas previously only addressed with neuromodulators, such as forehead lines and frown lines.
Other fillers, which can be made from calcium hydroxylapatite, help stimulate natural collagen production and are typically used for deeper lines and wrinkles. HA fillers typically last for 6-12 months, while collagen stimulators such as Sculptra® can last up to two years.
Combining dermal fillers with neuromodulators creates what is often called a "liquid facelift." Together, these injectables reduce wrinkles, restore lost volume, and rejuvenate the face without a single incision. A provider with a trained aesthetic eye and deep understanding of facial anatomy will perform precise injections to provide the most natural-looking results.
PDO Threadlift 
A PDO threadlift is a procedure where dissolvable PDO (polydioxanone) threads are safely inserted underneath the skin to produce a subtle but visible lift. Unlike traditional facelifts that surgically remove excess loose skin, a threadlift uses sutures that are tightened and pulled, suspending sagging areas.
The pulling effect gives the skin a lifted, boosted, and refreshed appearance while encouraging collagen production. It can treat virtually any area in the face and neck – it can lift the cheeks, smooth the appearance of crow's feet, tighten the neck and jawline, reduce crepey neck skin, and soften the lines around the mouth.
A threadlift is a great procedure for those who are concerned about more than just a wrinkle or two and prefer a more comprehensive lifting and rejuvenating of the face and neck. Perhaps, the face needs more definition or certain areas need more tightening – a threadlift can easily and quickly tackle all of these aging issues, offering patients plenty of benefits with just one procedure. PDO thread lift results last for 6-12 months.
Profound RF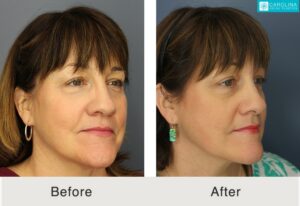 This device combines the stimulating properties of microneedling with gentle heating from the radiofrequency energy to jumpstart collagen production in the deeper dermal tissue.
The procedure creates micro-channels in the skin and then delivers the RF energy deep into those channels where it can have the greatest impact on cellular renewal. 
Profound RF treatments are relatively comfortable thanks to the application of a topical numbing cream before the procedure. The treatment takes about one hour to complete and patients can return to regular activities right away.
Results may extend for 3-5 years, depending on how you care for your skin post-treatment.
Laser Resurfacing
Laser resurfacing is a more extensive procedure that involves some downtime afterward but produces the most dramatic skin tightening results without surgery. During a laser resurfacing procedure, we use a single beam of laser energy to precisely remove the outermost layer of dermal tissue, revealing softer, smoother skin underneath. 
Removal of the outer layer also triggers a natural healing response by the body, which in turn stimulates cell renewal and collagen production. Depending on the depth of the treatment, patients may need 7-10 days of recovery time. However, the results can be very long-lasting. 
Reverse the Signs of Early Aging With a Non-Surgical Facelift in Charlotte
At Carolina Facial Plastics in Charlotte, NC, we focus 100% on cosmetic treatments for the face, and it is this focus that gives us the expertise in facial procedures not found in other plastic surgery clinics. We also don't employ a one-size-fits-all approach, rather, we are committed to developing customized treatment plans based on your unique needs and goals. 
If you'd like to make aging optional and take the first step to improve your appearance with tighter, smoother, younger-looking skin, call our plastic surgery clinic at 704-842-3644 or contact us to schedule a consultation online and learn more about our non-surgical facelift procedures.