With attitudes regarding plastic surgery evolving in recent years, more American men are beginning to see the benefit of cosmetic treatments. Whether you're unhappy with your nose, looking to reduce wrinkles, or hoping to strengthen your jawline, rest assured that we have you covered at Carolina Facial Plastic Surgery in Charlotte, NC. As a double board-certified facial plastic surgeon, I understand the unique complexities and nuances of performing cosmetic procedures on men. 
The Male Influence
If the last year has taught us anything, it's that even the most minor imperfections are exaggerated when you're staring at yourself on a computer screen all day. Nobody is immune to cosmetic insecurities — men included. In fact, recent reports show that male interest in cosmetic treatments has skyrocketed. According to the American Society for Aesthetic Plastic Surgery (ASAPS), the number of men seeking cosmetic surgery procedures increased by 28% from 2000-2018. 
Why are we seeing more men?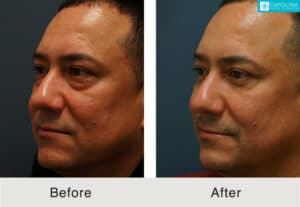 It's no secret that when it comes to plastic surgery, women are far more likely than men to seek treatment. But the landscape surrounding cosmetic surgery is rapidly changing. With the rise of Instagram, TikTok, and other social media platforms, we're seeing one another's faces more often than ever before. Everybody wants to put their best face forward, whether they're posting a selfie or chatting on FaceTime.
Of course, social media isn't the only reason men want to freshen up their appearance. Men are no longer expected to look as rugged or hypermasculine as they once were. Smooth skin, rested eyes, and defined cheekbones are becoming more popular as physical preferences shift.
Finally, we are all getting started later in life. Many men and women are seeking higher levels of education that push career stability, marriage, and children later into adulthood. As a result, many men in their 30s, 40s, and older are competing with younger generations at work and in the dating world. To keep up, many are turning to aesthetic treatments and procedures
Impact of the Zoom Boom
While the uptick of cosmetic surgeries performed on men has been increasing for several years, the "Zoom Boom" has certainly brought it to the forefront. The work-from-home (WFH) lifestyle means we're constantly seeing our faces on video calls — and not everybody is happy with what they see. 
Common signs of aging — such as fine lines, wrinkles, saggy skin, and dark circles under the eyes — coupled with COVID-19 weight gain, has many American men searching for the latest anti-aging treatments.
What are men getting?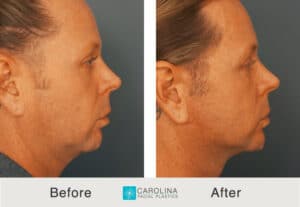 Many of the cosmetic treatments that women love to freshen up their appearance are also popular with men. However, some may be more beneficial for men than others.
Despite the newfound openness in men discussing cosmetic surgery, like women, most still want to look as if they've never gone under the knife. Fortunately, there are many procedures to give men the subtle results they crave:
Face Lift
Like women, men experience skin laxity, loss of elasticity, and facial creases as they age. Jowls, or deposits of fat and skin near the jawline, are particularly common in men. A facelift can lift and tighten sagging tissue for a more youthful appearance. Modern techniques and new technology means we're able to perform face lift procedures with extreme precision. This is a welcome relief for men who may be hesitant about going under the knife. Rather than completely altering your appearance, a face lift can subtly shave years off your face.
Neck Lift
The signs of aging aren't exclusive to the face. With less collagen and elasticity, the skin around the neck and jawline starts to thin. This can result in a dreaded turkey neck, double chin, or horizontal wrinkles across the neck. A neck lift aims to lift and tighten this skin, while removing any excess skin and fat. 
Rhinoplasty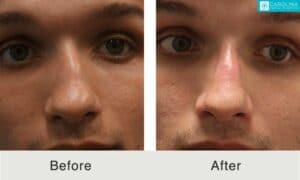 Rhinoplasty is one of the most popular plastic surgery treatments in the U.S. Altering the size or shape of your nose can instantly enhance your eyes, smile, and bone structure. Now more than ever, men are seeking more refined noses that still look masculine and prominent. Modifying the nasal tip and lowering the dorsal hump on the nasal bridge are just a couple of modifications that can significantly improve the appearance of your nose.
Eyelid Surgery
The skin around the eyes is naturally delicate, and it thins with age. This can result in droopy eyelids, crow's feet, and under eye bags. Blepharoplasty is a relatively quick procedure with minimal downtime that can lift and remove excess skin around the eyes. I perform both upper and lower blepharoplasty procedures and can combine these treatments.
Chin Implants
Chin implants and mandibular implants can sharpen a weak chin and define the jawline. This is especially helpful for men experiencing facial bone recession as they age.
Nonsurgical Treatments
It's amazing how quickly nonsurgical treatments can improve the tone and texture of your skin. With access to laser resurfacing, chemical peels, PDO threads, neuromodulators, and dermal fillers, many men are turning to nonsurgical facial treatments for a more youthful look.
Bro-Tox is Real
As the name implies, Bro-Tox is a catchy nickname to describe Botox for men. Botox is one of the most popular cosmetic treatments on the market to minimize the appearance of fine lines and wrinkles. Injections are quick, temporary, and subtle enough to smooth wrinkles without dramatically altering your appearance. In fact, many young men in their 20s and 30s are starting to get preventative Botox to keep new wrinkles at bay. 
Surgery for Better Selfies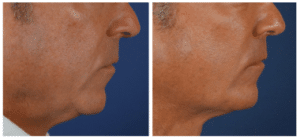 The fact is that the way we look in photos can significantly impact our self-esteem. A good selfie has the power to improve your confidence. It's hard to feel happy with your appearance when you find a photo of yourself with a weak chin or puffy eyes. But those feelings only deepen when you see images of celebrities who look 20 years younger than they are.
That's why it's so refreshing to see celebrities being more transparent about their relationship with cosmetic surgery. Fashion designer Marc Jacobs is a household name who understands his own influence in Hollywood. He recently opened up about getting a face lift at 58. Not only did he document his recovery on Instagram, he urged others of his stature to follow suit in breaking the taboo surrounding cosmetic surgery.
The Work from Home Option: Perfect for Recovery
One of the main drawbacks to cosmetic surgery is the recovery period. Many men don't have the time to take a few days off from work, let alone a full week. Fortunately, with the rise of WFH (work from home), you don't have to. Men who work from home can recover from plastic surgery from the privacy of their own home, while still keeping up with the demands of their jobs. 
Why Dr. Kulbersh is the Best Plastic Surgeon for Male Patients
As a double board-certified facial plastic surgeon with more than 15 years of professional experience, I have performed countless complex face and neck procedures on men of all ages. I understand how important it is to look and feel your best. That's why I want you to feel as comfortable as possible in our hands. I perform all facial surgeries at our Fairview Surgical Suites in Charlotte, NC, where you will be given my undivided attention. After surgery, you'll be taken to our Fairview Recovery Retreat, a private, beautiful space designed to feel like a luxury spa.
To schedule a consultation, contact Carolina Facial Plastic Surgery in Charlotte, NC, today.