If you are struggling with a double chin or wish to achieve a more refined and contoured profile, you might want to explore a combination of treatments that are tailored to your unique goals – our patients would agree and are already loving the results!
At Carolina Facial Plastics, we can transform your facial shape and contours in subtle yet striking ways. Our Charlotte, NC plastic surgery clinic offers a full range of surgical, non-surgical, and aesthetic treatments that we can customize to your precise needs and goals. Since we focus solely on facial enhancement, we offer the expertise necessary to produce beautiful, natural results whether from a single procedure or a combination of treatments.
The Aging Lower Face
Our bones, muscles, and skin don't stay the same as we age. They can lose mass, migrate, or spur major changes in your face. Bone loss can result in retraction of the jawline, emphasizing jowls and a less than defined neck area. And when bones give way, muscles follow suit – they lose their strength, elasticity, and volume. Muscle laxity, loss of muscle mass, and thinning skin contribute to a sagging appearance, especially to the mid to lower face. In some people, genetics or loose skin resulting from aging may result in submental fat or what is commonly known as a double chin.
While some people experience a sagging or drooping appearance, others will have overly round cheeks that lack definition. In many cases, this additional fullness from the cheek to the jawline is due to an excessively large cheek fat pad. To learn more about the aging face, please visit medlineplus.gov.
What is Buccal Fat Pad Removal?
Buccal fat pad refers to the rounded mass of fat in the middle of your cheek. The fat sits in the hollow area beneath your cheekbone, and the size and roundness of these buccal fat pads will impact your face shape. Specifically, an excessively large cheek fat pad will produce additional fullness from the cheek to the jawline.
We recommend buccal fat pad removal, or buccal lipectomy, for patients who have overly round cheeks that lack definition. Partial removal of this tissue can help create cheek definition in the lower face by effectively slimming down the face and highlighting facial contours.
The buccal fat excision procedure is simple and easy to perform. I will make a small incision inside the mouth near the cheek area. Through this small incision, I can identify where the fatty cheek pad is, tease it out, then remove it. After I remove the fat, it only takes one stitch to close the small incision. 
Achieving Balance with a Chin Implant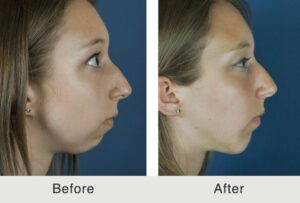 Chin implant surgery is the classic procedure for chin augmentation. An anatomically shaped implant, typically made from silicone elastomers, ePTFE, or porous polyethylene, is placed around your existing chin.
All of these chin implant options are very malleable and porous, allowing the implant to be held in place by soft tissue and grow into the existing bone while healing. However, I prefer to use silicone for chin implants as they can be easily customized to create the ideal shape. I will place the implant around the chin through an incision I make in the natural crease of the chin. This ensures minimal scarring after the procedure.
Chin implant results are meant to be permanent, as a chin implant can last a lifetime. However, should the patient wish to have the procedure reversed in the future, silicone implants can be easily removed.
Reduce the Double Chin with Liposuction
Facial liposuction effectively removes excess fat from areas on the face and neck. Specifically, chin and neck liposuction can improve your appearance by removing your double chin and jowl formation along the jawline. Liposuction slims and shapes the chin, helping patients achieve their ideal profile.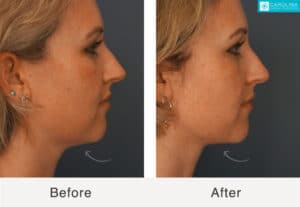 I use advanced liposculpture techniques to provide patients with the best results possible. Particularly, tumescent liposuction is a safe and effective procedure that requires no general anesthesia and minimal downtime. Since this form of liposuction causes unwanted fat to swell, it becomes firm enough to remove and contour with ease.
Compared to other forms of fat removal, tumescent liposuction is more precise and causes less pain, bleeding, and bruising. The skin atop the removed fat is also less likely to sag or wrinkle. I use a special instrument called a micro-cannula, which is much thinner than older liposuction instruments. The narrow cannula allows me to artistically sculpt the treatment area with precision and less trauma to surrounding tissue, resulting in less downtime and scarring.
Additional Lower Face Treatment Options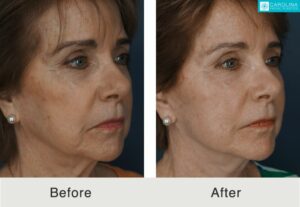 For patients seeking chin augmentation or jaw contouring, there are other treatment options to help refresh and sculpt the lower face. One procedure involves using the patient's own fat to increase chin volume.
The fat grafting technique provides a safe, effective, and lasting improvement in the patient's profile. Also known as facial fat transfer and autologous fat transfer, fat grafting uses fat from other areas of the body to shape and sculpt a more youthful facial appearance. Through liposuction, I will remove fat from a donor site where fat is most tightly packed (e.g., thighs and abdomen).
After the fat is suctioned out, it will undergo a purification process to remove excess fluids. I will then strategically inject it to the target areas such as the chin, to smooth away creases and to restore volume. Fat transfer injections to the face are a safe, natural, and non-allergenic procedure designed to enhance facial contours.
Chin augmentation and jaw contouring using dermal fillers is another common procedure we perform at Carolina Facial Plastics. This is a non-surgical procedure that enhances the lower face by injecting dermal filler into target areas. Specifically, dermal fillers can:
Restore lost volume in the lower face

Contour the jawline to create a sharper profile

Balance an asymmetrical jawline

Strengthen the chin

Reduce the appearance of jowls

To perform this procedure, a topical anesthetic will first be applied to the treatment area. Next, a tiny needle or micro-cannula will be used to deliver precise volumes of dermal filler in the targeted areas of the chin and jawline. The dermal filler also contains a small amount of lidocaine, which reduces any discomfort during and after the procedure.
The most common fillers we use in our Charlotte, NC office for non-surgical chin augmentation are hyaluronic acid fillers. The most popular options include Restylane® and Juvéderm® products, including Restylane Lyft®, Restylane Defyne®, and Juvéderm Voluma®. The ideal product for you will be discussed during your consultation before your treatment.
We recommend these treatment options for those who are not candidates for a surgical implant or those with minor issues who want to better define their chins and jawline. Our expert injectors, Heather Bryant PA-C, Courtney Whitley, FNP-C, and Amanda Piligian, PA-C, are highly experienced in injectable fillers and can help balance your profile with a stronger chin and more defined jawline without surgery.
Why Our Plastic Surgery Clinic is Your Best Choice for Facial Rejuvenation and Sculpting
As a Beverly Hills-trained facial plastic surgeon in Charlotte, I am always looking for ways to enhance my patients' natural facial features. I analyze the balance and proportions of the face to help create custom treatment plans for each patient. 
With my team of cosmetic experts, a fully-accredited surgery center, and a private recovery retreat, all located in the heart of SouthPark, Carolina Facial Plastics is known for unparalleled and natural-looking results exclusively for the face. Our 100% focus on cosmetic treatments for the face gives us the expertise in facial procedures not found in other plastic surgery practices.
Rejuvenate Your Lower Face in Charlotte, NC
At Carolina Facial Plastics, we offer remarkable results and exceptional care by using the most modern cosmetic techniques in an all-inclusive aesthetic destination. Contact our plastic surgery clinic today or book online to learn how we can revitalize your appearance by sculpting and enhancing your chin and jawline.