There are many misconceptions about plastic surgery, but it is becoming more widely accepted due to open conversations on TV shows and social media platforms. Bravo's Real Housewives support cosmetic procedures to boost self-esteem and get rid of insecurities.
Recently, the housewives took to social media and their shows to share which plastic surgery procedures they had done in 2021. The stars spoke candidly about their successes, disappointments, and regrettable plastic surgery procedures.
Carolina Facial Plastics is led by me – I am a double-board certified facial plastic surgeon who focuses on both surgical and nonsurgical facial aesthetic treatments. My team consists of cosmetic experts, including board-certified physician assistants, a nurse practitioner, and a medical aesthetician.
Our plastic surgery clinic offers a wide range of surgical and non-surgical aesthetic treatments, including the procedures the Real Housewives had done in 2021, in our fully accredited surgery center and luxurious recovery retreat.
It's All about the Nose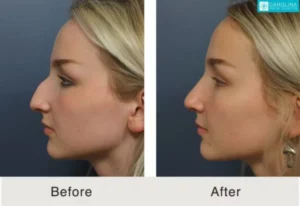 Rhinoplasty, also known as a nose job, is one of the top procedures I perform at Carolina Facial Plastics. Rhinoplasty is a treatment that addresses the nose's size, shape, structure, and asymmetry.
Several Real Housewives had rhinoplasty procedures in 2021, including Jennifer Aydin, Teresa Giudice, and Raquel Leviss. While some stars found success with their procedures, Raquel was disappointed in the results and felt her fiancé bumping into her nose contributed to unwanted results.
I improve the aesthetics of the face by creating a nose that blends with the rest of the facial features. I consider the entire face to produce natural, proportionate results for each patient.
Rhinoplasty is more than reshaping a nose; I can also improve the way light reflects from the face and eliminate distracting shadows caused by bumps, droops, crases, or asymmetries.
In the case of Raquel, when patients are dissatisfied with their rhinoplasty results, I often recommend revision rhinoplasty. Unfortunately, many plastic surgeons lack the skill and experience to achieve desirable rhinoplasty results.
Rhinoplasty is a complicated procedure that requires innovative techniques and expertise, which may be why I see many revision rhinoplasty candidates who have gone to other surgeons for their procedure and received less-than-stellar results.
When One Isn't Enough
I strive to create balanced aesthetics for my patients, accounting for facial features and proportions when I create a customized plan to help my patients meet their individual goals. Sometimes this means combining treatments for maximum and harmonious results. Combining procedures can reduce recovery time, limit anesthetics, and eliminate multiple surgeries.
Real Housewife Jennifer Aydin had combination procedures in 2021 to ensure balanced results. Her board-certified plastic surgeon spouse and her surgeon that performed the surgery advised her on combining rhinoplasty and a chin implant.
When making cosmetic and structural changes to the face, it is critical to consider how one alteration affects facial balance. Jennifer wanted a nose job to help relieve insecurities, and a chin implant was a logical addition to achieve facial balance.
At our Charlotte, NC plastic surgery clinic, I work closely with each of my patients to identify their beauty goals and make decisions for safe and effective combination treatments. We will help you achieve confidence and facial balance with a wide range of customizable options.
A Winter Lift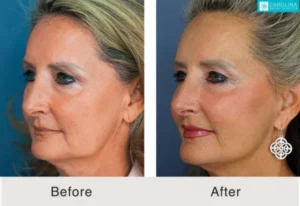 Facelifts—and other major plastic surgeries—are most common in the fall and winter to avoid the heat and sun exposure and see results before summer months or holiday events.
Dolores Catania and Emily Simpson are two Real Housewives that underwent a facelift procedure. A facelift is an effective way to address multiple aging concerns in one operation. It can:
Remove excess fat in the neck and jowls

Tighten underlying muscles

Reposition sagging tissue

Elevate cheeks to a more youthful position

Remove excess or loose skin for a smoother appearance
I offer both traditional and mini facelifts. A mini facelift is a minimally-invasive surgical procedure that is less aggressive but still addresses skin laxity. A mini facelift treats signs of early aging by tightening and lifting facial muscles for natural rejuvenation. Visit hopkinsmedicine.org to learn more about mini lift.
I can tailor surgical treatments to meet your unique goals and achieve a natural and youthful look. I use the most advanced surgical techniques and a patient-centric approach to ensure unmatched results.
The Quick Fix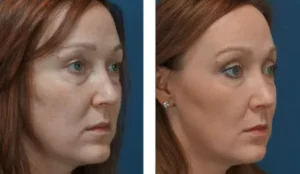 Many Real Housewives had Botox® Cosmetic and dermal fillers to treat early signs of aging and knock out wrinkles.
Botox is a neuromodulator that blocks the interaction between the nerve and the muscle to minimize muscle movement. It can reduce wrinkles and eliminate fine lines on the skin.
Dermal fillers target static wrinkles and restore volume to add youthful fullness to strategic areas of the face. While the treatments are minimally-invasive and straightforward, it is easy to overdo it and end up with unnatural results. Working with an experienced, qualified injector is critical to ensuring an optimal outcome. 
Real Housewife Shannon Storms Beador admitted to overdoing it on fillers when cast members, family, and friends noticed her looks dramatically changing. Dermal fillers and Botox are great tools to achieve younger-looking skin, but knowing the right product, treatment areas, and dosing amount is essential for a natural look.
Carolina Facial Plastics can create a treatment plan to address your concerns and give you the youthful, natural look you desire. Working closely with an expert can lead to noticeably younger-looking skin without dramatic changes to your overall appearance.
The Best Plastic Surgery Clinic in Charlotte, NC
Many plastic surgeons offer surgical and nonsurgical procedures—but not all are qualified to deliver natural, beautiful, and balanced results. Carolina Facial Plastics provides Charlotte, North Carolina, and surrounding areas access to exceptional care and remarkable plastic surgery results. With more than 15 years of experience and thousands of procedures performed, I and my team are a top choice for plastic surgery procedures in the South.
Contact us to learn more about our procedures and schedule a consultation.