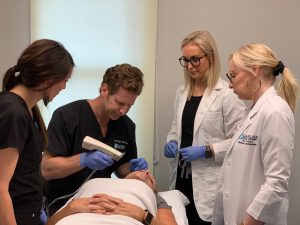 We all want to find that "perfect match," the one person in our life that brings out the best in us. It turns out that what works best in our personal relationships can also work best in the cosmetic treatments we choose. At Carolina Facial Plastics, we offer procedures that were made for each other, to help our Charlotte patients put their best faces forward through every season of life. 
As a double board-certified facial plastic surgeon, I offer procedures designed to bring out your best no matter what your concerns might be. Our Charlotte plastic surgery clinic offers a full range of surgical, nonsurgical, and aesthetic treatments that we can customize to your precise needs and goals. Since I focus solely on facial enhancement, I offer the expertise necessary to produce a beautiful, natural result with every procedure. 
Why Combine Cosmetic Treatments?
Creating the best look for you requires procedures customized to your precise needs, skin type, and goals. There is no one-size-fits-all treatment plan and no single treatment will address the multiple concerns you are likely to have. Some procedures like injectable fillers and neuromodulators are designed to smooth away lines, while laser treatments are a better fit for rejuvenating the skin. When we combine treatments, we can produce comprehensive improvements in fewer treatment sessions, maximizing your results. 
I, along with my board-certified physician assistant Heather Bryant and board-certified nurse practitioner Courtney Whitley, will perform a full assessment and thoroughly discuss your specific concerns and goals. By gathering this information first, we can create a treatment plan tailored to your precise needs for a complete transformation. Whether you will see optimal results from a single procedure or a combination approach, we will ensure your treatment meets and exceeds your expectations. 
Combination Options At Our Plastic Surgery Clinic
The choices in combination treatments are vast, allowing us to address the aesthetic desires of all our patients. Some of the most common treatment approaches we offer include: 
CoolPeel + Botox = Comprehensive Anti-Aging
The cutting-edge technology of the CoolPeel laser meets the tried-and-true benefits of Botox Cosmetic injections to produce comprehensive anti-aging results in a single treatment session. CoolPeel is a revolutionary treatment that offers similar results to traditional CO2 laser resurfacing in a series of treatment sessions without downtime. This laser can address the following skin concerns: 
Fine lines and facial wrinkles 

Enlarged pores and irregular skin texture

Brown spots and other pigmentation irregularities

Mild skin laxity 
Botox is the injectable neuromodulator that minimizes dynamic wrinkles that frequently appear on the forehead and around the eyes. The treatment works by targeting the muscles that cause the formation of the lines. By relaxing the muscles, the wrinkles are smoothed away as well. 
My team performs these procedures together in our Charlotte, NC plastic surgery clinic without the need for anesthesia or downtime. Results of Botox are fully evident within about one week, while improvements from a CoolPeel session continue to improve in the weeks following your session. I typically recommend a series of three treatments, spaced about four weeks apart, to ensure the best possible results. 
Facelift + Fat Grafting = Natural Youth Restore
My surgical facelifts address even advanced signs of aging like deep creases, hollowing in the midface, and jowl formation. While a facelift alone can be effective, combining the surgery with facial fat grafting can be even better. This combination allows me to restore youthful volume in the midface and other key locations even while removing redundant skin for a truly vibrant, youthful appearance. The addition of fat can make the results of a facelift last even longer as the firmer skin has support beneath the surface. 
I perform facelifts in my luxurious Fairview Surgical Suite, and patients have the option of spending the early part of their healing process in my recovery retreat as well. Most patients return to activities within a week or two. Results can be quite dramatic and last up to 10 years or more. 
I perform fat grafting at the same time as the facelift for many of my patients. This two-step procedure begins by extracting unwanted fat from an area of the body like the abdomen, hips, or thighs. We process then place the fat back into the face via injections, much like a dermal filler. The fat produces a very natural result that can also be long-lasting in most cases. 
Rhinoplasty + Chin Augmentation = Facial Balance
As the central feature of the face, it makes sense that the nose would be a primary area of focus when considering aesthetic treatments. What patients often do not know is that the proportion between the nose and chin is critical to ensuring the most aesthetically-pleasing profile. Patients are often surprised when I suggest a combination of rhinoplasty and chin augmentation, but this duo can be the perfect path to facial harmony and balance. 
Rhinoplasty is the most complex of all plastic surgery procedures. As a facial plastic surgeon with expertise in nose anatomy and function, I help patients achieve enhancements to the nose from both a cosmetic and a functional standpoint. I perform rhinoplasty using general anesthesia to ensure the safest procedure, and I have perfected techniques and steps in the process to provide my patients with the shortest and most comfortable recovery process. 
I typically use a synthetic implant to augment the chin. Dermal fillers are also an option, but they cannot offer the same dramatic, permanent improvement. There are multiple shapes and sizes of chin implants, which allow me to customize your procedure to your specific goals and facial proportions. Incisions for a chin implant are either under the chin or inside the mouth, minimizing visible scarring after the procedure. Both of these procedures take place at my Fairview Surgical Suites, with the option to stay in the recovery retreat overnight. 
Facelift + Chemical Peel = Lift and Smooth
Volume isn't the only element I can add during a surgical facelift. Some patients want to accentuate their firmer appearance with full skin rejuvenation that effectively turns back even more years on the appearance. A chemical peel is the perfect addition, as it allows for a full exfoliation of the skin at the precise depth a patient needs for optimal rejuvenation. Since the patient is already asleep for the facelift, performing even a deep chemical peel will be comfortable and highly effective. 
Chemical peels can address the following concerns: 
Lines and wrinkles 

Pigmentation irregularities 

Uneven skin texture and tone
I often recommend trichloroacetic acid (TCA) peels with a surgical facelift. This deep peel removes outer layers of skin to reveal smoother, softer skin underneath. Patients experience about one week of peeling and flaking after the treatment, before seeing the dramatic improvement in the skin overall. This is a truly rewarding treatment approach that produces significant, long-lasting results for my patients. To learn more about TCA peels, please visit ncbi.nlm.nih.gov. 
Why Choose Carolina Facial Plastics for Your Combination Treatment?
At Carolina Facial Plastics, we specialize in facial enhancements to help you look your best at any stage of life. With choices in surgical, nonsurgical, and aesthetic treatments, as well as the ability to customize combination procedures, we can produce natural, beautiful results for our Charlotte patients. To learn more about how we can tailor an effective treatment plan for you, schedule your consultation today.