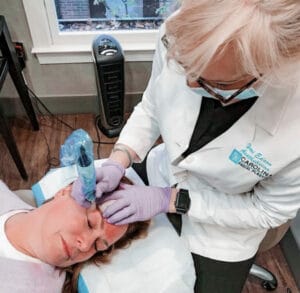 Medical aestheticians and traditional estheticians are both trained skincare specialists. However, a medical aesthetician has more training and can perform more specialized treatments for a variety of skin conditions, which is why medical aesthetician Terri Edson is part of the team at Carolina Facial Plastics. She brings over 15 years of experience in the facial plastic and skincare industry, and understands the unique needs of each patient to create safe and effective personalized treatment plans.
Terri joins myself, nurse practitioners  Courtney Whitley, FNP-C, and Amanda Piligian, PA-C, and physician assistant, Heather Bryant, MPAS, PA-C. Along with our entire back and front office team, we provide a level of expertise not found anywhere else in Charlotte, North Carolina.
What is an Esthetician?
An esthetician is a licensed professional who typically works in a spa setting and primarily focuses their services on providing clientele with relaxing and pampering treatments. Estheticians perform cosmetic skincare services which can include facials, hair removal, chemical peels, body wraps, and massage.
What is a Medical Aesthetician?
A medical aesthetician is also licensed and may perform the same tasks as an esthetician. However, they undergo further training that allows them to perform more technical treatments such as medical-grade chemical peels, laser procedures, and other technologies that require more in-depth knowledge about the skin's anatomy and physiology. To learn more about the difference between a medical aesthetician and a traditional esthetician, please visit Universal Spa Training Academy.
Medical Aesthetician Training
Esthetician schooling takes approximately 600 hours (4-6 months for a full-time student) to complete, and a medical aesthetician license requires an even longer training course. Medical aesthetician students can complete the program in 9-12 months after graduating from high school. While there is a significant overlap between the esthetician and medical aesthetician programs, esthetician programs are more generalized while medical aesthetician programs have a more specialized focus. A medical aesthetician, therefore, must complete additional certified training programs with a focus on particular techniques and medical equipment.
Where Medical Aestheticians Work
Because of their more specialized training, medical aestheticians can work in clinical settings such as:
Hospitals
Burn centers
Trauma centers
Rehabilitation centers
Plastic surgery/reconstructive surgery clinics
Dermatology clinics
Medical spas
Advantages of Working with a Medical Aesthetician
While any skincare specialist's job focuses on improving the health and appearance of your skin, a medical aesthetician has a more specialized and clinical approach to skincare. Some medical aestheticians focus on one skincare area (e.g., laser therapy), while others can train for a variety of clinical procedures. This means they don't just treat cosmetic concerns, but medical issues, as well. They can treat a wide variety of conditions including scarring, hyperpigmentation, signs of aging, and uneven skin texture. Their medical knowledge, technical training, and aesthetic eye can help ensure patients receive safe and effective treatments that provide them with their desired results.
Meet Our Medical Aesthetician – Terri Edson
Terri's Training and Experience
Terri Edson has a passion for skincare and for the patients she treats. She has more than 15 years of experience in aesthetics and plastic surgery, bringing her extensive knowledge and expertise to our patients at our Charlotte medical spa.
Terri has extensive training in the treatment of acne, aging skin, hyperpigmentation, fine lines, and rosacea. She has performed more than 10,000 chemical peels, 1,000+ laser treatments, and 3,000+ microneedling procedures. She also helps patients maintain the results of their professional treatments with a customized, medical-grade skincare program they can use at home. Whether through her customized aesthetician treatments or our exclusive skincare line or other notable brands, Terri will help patients keep their skin in top condition throughout every season.
Services Terri Offers
Terri offers remarkable results and exceptional care with the following aesthetic procedures:
Other Services Available at Carolina Facial Plastics
Because we are fully face-focused, our team can perform both surgical and non-surgical treatments designed to fully enhance your own unique attractiveness. We all believe in creating natural and beautiful results for all our patients. Therefore, we employ a customizable approach to treating our patients.
When visiting Carolina Facial Plastics, Terri can assist you in identifying your skincare needs and refer you to a member of our staff who can help address your other concerns and goals. We are confident that our advanced techniques and refined skills can help you receive the highest level of care and the best possible results.
Book An Aesthetic Treatment At Our Medical Spa Today
When choosing a partner for your aesthetic treatments, select one with the training and experience that can safely deliver the results you desire. At Carolina Facial Plastics, we want to support you in aging gracefully and having healthy, beautiful skin for every stage in your life. Our expertise and specialized focus can help you achieve that. To learn more about our aesthetic treatments, contact our Charlotte, NC medical spa today.