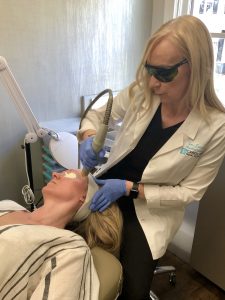 With spring around the corner, it's time to refresh your skin for the new season. What better way than with a customized aesthetician treatment? At Carolina Facial Plastics, we are ready to help you get your best look for spring.
Terri Edson is the medical aesthetician at our medical center, who works closely with myself and the rest of the team to help patients look and feel their best. With more than 15 years of experience, Terri is uniquely qualified to provide tailored treatment plans for our Charlotte patients that address their precise needs and goals. Trust your skin to Terri and enjoy your most beautiful spring yet! 
What Can a Medical Aesthetician Treat?
A medical aesthetician like Terri takes skin treatment to the next level. In addition, she uses treatments to support recovery after plastic surgery and intense laser treatments, which also enhances the results of those procedures in many cases. 
At Carolina Facial Plastics, Terri brings her expertise and extensive experience performing a broad range of aesthetic treatments, including: 
Chemical peels

Microneedling

Laser treatments 
She also helps patients tailor a medical-grade skin care program based on their precise needs and skin type, ensuring patients can support your professional treatments at home for long-lasting improvement. 
Customized Treatment Options 
What does your skin need most? Exfoliation to reveal your healthy glow? A collagen boost to smooth and firm the complexion? A reduction in early aging symptoms like fine lines? No matter what your goals might be, Terri and the rest of our team at Carolina Facial Plastics can help you meet them. Some of the aesthetician treatments we offer include: 
Chemical Peels

Chemical peels are an exfoliating treatment that uses chemical formulations to precisely remove layers of skin for a more youthful, vibrant appearance. With a variety of peel solutions to choose from, Terri can tailor your treatment based on the extent of your damage and the specific concerns you want to treat. At our Charlotte medical center, we offer the following options: 
Superficial peels that contain alpha hydroxy or beta hydroxy acid to brighten the complexion and improve the overall texture and tone of the skin

Medium peels, including Jessner and retinoic acid peels that work well on moderate aging symptoms and are safe for all skin tones 

Deep peels that use trichloroacetic acid to address the most advanced aging symptoms for patients who can afford some downtime after treatment 
Depending on the depth of the peel you choose, you may see the following benefits from your treatment: 
Increased collagen and elastin for healthier skin from the inside out

Reduction in fine lines and wrinkles 

Improved skin texture for a smoother surface

Minimization of hyperpigmentation and brown spots
Superficial peels can be used regularly, while deeper peels may only be needed once to achieve dramatic, long-lasting results. We will provide a comprehensive examination of the skin to determine the peel that will meet your skin needs best. 
Microneedling
Microneedling is a collagen induction therapy that stimulates collagen production by creating micro-channels in the skin. Terri can adjust the depth of the channels, ensuring patients get the precise amount of correction they need—no more, no less. Terri performs this procedure using topical numbing, and most patients don't have significant downtime after the procedure. 
Potential benefits of a microneedling treatment include: 
Tighter skin for a smoother appearance

Reduction in pore size

Fewer fine lines and wrinkles 

Improvement in scarring, including acne scars

More even skin texture and tone

Overall skin rejuvenation 
Microneedling does not produce immediate results, since the procedure works by triggering additional collagen production over time. However, once the improvements become evident, they can continue to develop in the weeks and months following treatment, with natural, beautiful results. To learn more about microneedling, please visit health.harvard.edu.
Laser Treatments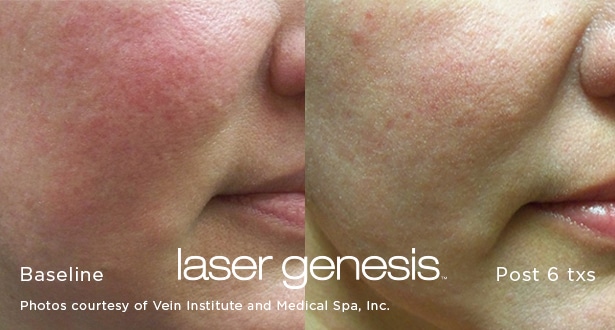 Laser devices are another way to refresh the skin and brighten your complexion for spring. One of our favorite laser treatment options is the CoolPeel, which can produce similar results to a CO2 laser resurfacing treatment without the downtime. The secret to this device's success is the ability to produce small changes in a series of sessions, so over time, your skin becomes smoother, firmer, and younger-looking. The treatment does not require downtime, so you can easily fit the treatment sessions into your schedule until you achieve your desired result. 
We recommend the CoolPeel for the following concerns: 
Lines and wrinkles 

Brown spots 

Skin laxity

Enlarged pores 
Since you will require multiple appointments with this device, we recommend starting now so you will enjoy the most beautiful outcome by the time summer comes around. We also offer additional laser options, including Laser Genesis for skin redness and sun damage and the Cutera Titan for fine lines and mild skin laxity.
Combine Treatments for Total Rejuvenation
While one of these treatments is good, two or more can be even better! We often combine aesthetic treatments to produce a more dramatic improvement. We also frequently perform injectable treatments like dermal fillers or neuromodulators at the same time as peels or laser treatments to smooth away any remaining lines and wrinkles for a truly flawless finish. 
Combined treatments are carefully chosen to your precise needs, skin type, and goals. This ensures you receive all the correction you need, right where you need it, to produce a superior outcome. Our team of experts is ready to create a customized treatment plan for you so you can put your best face forward this spring. 
Renew Your Skin Today At Our Charlotte Medical Center
Spring brings a time of renewal, the perfect time to renew your skin for a beautiful season. To learn more about any of our aesthetic treatments, contact Carolina Facial Plastics today to schedule your personal consultation.