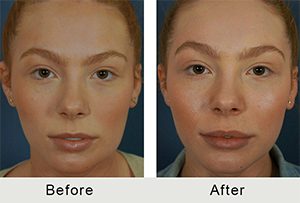 The lips are delicate, soft, and a gorgeous feature of the face, which can be easily enhanced at the Carolina Facial Plastics with a very minimal procedure that requires no downtime. A warm and beautiful smile can be greatly enhanced with the addition of volume to the lips. Lip augmentation is a straight forward, quick, and highly rewarding procedure that can greatly enhance the lips and overall facial appearance.
Remarkable Results, Exceptional Care 
The lips are one of the most sensitive areas in the face and our expert injectors want to make any experience under their care as comfortable as possible. In the wrong hands, lip augmentation with injectable fillers can be a painful experience. Trained under the direction of the most prominent facial plastic surgeons in Beverly Hills, Dr. Kulbersh centered half of his training on fillers and injectables and has coined the "Needleless Filler Technique," a comfortable, less invasive way to inject fillers which can be used by our aesthetic team.
Lip Augmentation and Lip Enhancement in Charlotte, NC
Needleless Lip Augmentation Technique
Dr. Kulbersh, Courtney Whitley FNP-C, and Heather Bryant, MPAS, PA-C can use a needleless injection technique for lip augmentation that is more comfortable for their patients and minimizes trauma. In the needle-using injection, the needle is located on the end of the filler, and it is poked multiple times for each injection. With the needleless injection, a blunt cannula has a similar resemblance to a needle shape except that it is rounded on the end and not sharp, which is used to inject the filler. The blunt tip pushes the tissue to the sides, thereby causing fewer traumas than a regular needle. This results in less pain, swelling, and bruising. The only time a needle is used during lip augmentation is to block the nerve and to make a tiny hole in the skin to allow the blunt cannula to go under the skin.
Learn more about your choices in Lip Augmentation.
Indications for Lip Augmentation:
Patients that have lost volume in their lips resulting in thinner lips.
Patients that have fine lines surrounding their lips, and the flattening of the smooth curves of the upper lip.
Patients that desire a curvier, fuller, and pouty lip to enhance their smile and attractiveness.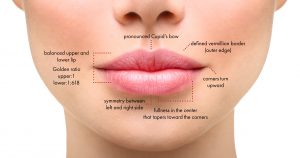 Next, find out if Restylane is the right filler for you.