As we age, we have to witness our skin changing – and unfortunately, not for the better. Because of collagen loss and facial muscles weakening, the once firm and supple skin begins to fade. In addition to lines and wrinkles, one of the telltale signs of aging in men and women is a less defined jawline. Eventually, deeper wrinkles will form and midface tissue begins to sag. Fat and tissue will also accumulate, contributing to jowls and unattractive loose skin.
An obscured jawline need not be a life sentence. At Carolina Facial Plastics, it's all about the face. Our single focus on facial cosmetic treatments gives us the expertise in facial procedures not found in other plastic surgery clinics in Charlotte, NC. When you come to me for a consultation, my goal as a Beverly Hills-trained double-board certified facial plastic surgeon is to accentuate your natural beauty. I can accomplish this by providing holistic and comprehensive treatments for all aesthetic and reconstructive conditions of the face, eyes, and neck, while bringing different areas of the face into proportion. If you'd like to sculpt your jawline, I'm sharing 5 ways to shed years off your lower face.
Solution #1 for the Dreaded Jowl
Fortunately, there are plenty of skin tightening solutions for loose skin around the jawline, including laser and energy treatments.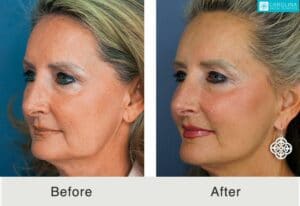 For those ready to tighten and smooth wrinkled, sagging skin but are not ready for surgery, we recommend the revolutionary Profound RF non-surgical facelift. Profound RF by Candela combines the healing powers of microneedling with the stimulation of radiofrequency (RF) to reverse the signs of aging. Hair-thin needles will repeatedly pierce your skin, stimulating a wound-healing response. The RF energy travels through the needles to trigger your body to create more collagen and elastin, making the treatment even more effective. As your skin repairs itself, it becomes smoother, tighter, firmer, and more youthful-looking.
Laser skin resurfacing, on the other hand, can treat wrinkles and mild sagging. The laser's energy removes the aging outer skin and allows new, healthy skin to replace it and in effect, smooths out wrinkles and corrects mild skin laxity. At Carolina Facial Plastics, we employ three different laser resurfacing procedures from a single platform. We use the CO2 CoolPeel laser because it provides excellent results with minimal downtime.
For more significant jowling, we recommend a surgical facelift or mini lift. A surgical facelift involves removing excess fat from the neck and tightening neck muscles to give the area underneath the chin more definition. A mini facelift, on the other hand, is a minimally invasive surgical procedure that's less aggressive than a traditional facelift or a neck lift. With smaller incisions, I can trim redundant skin, tighten skin, remove jowls, and angulate your jawline. A mini facelift might be your best choice if you have early signs of aging, such as slight jowl formation and mild to moderate skin laxity. 
Solution #2 for Chin Fat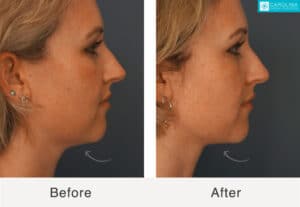 Removing excess fat can go a long way in accentuating the jawline. One way to achieve fat removal, especially for more substantial submental fat is through facial liposuction. I use a micro-cannula, which is much thinner than older liposuction instruments and results in less bruising and swelling than a traditional needle. The narrow cannula allows me to suction out fat and artistically sculpt the treatment area with precision and less trauma to surrounding tissue.

For a non-invasive approach to eliminating minimal chin fat, we can use Kybella injections. Consisting of deoxycholic acid, Kybella breaks down fat cells by interrupting their cellular membranes. The treated fat cells are destroyed and are gradually absorbed by the body, allowing the skin to contract and create a slimmer neck and jawline. 
Solution #3 for Facial Creases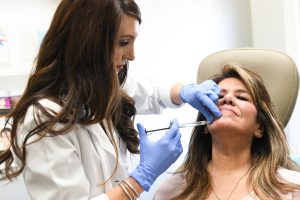 Injectables are great treatment options for non-surgically treating wrinkles. Neuromodulators like Botox® target the muscles causing the dynamic wrinkles (formed from expressions such as smiling and frowning), prevent the overlying skin movement, and allow the skin to smooth out over time. Botox Cosmetic is a highly effective treatment for lines that appear around the mouth and chin.
Dermal fillers, on the other hand, work to achieve smooth skin differently. Dermal fillers don't relax facial muscles as Botox does. Instead, these injectables restore lost volume and plump up the skin by filling in static wrinkles. The result? Smoother, firmer, tighter, and younger-looking skin with enhanced facial contours. Our expert injectors in our Charlotte plastic surgery clinic, Heather Bryant PA-C, Courtney Whitley, FNP-C, and Amanda Piligian, PA-C have great insight into the art of facial rejuvenation with dermal fillers.

Solution #4 for a Weak Chin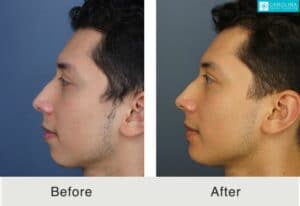 The chin plays a critical role in improving the face's balance and overall appearance, and there are two different chin augmentation techniques I may use based on your specific needs and goals. I can use silicone chin implants as I can easily customize them to create the ideal shape. Furthermore, I may also use a mandibular implant to both sculpt your jawline and augment your chin. This device is different from a chin implant, which only covers the chin area. A mandibular implant spans the jawline from ear to ear, effectively lifting and tightening saggy tissue that droops beneath the chin.

For a non-surgical approach, we can inject selected dermal fillers like Voluma®, Restylane®, or Juvéderm® into specific areas of the chin to increase its length, width, or projection. When injected in combination with treating the cheeks and jawline, it can correct sagging around the mid and lower face, helping to produce the coveted heart-shaped face that women want. For men, the process can produce the square-shaped jawline that is associated with masculinity and attractiveness. These injectables can also help reduce lines and wrinkles around the upper neck and jawline. 
Solution #5 for an Aging Neck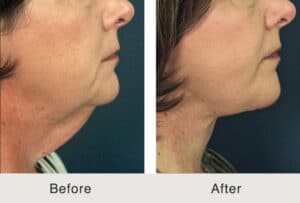 The neck is one of the first areas to show signs of aging, and skin laxity becomes a prominent concern, especially when it results in a "turkey neck." Submental fat can also accumulate under the chin, giving the appearance of a double chin.
For severe signs of neck aging, I recommend a neck lift to revitalize the neck's appearance. Using small incisions, I can lift the tissue around the neck. This procedure can dramatically enhance the jawline, and the results are long-lasting. Many patients choose to combine a facelift with a neck lift for a more cohesive outcome.
Visit Our Plastic Surgery Clinic and Turn Back the Clock on Your Jawline
Carolina Facial Plastics, which is renowned for unparalleled and natural-looking results exclusively for the face, consists of me and my team of cosmetic experts, a fully accredited surgery center, and a private recovery retreat, all located in the heart of SouthPark. If you'd like to further explore neck and jawline rejuvenation options, contact Carolina Facial Plastics in Charlotte, NC to schedule a consultation.