Botox® is a powerful treatment option for chronic migraines that can provide pain relief for those suffering from this debilitating condition. In 2010, Botox was approved by the FDA as a treatment for adults with migraines and has become the #1 prescribed branded migraine treatment, according to the manufacturer's website.
Many patients report Botox injections result in less frequent migraines and a decrease in the severity and longevity of migraine pain. What should you know before considering Botox injections for migraines?
How does Botox help migraines?
Chronic migraines can be paralyzing and especially difficult to treat with standard medications. Botox has proven to be an effective option for treating migraines in those who haven't found success with other treatment options.
When you have a migraine, your nerves release neurotransmitters and chemicals associated with pain. Physicians believe botox for migraines works by blocking the nerve endings from releasing these chemicals and thus preventing patients from experiencing migraine pain. By preventing the transmission of pain signals, Botox can stop migraines before they even begin. Many patients reported that two Botox treatments reduced their number of migraine days by almost 50%.
Where do they inject Botox for migraines?
We've all heard of Botox® Cosmetic injections for smoothing out the forehead and preventing wrinkles around the eyes, but where is Botox injected for migraines? If your migraine pain stems from one particular spot, you may get more injections in this area. However, there are three main Botox injection sites for migraines that your injector will focus on:
Between the eyes and above the eyebrow
Around the outer corner of the eyes and outer end of the eyebrow
The back of the head
The neck and shoulders
Botox for Migraines: What to Expect
This process differs from the administration of Botox for cosmetic purposes, making it important to see an experienced, certified medical professional who is knowledgeable in Botox and migraines. Your physicians will first determine if you qualify for Botox by assessing how often you experience migraines. Typically, patients must experience migraines a majority of days (at least 15 or more days a month) to be a candidate for Botox.
The injection of Botox should be administered according to your unique anatomy and pain points to create the most effective results. The injections are administered to the key pain-point areas of the head, face, and neck using a small needle that feels like a slight pinch. This treatment typically lasts no longer than 15 minutes.
How long does it take Botox to work for migraines?
It can take time to experience pain relief following Botox injections for migraines—typically 2-3 weeks. Patients often experience better results after multiple treatments. Some patients can eventually discontinue the treatment, while others may need to return every 3-5 months to keep migraine pain under control.
How much does Botox for migraines cost?
The cost of Botox for migraines can vary depending on a variety of factors, including the number of injections needed, the skill and experience of the provider, and the location of the provider.
What are the side effects of Botox injections for migraines?
Side effects from Botox shots for migraines are minimal, with some patients experiencing mild swelling or tenderness at the injection sites. Typically, the appointment is short and patients can return to their daily activities immediately following treatment.
Does Botox for migraines help wrinkles?
Many patients find their Botox injections for migraines also smooth fine lines and wrinkles between the eyebrows and around the eyes. Because Botox relaxes the muscles in the face, these injections can simultaneously help diminish the appearance of wrinkles in these areas. Botox for migraines before and after pictures demonstrate improvement in harsh lines between the brows and crows feet in some patients.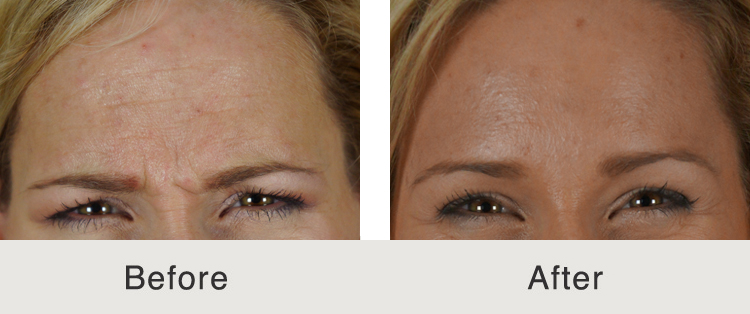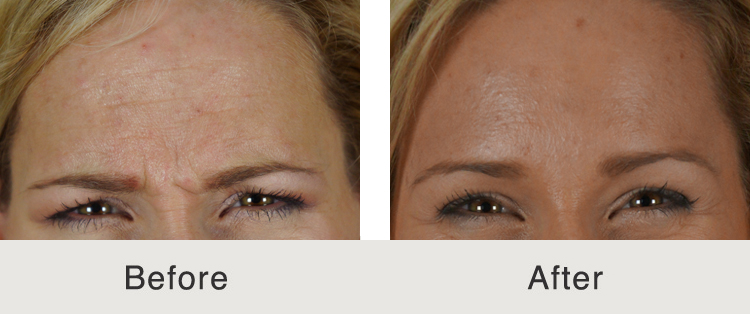 Getting Botox for Migraines in Charlotte
It's important to make sure the medical professional you choose to administer any type of injection in your face and neck has a track record of comfortable care and effective results. As a double board-certified facial plastic surgeon, I lead Carolina Facial Plastics in Charlotte, NC. My experienced team of injectors includes board-certified physician assistants, Heather Bryant PA-C and Amanda Piligian PA-C, and board-certified nurse practitioner, Courtney Whitley FNP-C. All are experts in administering Botox and Dysport injections for migraine pain relief as well as a host of other medical and cosmetic purposes.
To schedule a consultation with Carolina Facial Plastics in Charlotte, NC by calling (702) 842-3644 or book online.
Next, read more about how to get rid of forehead wrinkles without surgery.