Breath easy – If you have questions about nose jobs, commonly referred to as rhinoplasty, I have answers for you. I can provide helpful information to guide you in making a decision about scheduling a cosmetic or functional rhinoplasty. At Carolina Facial Plastics, I help improve a patient's quality of life with cosmetic rhinoplasty to improve the appearance of the nose, or with functional rhinoplasty to correct a deviated septum and other concerns. 
I am a double board-certified facial plastic surgeon with more than 15 years of experience in surgical procedures, including rhinoplasty. Whether you need to breathe easier, or want to reshape a crooked nose, my team and I are dedicated to providing you with superior care and results. We offer rhinoplasty surgery in our private and fully accredited Fairview Surgical Suites. You can also opt to spend a portion of your recovery relaxing in our luxurious Fairview Recovery Retreat, where you will enjoy round-the-clock care in a serene and calming environment.
Improve Breathing with a Functional Rhinoplasty
The nose is an important feature of your face – it is the main receptor of oxygen, and also acts as a filter to clean and warm the air. Functional rhinoplasty, such as a septoplasty or turbinate reduction, alters the septum or parts of the nasal passage that may interrupt your breathing. A broken nose can also be repaired with functional rhinoplasty.   
I see a variety of patients in my office who just want to be able to breathe easier at night. I hear many stories about patients who have problems with breathing, congestion, or nose bleeds, or may need surgery after suffering a nose injury. Some of the main reasons patients seek my expertise with functional rhinoplasty procedures may include:
Deviated septum

Birth defect

Nose injury from trauma

Severe allergies that alter the internal anatomy of the nose
After a functional rhinoplasty, my patients see a noticeable improvement in nasal function. The surgery is designed to correct a medical condition that interferes with the normal respiratory process, so a consultation in my Charlotte, North Carolina office will provide the answers you seek and guide you in making your decision to schedule your procedure. 
Improve Appearance with a Cosmetic Rhinoplasty
Simple cosmetics can make your eyes, cheeks and lips pop. But there's one part of the face that just doesn't seem to be able to catch a break: The nose! Cosmetic procedures are available for reshaping or resizing in many ways to improve the balance, symmetry, and proportion of the entire face. 
Why Do Patients Choose a Cosmetic Rhinoplasty?
I offer customized cosmetic rhinoplasty procedures that can do some of the following:
Straighten a crooked nose

Create proportion between the nose and the rest of the face

Reduce, widen, or even out nostrils

Improve appearance by altering the tip or angle of the nose 

Remove a nasal bridge bump
During your consultation, I will help you decide which surgery option will give you the look you desire. Browse the before and after gallery to see the results of several types of cosmetic rhinoplasty. Click on the contact page to schedule your consultation.
Two is Better than One
A patient's outlook and self-confidence can be improved with functional or cosmetic rhinoplasty. Can a patient achieve improved appearance and breathing with one procedure?
Breathing and Beauty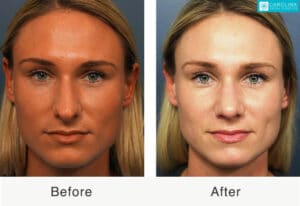 Septoplasty is a procedure that may give the nose an improved appearance since part of the cartilage may be removed to straighten the septum. Cosmetic rhinoplasty alters the appearance of the nose by reducing the cartilage to remove a dorsal hump (on the bridge of the nose) and may subsequently improve breathing. 
Whether you need to improve your breathing, or want to change the appearance of your nose, you may experience a combined benefit with long-lasting results. You can also combine your functional and cosmetic rhinoplasty to achieve full benefits with just one time under anesthesia and one recovery process. 
Choosing your Rhinoplasty Surgeon
Rhinoplasty, whether functional or cosmetic, is a complex, delicate procedure. Nose surgery offers two results – better respiratory functionality, or improved appearance. A properly functioning nose should be able to act as an intake for oxygen and allow you to look your best. Because your nose is a unique feature, my expertise as a double board-certified facial plastic surgeon ensures that your surgery, whether functional or cosmetic, meets your expectations. I am fully focused on facial enhancement so I have more experience in this area than a general plastic surgeon. In addition, my background in otolaryngology gives me the expertise and knowledge necessary to produce excellent rhinoplasty results for my patients.  
Your rhinoplasty is a path to an improved quality of life and increased confidence. My team and I are dedicated to providing you with a first-rate experience and the highest quality of care. 
Schedule a Consultation Today
Remarkable Results – Exceptional Care
Carolina Facial Plastics provides expert care and innovative technology to ensure your cosmetic and medical needs are met. We believe everyone deserves to look and feel like the best version of themselves. Schedule your consultation with me to find out what type of rhinoplasty will help you achieve your goals. You can breathe easy and look your best in our Charlotte, NC office. Make the call or schedule your appointment online now!