I wanted to take this opportunity to thank all of my patients for choosing my practice for their care.  I love my profession, and I have had such enjoyment getting to know patients.  I love learning about their families and passions.  I feel blessed to have the opportunity to take care of each one of my patients and hope I have been able to positively affect their lives.
2014 Year End Review
This has been a wonderful and exciting year at Carolina Facial Plastics.  I want to review our growth and accomplishments over the last year.
New Employees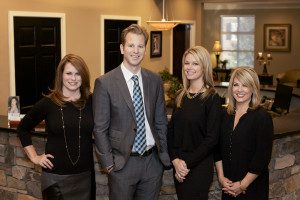 It takes a lot of hard work to create the high-end boutique practice that I believe Carolina Facial Plastics represents.  Over the past year we have added two valuable employees, Lisa Madar and Heather Thorsen.
Lisa Madar is our patient care coordinator.  Lisa is fantastic in her role.  Lisa came to us after working in a plastic surgery practice in Chicago for ten years.  Her previous experience, dedication to professionalism, and her work ethic have allowed her to excel in her new position.  Lisa has become integral in the practice in just a short time.  Now, I can't imagine the practice without her.  We are so happy that Lisa chose to move back to Charlotte.
Heather Thorsen is our patient concierge.  Before working at Carolina Facial Plastics, she had not worked in a plastic surgery office, and she was very "green".  Through her commitment and drive, she has quickly become an expert in all that we do here.  She is kind and warm to our staff and patients and could not be a better fit for Carolina Facial Plastics.
Lisa and Heather work fantastic together.  Their commitment to Carolina Facial Plastics is evident each day they come into the office.
New Treatments
Over the past year, we had added new services and treatments.  We added Dermapen or facial micro needling treatments to the face.  This new service fills a non-surgical void that was previously not filled.  Micro needling can improve fine lines, wrinkles, acne scars, and tighten skin with little downtime.    We also added deeper level chemical peels.  These more advanced peels are for patients with more advanced aging of the skin and Dr. Kulbersh only performs them.
Goals For 2015
We are expecting continued growth and expansion for 2015.  Our number one priority is to improve in all aspects.  We are continually attempting to improve the patient experience and results.  Our goal every year is to be the premier facial plastic surgery practice in the region.
New Services for 2015
In 2015, we will be adding laser services to the practice.  The laser will tighten skin, remove age spots, and soften fine lines and wrinkles.  I have been evaluating lasers over the past 6 months looking for the best option for our patients.  Over the next few months, I will make a decision on the best laser to add.
We will be carrying SkinMedica starting in 2015 to compliment our current skin care lines of Image and Obagi.  SkinMedica has some unique products that will enhance our aesthetician's ability to create the best skin care regime for our patients.
Growth of In Office Procedures
Currently, we offer many procedures that can be performed in the office that include blepharoplasties (eyelifts) and chin implants.  In 2015, we will begin to offer neck liposuction and direct excision of neck fat in the office.  This will allow for another convenient option for patients. To learn more about these cosmetic surgery procedures, visit medlineplus.gov
Expanded Hours for Aesthetician Services
Dede Wick, our medical aesthetician, has seen great growth in the number of patients regularly caring for their skin.  Over the next year, we will begin to offer appointment times for her services during non-traditional hours in the evenings and more hours during the week in our Charlotte, NC office.
I am deeply grateful to my family, patients, and employees that have allowed me to live out my dream every day I go to work.  I promise to my patients that I will continue to push myself and give my patients the highest level of care.  As my grandfather would say:
God bless America
God bless my family
God bless the staff at Carolina Facial Plastics
and
God bless my patients