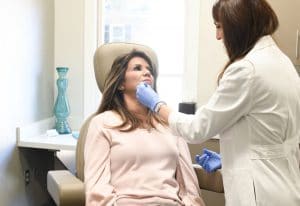 With the ongoing pandemic, we are learning to do more things for ourselves rather than relying on professionals. While this can be a good practice as we are trying to protect our health, there are cases when you simply cannot replace the skill, experience, and expertise of a professional. Cosmetic injectable treatments are one of those cases.
It may seem simple enough. After all, there are videos on TikTok and YouTube that seemingly show you precisely how to perform these injections. There is even a new start-up offering to "guide" consumers through the injection process virtually, right here in the US. The price is certainly right. However, as a board-certified facial plastic surgeon, I caution all of our patients to think twice before undergoing this difficult—and sometimes dangerous—DIY treatment. Myself, as well as our nurse practitioner Courtney Whitley and our physician assistant Heather Bryant, are board-certified with expertise in all types of injectable procedures, ensuring our patients receive the highest level of care, safety, and expertise with every treatment. 
What's In Your injectable? 
Neuromodulators like Botox Cosmetic® and Dysport®, and fillers in the Restylane® and Juvederm® lines, are all FDA-approved. This means that the products have been through strict testing to ensure they are both safe and effective. Injectables purchased online through unfamiliar markets are unlikely to have been through the same rigorous process.
Neuromodulators are injected into key facial muscles, while filler is placed deep into the dermal tissue where it can produce the best result. We do not recommend using any product in this manner that has not received FDA-approval. It is difficult to know exactly what is in the formulations, which can affect your results and even endanger your health. 
The Art of Injections
Both neuromodulators and dermal fillers require a tremendous amount of precision in both dosing and needle placement to ensure an optimal outcome. It is not just about placing the needle correctly on the skin's surface. It requires expertise in facial anatomy to understand exactly how deep to penetrate to find the correct location of the muscle or tissue. In addition to their medical training, experienced injectors go through extensive training in the use of these products to ensure their patients receive safe and successful treatments.
The correct dosing amount is also critical for a positive outcome. Too much neuromodulator and you might see drooping on one side of your face. Too much dermal filler can produce a very unnatural result. Not enough of either product will result in little or no improvement. Dosing varies for each patient. There is no way a video tutorial can explain all the nuances of dosing so you can tailor your treatment to your precise needs and goals. 
High Risk, Questionable Outcome 
In addition to the questionable outcome DIY injectables are likely to provide, there is a critical issue of safety. If the injection is not placed correctly, it can lead to serious, and even life-threatening consequences, including:
Ptosis (drooping) of the eyebrow or eyelid

Allergic reactions, which can be severe

Permanent scarring from the needle 

Facial paralysis due to nerve damage

Double vision or blindness

Stroke if the needle hits a blood vessel 

Difficulty speaking or swallowing 
Many of these side effects will require expensive medical attention, eliminating the potential savings of a DIY treatment. Even procedures to correct undesirable results can be costly, with higher price tags than the actual treatment would have cost you at your dermatologist's office. To learn more about the risks of DIY injectables, please visit ncbi.nlm.nih.gov. 
The Ease and Safety of a Professional Treatment
While DIY treatments might seem attractive in terms of cost and convenience, they can't replace a professional treatment in Charlotte. Our team is following every COVID-19 protocol and has instituted the changes necessary to ensure our patients' safety during this time. All of our injectors have received their COVID 19 vaccines. Our patients can rest assured that when they come into our medical center for any procedure, they will be protected and treated with the highest level of care. 
We offer a wide range of injectable options and the expertise to provide you with customized treatments that produce the most natural, beautiful results for you. Injectable procedures typically take just a few minutes and do not require any downtime afterward. You can even schedule a treatment over your lunch hour! Quick and convenient, with the assurance your risks are minimal and any side effects like bruising and swelling will likely be mild and temporary. 
DIY Skin Enhancement: It is Possible!
Of course, all that time stuck at home right now can be put to good use. We offer a wide range of our very own line of medical-grade skincare products you can use daily to keep your skin in top condition. Our expert medical aesthetician Terri Edson can help you design a treatment plan tailored to your precise needs with superior active ingredients and appropriate dosing amounts to improve your skin. 
Schedule A Consultation At A Charlotte Medical Center Today
Don't take your chance on DIY treatments that could cause more harm than good. At Carolina Facial Plastics, we offer the procedures you need to look and feel your best through every season of life, with the expertise to administer those treatments safely and successfully. Contact our Charlotte medical center today to schedule your consultation.