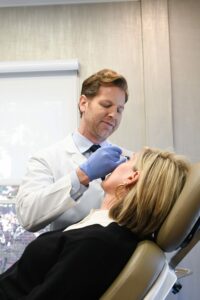 When considering procedures that would help you on your quest for turning back the clock on aging, you'd most likely think of a facelift, ultrasound therapy, or even injectables. But did you know you can also add rhinoplasty to that list? While rhinoplasty is primarily recognized as a cosmetic procedure for enhancing one's appearance, it has anti-aging effects too. In fact, some studies claim rhinoplasty can make you look three years younger or more.
At Carolina Facial Plastics in Charlotte, NC, we focus 100% on cosmetic treatments for the face. It is this single focus that gives us an expertise in facial procedures not found at other plastic surgery clinics, allowing us to produce exceptional results in facial enhancements. We can even help you visualize your potential rhinoplasty results through technology that simulates the changes that can be made during your procedure, helping you see how your aesthetic goals will be achieved.
How Does the Nose Age?
Your nose, which is composed of cartilage, bone, and soft tissues, may change its shape as you age. As you get older, the skin of the nose and its underlying structures begin to weaken and shrink, causing the nose to stretch and droop. The nasal tip may also enlarge, making the nose appear wider. These changes, along with skin that becomes thinner and less elastic, can contribute to an aged appearance.
How A Rhinoplasty Can Make You Look Younger
The nose is the focal point of the face, and when its size and shape do not complement the rest of your facial features, it can create an unbalanced appearance that looks aged and less attractive. 
The rejuvenating effects of rhinoplasty were the subject of a new study led by researchers at UCLA. According to the study—which used a type of artificial intelligence known as machine learning—rhinoplasty may make a woman look up to three years younger or even more in some cases. Researchers studied "before and after" photos of 100 female patients, ages 16 to 72. At 12 or more weeks after their rhinoplasties, the machines analyzed the standardized photographs, estimating a person's age by cropping the face from a photo and then generating a forecast through an algorithm. Visit pubmed.gov to learn more about machine learning and rhinoplasty. 
"This technology allows us to accurately estimate age in an objective way and has proven to recognize patterns and features of aging beyond what the human eye can perceive," says Dr. Robert Dorfman, lead author of the study and a resident physician in the division of plastic and reconstructive surgery at the David Geffen School of Medicine at UCLA. 
Women over 40 showed more dramatic results. Some participants were estimated to look seven years younger after rhinoplasty. But the sample size of the 40-plus group was small (25 women), so further studies are needed to confirm the results. 
What to Expect from Your Rhinoplasty 
A rhinoplasty can alter how your nose has changed over time. Many rhinoplasty procedures resolve the following nasal issues:
Nasal asymmetry 

Nasal shape and size in relation to facial balance

Enlarged, drooping, bulbous, or upturned nasal tip

Wide nostrils

Visible humps or depressions on the bridge
A rhinoplasty procedure can make the nose smaller and more youthful, creating facial harmony and a more attractive facial profile.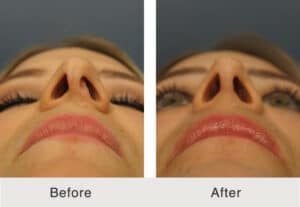 Additional Benefits Rhinoplasty Offers 
While the nose contributes to your overall attractiveness, it still has a job to do. When the nose is not fully functional, a rhinoplasty may be needed to repair it. Examples of functional concerns that rhinoplasty can resolve include:
Deviated septum

Blocked airflow

Sleep apnea

Damage due to traumatic injury
Rhinoplasty does more than enhance your appearance or correct the functionality of the nose. It provides increased self-confidence and emotional benefits as well. Rhinoplasty can improve the way a patient feels when looking in the mirror. Someone who is self-conscious and insecure can get a boost of self-esteem after a rhinoplasty, and those who are confident are more likely to become go-getters. With more self-confidence and a more positive attitude, they are more likely to achieve greater success in their careers and in many other areas of their life.
Why Trust Dr. Kulbersh with Your Nose Procedure 
Rhinoplasty is widely known as one of the most difficult plastic surgery procedures, therefore, you should only trust a specially-trained and highly-experienced facial plastic surgeon with your nose procedure. As a double board-certified facial plastic surgeon, I am solely focused on the aesthetic and functional treatment of the face and nose. I trained with the top facial plastic surgeons in Beverly Hills and brought that expertise back with me to my plastic surgery clinic in Charlotte, NC.
When you come to Carolina Facial Plastics for a rhinoplasty, I will utilize one of the most exciting developments in cosmetic facial plastic surgery which is morphing technology. This will allow you to audition your new nose through "before and after" photographs. Through the simulation, you can see a close estimate of what you're going to look like after your rhinoplasty, even before your procedure. This technology also serves as a valuable visual and communication tool to ensure both you and I are on the same page regarding your procedure.
And for optimal treatment and recovery, I opened the Fairview Surgical Suites, a single operating theater for facial aesthetic procedures, and Fairview Recovery Retreat, a luxurious, state-of-the-art recovery center dedicated to providing a stress-free and relaxing recovery following an elective surgical procedure. Both facilities will provide you with privacy and comfort and ensure a speedy recovery with the highest level of care you deserve.
Schedule A Rhinoplasty Procedure At Our Plastic Surgery Clinic Today
If you wish to enhance the appearance of your nose, improve breathing function, or simply look younger, schedule a consultation at Carolina Facial Plastics in Charlotte, NC. I will create the best treatment plan individualized to your needs, helping you achieve beautiful and natural-looking results.