Undergoing a Rhinoplasty in Charlotte is a serious decision.  I believe that each patient should have a thorough knowledge of all aspects of the procedure before moving forward.  In addition to choosing a qualified rhinoplasty expert, a patient should understand the potential risks and complications from a nose job.  This blog is meant to be informative, and I hope that patients understand that the overwhelming majority of my rhinoplasties have a smooth and uneventful course after surgery.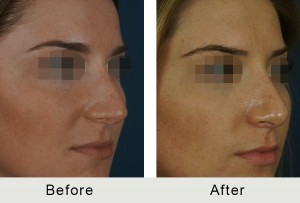 I will first start out with a great analogy that I explain my patients in North and South Carolina.  Everything we do carries some risk.  We take risk playing sports, investing in the stock market, and driving a car.  Every single day we analyze the reward associated with the risk associated with the task.  If there is a high reward with a low risk, the majority of the time people will take the risk.  Lowering the possible risk will increase the chance of a successful outcome.
In undergoing a rhinoplasty, how can a patient limit risk?  The best answer is to choose a surgeon who is a rhinoplasty expert.  A rhinoplasty expert is a surgeon that dedicates a significant amount of their training and practice to the advancement of their skills in nose job surgery.  I am a facial plastic surgeon that trained with the some of the most respected rhinoplasty experts in the world in Beverly Hills.   In devising a rhinoplasty plan, I am always analyzing ways to minimize risk to my patients while maximizing their results.
I want to talk about a simple task, driving a car.  An overwhelming percentage of the time we drive our car to a destination without event.  There are times when a problem may arise.  We may get a flat tire, the car may not start, or we may get into a fender bender.  Rhinoplasty is similar to driving in this respect.  The vast majority of time patients have surgery, and they have an uneventful healing.  There are times when there is an event during the surgery or healing phase.  This event would be considered a complication.  Let go over some of the possible complications.
There are some general risks of going through any type of surgery.  They include:
Bleeding
Infection
Reaction to anesthesia
In order to minimize these risks these are the steps I take:
Bleeding-  I check lab work to ensure the patient has normal clotting process and I make sure patient are off all medications, supplements, and foods that can cause bleeding
Infection-  I have my patient place antibiotic ointment in their nose the week leading up to surgery and patients are given antibiotics during and after surgery
Reaction to anesthesia-  I use anesthesiologist that are experienced with plastic surgery procedures.  The anesthesia for a rhinoplasty is light and overwhelming safe
There are some specific possible complications of undergoing a rhinoplasty.  They include:
Scar formation
Scar tissue in the nose
Septal perforation or hole in the septum
Nasal obstruction
Asymmetry from side to side
Collapse of an area of the nose
Poor cosmetic result
Need for additional surgery
While all of these complications are very concerning for patients, they are all possible risks for undergoing a nose job.    The best way to avoid these complications is to choose a qualified rhinoplasty surgeon.  A qualified surgeon will take the necessary surgical steps and clinical judgment to minimize the risk of these complications.  You should look for a rhinoplasty expert that has the proper training and regularly performs nose job surgery.
One specific issue I like to investigate further is the possibility of additional surgery.  It takes up to 1 year for the nose to healing after the first surgery.  At that time, there may be a small irregularity or an area that needs a "touch up".  In a national surgery of surgeons performing rhinoplasty, the average chance a patient may need a tough up procedure is 10%.
As a rhinoplasty expert in Charlotte, North Carolina, I take the necessary steps to minimize risks and possible complications for my patients.  It is enviable that a complication will eventually occur.  In that event, I believe it is imperative that the patient has chosen a surgeon with the knowledge and skill to either minimize or correct the complication.  I strongly believe that if a complication does occur, the operating surgeon must identify and treat in a timely manner.  After treatment, the operating surgeon must see the patient back on a frequent basis to ensure proper resolution.  If a complication arises in my practice, this is how I treat my patients.
If you are interested in learning more about rhinoplasty surgery, I offer consultations.  I have patients seeking rhinoplasty surgery from all over the east coast.  To schedule a consultation, please call (704) 842-3644 or fill out the email inquiry on this website.