With an ever-growing arsenal of innovative cosmetic treatments you can choose from to rejuvenate your appearance, it is important to only trust your skin to the experts and best plastic surgeons in your area.
Charlotte Magazine has named Dr. Jonathan Kulbersh Best Facial Plastic Surgeon in Charlotte, North Carolina for the 3rd year in a row in their annual Best of the Best in Charlotte awards. Carolina Facial Plastics also claimed a runner-up spot for Best Medspa.
What is the BOB Award? 
For over 20 years, Charlotte magazine has dedicated its May issue to the BEST of the BEST in Charlotte. Called "The BOB Awards" for short, the publication recognizes the Queen City's finest in dining, shopping, mind and body, entertainment, and everything in between – the number of winners totals nearly 100 businesses in the area.
The city magazine takes these awards quite seriously, as do the residents that vote on certain categories, including best facial plastic surgeon and Medspa. The team selects the winners, but they don't just rely on hearsay or an online search. They set out on a mission to experience the best things about Charlotte. When a winner is chosen, it means the selection team has been there and tried it along, along with the residents that place their votes. This makes them confident that they've really chosen the best.
Facial Plastic Surgery for the Best Version of You
I am truly honored by this distinction and that I have the opportunity to serve the Charlotte, NC community with cosmetic procedures, including facial plastic surgery. As a Beverly Hills-trained, double board-certified facial plastic surgeon, I and my expert team provide the ultimate in comprehensive treatments for the face, eyes, and neck, helping patients regain self-confidence by looking their best through every season of life.
Some of the most popular treatment options at our plastic surgery clinic include:
Facelift
Patients in Charlotte, NC seeking to reduce the appearance of wrinkles and sagging skin and achieve a more youthful and refreshed appearance can often benefit from a surgical facelift. Through incisions made in the temple and hairline, I can produce the following improvements:
Remove excess fat in the neck and jowls

Tighten underlying muscles

Reposition underlying tissue that has fallen over time

Elevate cheeks to a higher, more youthful position

Remove excess, loose skin for a smoother appearance
Rhinoplasty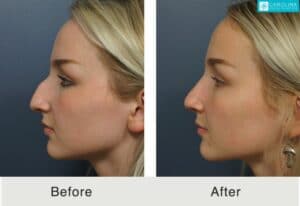 I perform rhinoplasty procedures to improve the aesthetics of the face by creating a nose that blends with the rest of the facial features. An ideally shaped nose helps accentuate your eyes and smile while enhancing the balance, attractiveness, and symmetry of the entire face. With experience in the ENT specialty as well as plastic surgery, I will not only create a nose that is harmonious with your facial features but also improve nasal functions.
I typically make an incision inside your nose or through a small external cut at the base of your nose. I will likely readjust the bone and cartilage underneath your skin. A rhinoplasty can help reshape the nose by removing a hump, refining the nasal tip, or adjusting the angle between the nose and mouth. I remain up to date with the latest, most cutting-edge techniques to create a nose that enhances your natural beauty. 
Jaw Contouring
Many procedures in facial plastic surgery help improve the strength and angulation along the jawline. Some of these jaw contouring procedures I perform in Charlotte, NC are done through chin and mandibular implants. A chin implant can add strength to a weak or recessed chin, improving facial harmony and the overall appearance of the face. 
I also offer two options for jaw implants that allow for customized treatments to the precise needs and goals of each of my patients. The first is a mandibular angle implant, which comes in a variety of standard shapes and sizes, and the second is a custom mandibular implant, designed to augment and enhance the entire jawline. Because a mandibular implant spans the jawline from ear to ear, it can successfully augment the chin, widen the jawline, create more definition in the lower face, and increase the vertical height of the jaw and chin.
When Experience Counts: Injectable Treatments for Stellar Results           
Because I focus 100% on cosmetic treatments for the face, I also offer non-surgical aesthetic techniques designed to fully enhance each patient's own unique attractiveness. I use the latest techniques from Beverly Hills, including the needleless filler injection technique to provide the best results while minimizing downtime. I work in partnership with my patients to safely achieve realistic and natural results.
Neuromodulators
Carolina Facial Plastics is the premier destination for a vast array of nonsurgical cosmetic treatments, including neuromodulator injections. Botox® Cosmetic and Dysport® are some of the most popular nonsurgical cosmetic procedures for wrinkles in Charlotte because they are effective, safe, and can be performed quickly with little to no downtime. Neuromodulators like Botox work by relaxing the muscles that cause wrinkles, allowing the skin to smooth out and prevent future wrinkles as well. 
This wrinkle reducer has many other uses as well, including treatment for excessive sweating, gummy smiles, chronic migraines, and bruxism (persistent teeth clenching or grinding). I, along with my board-certified physician assistants Heather Bryant and Amanda Piligian, as well as my board-certified nurse practitioner Courtney Whitley, pride ourselves on providing superior results and seek to tailor the treatment to your individual concerns and desires.
Dermal Fillers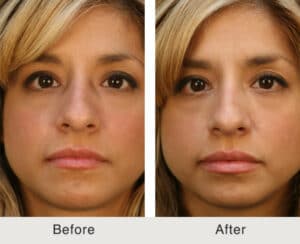 As we age, we lose volume in the face due to the depletion of collagen and loss of fat and bone. Dermal fillers such as Juvéderm® and Restylane® are made of hyaluronic acid (a naturally occurring substance in the human body) which, when injected into the face, helps restore volume, smooth away facial creases, and improve facial contours. Adding volume to the face can be a simple, easy, and quick method to turn back the clock, while improving facial balance and symmetry.
Studying under the best in Beverly Hills, I learned many techniques to ensure that the injection process is as comfortable as possible. Instead of using a needle to inject the filler, I often use a blunt-tip cannula. This technique creates a more comfortable experience and decreases bruising or swelling, allowing patients to show off their new look faster than traditional needle injections. My goal is to help all my patients achieve subtle yet powerful anti-aging results.
Schedule A Skin Rejuvenating Treatment At Our Plastic Surgery Clinic Today
To get the best of the best in surgical and nonsurgical facial enhancements in Charlotte, NC, contact Carolina Facial Plastics to schedule a consultation with a member of our expert team today.