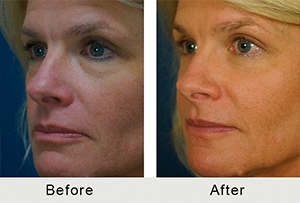 Everyone wants youthful, appealing eyes. The eyes are the staple of the face. They are often the first form of contact with another human being and how we gauge a person's demeanor, personality, and mood. So what if a person's eyes look tired all the time? Are aged beyond their years? Appear upset and convey an emotion that he or she is not feeling? That's where a blepharoplasty may come in.
The surgical procedure is performed on the upper and lower eyelids. It is also commonly referred to as an eyelift or eyelid surgery. The main goal of a blepharoplasty is to awaken or brighten the eyes, giving them a more youthful appearance.
As a person grows older, the area around the eyes is usually the first place to show signs of wear and aging.  The skin around the eyes loosens and becomes puffy, creating a less than ideal appearance and making the eyes look tired. A blepharoplasty can rejuvenate the eyes by removing excess fat and tightening the areas of loose skin around the eyes.
What Types of Blepharoplasty Are There?
Blepharoplasties are popular plastic surgery procedures because they can create the appearance of brighter and youthful eyes. The two most common types of blepharoplasty procedures are upper blepharoplasty and lower blepharoplasty.
Upper Blepharoplasty
An upper blepharoplasty, or upper eyelid surgery, is done to correct the appearance of drooping, heavy, or puffy eyelids. An open upper eyelid has a standard appearance and women that are not of Asian descent. A healthy youthful eyelid consist of the eyelashes, a small space, a defined crease, and the fullness of the eyebrows above. During aging, excess skin and possibly fat can take away the space increase of the upper eyelids. When this happens the skin is touching the eyelashes and can create a small or tired eye.  Often times, a brow lift may also be recommended in addition to an upper blepharoplasty to fully restore the patient's vision and regain the appearance of youthful eyes.
How is an Upper Blepharoplasty Performed?
A small incision is made into the upper eyelid, hidden within the natural creases, and the excess skin is smoothed and tightened to rejuvenate the eyes. This will re-create the crease in space of the upper eyelid and create an illusion of a more open eye. This is an outpatient procedure and can be performed under local anesthesia.
Lower Blepharoplasty
A lower blepharoplasty aims to remove excess fat, puffiness, or skin from beneath the eyes. The presence of "eye bags," which many people develop as they age, contributes to the appearance of an older, tired appearance. During a lower blepharoplasty procedure, fat from a person's eye bags are repositioned into the upper cheek area and skin may be removed or tightened. This allows any hollow areas between the cheek and eye to be filled in, creating a smoother, refreshed look.
How is a Lower Blepharoplasty Performed?
A small incision is made underneath the eyelashes or inside the lower eyelid, so that the scar is unseen. At this time, if there are large fat deposits beneath the patient's eyes, the doctor will reposition it into the cheekbones to smooth out the path from the cheek to the bottom of the eye, creating a more aesthetically pleasing appearance. This is an outpatient procedure and can be performed under local anesthesia.
Now that the basics of what a blepharoplasty is and what it can treat have been discussed, we can delve into who is a good candidate for such a procedure.
Who is a Good Candidate for a Blepharoplasty?
Both men and women, who have fairly good physical and mental health are suitable candidates for a blepharoplasty. Patients that receive this type of procedure may be younger or older since drooping eyelids are either inherited or developed through aging. A person may especially be a good candidate for a blepharoplasty if they exhibit any of the following cosmetic or medical characteristics:
Drooping upper eyelids that obstruct vision
Puffy lower eyelids or eye bags
Appearance of hollowness under the eyes
Dull, heavy and tired looking eyes
If a patient exhibits any of these characteristics, a blepharoplasty may be a good option.
What to Expect After a Blepharoplasty
Recovery from an upper or lower eyelid surgery generally takes several weeks. A few days after the procedure is completed, the stitches will be removed. Patients are advised to make sure their eyes get plenty of rest within the first week after surgery. If the patient wears contact lenses, he/she must wear glasses after the procedure. Contact lenses cannot be worn for approximately two weeks after the procedure, as the eyes will be swollen and sore. The patient must also not apply any makeup to his/her eyes for approximately 14 days. Finally, no exercise or physical exertion may be performed until three weeks after the blepharoplasty.
Some of these requirements may seem miniscule in the overall scheme of things, but it is important to understand that even the tiniest restrictions must be followed to ensure a successful and speedy recovery. If a patient can adhere to all of the following restrictions and is exhibiting any of the aforementioned medical or cosmetic characteristics, then a blepharoplasty may be very beneficial.
Schedule a Consultation with a Double Board-Certified Facial Plastic Surgeon
Dr. Jonathan Kulbersh is a double board-certified facial plastic surgeon with an expertise in blepharoplasty procedures. To schedule a consultation at Carolina Facial Plastics and learn more about the benefits of an eye lift surgery, please call (704) 842-3644 or fill out the online appointment request form.
Next, read Restylane Lyft 100 Volume Injector.