Knowing what to expect after surgery and following my postoperative care instructions will help ensure you'll have a smoother recovery process, as well as enjoy the best facelift results. Below, I've provided answers to the most common facelift recovery questions so you can feel more confident about your surgery.
1. How long does it take to look normal after a facelift?
14 days after a facelift, most, if not all, of the bruising will resolve. Patients typically look and feel good by this time. The swelling will continue to improve, and your face will continue to heal over the next 8-12 weeks, at which time you will start to appreciate your full results. 
2. How painful is facelift recovery?
A well-performed facelift has minimal pain. Rather than pain, you may experience discomfort from swelling or a general feeling of tightness and heaviness. I will provide prescription pain medications that some patients will use for the first few days after surgery. In general, most of our patients report that the procedure is less painful than they had anticipated. Patients who strictly follow my post-treatment aftercare routine tend to have the most comfortable facelift recovery time and reap the benefits of my meticulous surgical technique.
As an expert facelift surgeon, I take many steps to ensure that patients have the smoothest and fastest recovery possible after a face or neck procedure in Charlotte, NC. This is why I opened the Fairview Surgical Suites and Fairview Recovery Retreat – a place where comfort meets recovery. It offers post-surgery care in a luxurious, 5-star-hotel setting where you'll receive VIP treatment as you begin the healing process. Our superior post-operative care can reduce downtime and get you back to your busy schedule as soon as possible. This recovery center is located in the same building as Carolina Facial Plastics. During your recovery after a facelift, our staff of experts will be available to answer questions and address your concerns.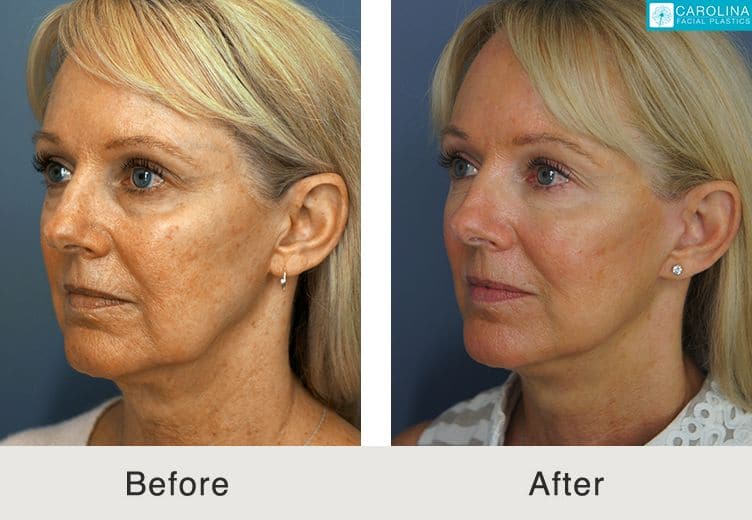 3. How long after a facelift do you see results?
3 weeks after your surgery, you should already be enjoying your new look while resuming your normal activities. While it can take up to 4 months for any residual swelling to completely go away, these are only minimal and noticeable to you, and at this point, you can easily go out in public without having to use makeup to cover any bruising. 
4. What is the fastest way to recover from a facelift?
Here are some facelift recovery tips to ensure you heal as quickly as possible:
Keep your head elevated for a week to avoid fluid build-up and swelling.
Rest for 2 weeks until the swelling subsides and the incisions have healed (strenuous activities will promote increased blood flow and may worsen swelling).
Avoid alcohol and smoking which can delay healing.
Avoid sun exposure because your skin will be more sensitive after surgery.
Always wear sun protection.
Clean your incisions (we will provide instructions on how to care for your skin and your incisions after your procedure).
Maintain a healthy diet because your body will rely on healthy nutrients (e.g., protein and Vitamin C) to boost the healing process.
Stop Aspirin and other blood thinners before surgery
Stopping certain vitamins and supplements before surgery
Using anti-bruising medication Arinca and TXA.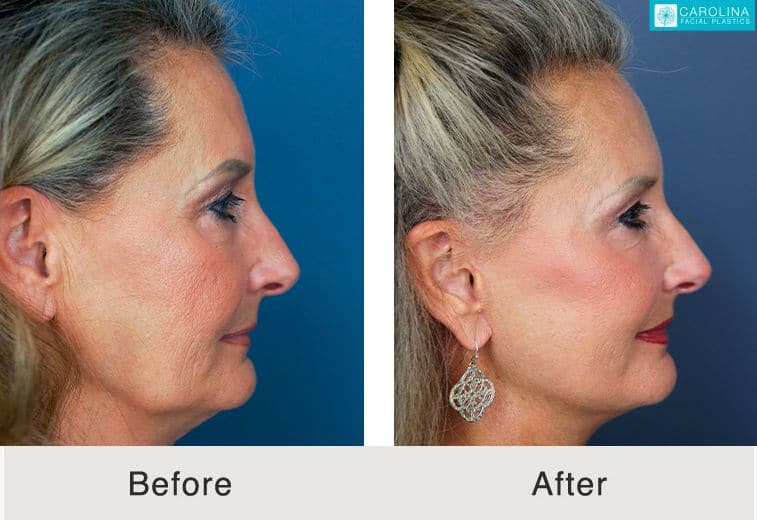 5. How can I sleep comfortably after a facelift?
Sleeping on your back with your upper body in an elevated position for 1-2 weeks is ideal. Experts recommend sleeping with your head and torso positioned at a 30-degree angle for at least a week. Using a reclining chair or pillow can help you sleep more comfortably. You may also surround your body with pillows to prevent you from rolling over during your sleep. You may also use a post-surgical neck pillow. Here are additional tips on how to get a good night's sleep after a facelift:
Wear comfortable pajamas and sleepwear. 
Manage your inflammation to reduce discomfort while sleeping. Use a cold cloth compress (not ice packs) and press lightly against the face for 30-second intervals for about 15 minutes before going to sleep.
Engage in light activity whenever you can (or as recommended by your surgeon). Simple activities like walking can tire you, making you fall asleep.
Contact Charlotte's Top Facelift Surgeon For More Information
The timelines mentioned above only represent general facelift recovery times. Every patient will have a unique recovery experience. To learn more about what to expect from your personal recovery process, contact Carolina Facial Plastics in Charlotte, NC to schedule a consultation.