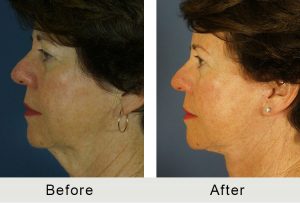 Throughout our lives, our appearance begins to evolve and it is inevitable that our faces start to take on a different look.  If you fear you look older than desired, then rest assured because you have options to help yourself look the age you feel! Today, many safe and effective surgical cosmetic procedures, like facelifts, exist to help you look younger and rejuvenated.  After my patients have come in for a consultation in Charlotte, I will come up with a custom treatment plan specific to your needs that will allow you to fully reach your desired results.  Combining two treatments in one surgery is a sensible and beneficial method to quickly receiving your newer look.
Who Gets Combination Facial Plastic Surgery?
As I stated earlier, a facelift is a popular and successful surgical method to improve the appearance of your face, but a facelift may not fix all of the issues at hand.  A facelift in Charlotte repositions facial tissue and removes excess skin, so a facelift will fix sagging skin or remove wrinkles, making the majority of your face younger and fresher.  This procedure targets the neck and lower portion of the face and in comparison to the bottom of your face, your eyelids may look droopy.  In this case I would recommend a blepharoplasty, also known as a minimally invasive eyelift, for truly rejuvenated results.
In this instance, rather than have two entirely different procedures to refresh your look, I would recommend you have a combination of both the facelift and the blepharoplasty in Charlotte in one procedure. Combination procedures are safe and are becoming more common to suit patient's specific needs. My patients who undergo combination facial plastic surgery in Charlotte have seen a more compelling and desired outcome when combining procedures.
Patient Benefits of Combination Facial Plastic Surgery
The first and most beneficial advantage to having a combination surgery is the quick recovery time.  Surgeries can take a lot out of a person and recovery requires time off of work and time away from loved ones as well as activities.  If you are eager to get back to work or to spend more active time with your friends and family, then you will want to spend as little time feeling delicate and recuperating.  When you combine two or more procedures, you recuperate from all of them at the same time, meaning you can get back to your life with your new look quicker.
With having multiple procedures completed at once, you will also see a greater transformation in your appearance.  Just as my patients enjoy having only one recovery period, they also love the gratification of full-face alterations.  You will be able to correct multiple areas without having to wait between procedures and be able reach your beauty goals even quicker! Learn more about facial plastic surgery, visit ncbi.gov.
Contact Dr. Kulbersh Today!
If you have various areas on you face you would like to see transformed, combination facial plastic surgery may be the right option for you.  Every one of my patients is unique and has distinct desires, so contact Carolina Facial Plastics at (704) 842-3644 and schedule a consultation to see if how we can work together to get out looking and feeling your best!