You picked out and tailored the perfect dress. Booked the perfect venue. Ordered the perfect cake. Perfect meals. Perfect band. Perfect guest list. And, of course, your perfect spouse.
But then COVID-19 hit, and you might have been forced to postpone your wedding celebration. While this time of waiting might be frustrating, with this extra time you could order and tailor something you'll be "wearing" far beyond your wedding day: The perfect pre-wedding facial treatments that make you look your best before, during, and after the ceremony (and in all the photos from your big day!).
At Carolina Facial Plastics in beautiful Charlotte, North Carolina, we want you to look and feel glowing, bright, and lovely for your wedding. Our founder — double-board certified facial plastic surgeon, Jonathan Kulbersh, MD, and our aesthetic experts — Courtney, Heather, and Terri — are here to help you pick and choose your perfect procedures.
Just as you need to time the wedding and all of the pre-parties so that they happen at the ideal moments — not too soon and not too late — you also have to time your pre-wedding treatments. If you're looking to get facial plastic surgery, you need weeks, months, or even up to a year before you say "I do." Non-surgical procedures, of course, can fit closer to your nuptial day.  
Below we have laid out a "menu" for you to pick and choose from, so you can order and tailor your perfect wedding look. We also included an ideal timeline so that everything can fall into place at just the perfect moment.
4 to 6 months before…
Reshape your nose
If you love planning and suspense, be sure to set your wedding date six months ahead of your rhinoplasty, otherwise known as a nose job. A rhinoplasty is the single procedure that can make a dramatic improvement in the balance and harmony of your face. By reshaping your nose so that its proportions better fit your other features, Dr. Kulbersh ensures that the first thing anyone notices when they meet you are your sparkling eyes and smiling lips. 
This common procedure improves the way your face looks both from the front and the side. Beautifully executed rhinoplasties can even make a weak chin look stronger.
You can use rhinoplasty to make the following changes to your nose:
Shorten
Straighten
Remove bumps
Debulk the tip
Although it only takes a few weeks before you can return to normal activities after rhinoplasty, your nose will look really good 4 months after surgery. 
Renew your skin
Time to create beautiful, healthy, glowing skin from the inside. If you have signs of sun damage or aging, laser skin resurfacing erases:
Fine lines
Wrinkles
Freckles
Acne scars
Brown spots
Age spots
Large pores
Your laser treatment only takes about an hour and you'll recover from the pinkness and swelling within days. However, a laser treatment triggers your skin's natural healing and rebuilding properties so that you start to create fresh new skin from the inside out. It takes about four months until your beautifully rejuvenated skin is camera-ready.
Tighten your skin
If you have early signs of sagging, such as jowls or a turkey neck, you don't have to schedule a facelift. We offer non-surgical skin tightening through the power of radiofrequency (RF) energy with FDA-cleared Profound.
You only need one treatment to stimulate the neocollagensis that rebuilds and tightens the skin on your face, under your chin, and on your neck. Even better, you don't have to limit Profound treatments to your face. With Profound, you can:
Remove a double chin
Smooth out cellulite
Lift and tone your face
Lift and tone your neck
Tighten body skin
If you're having a Profound treatment on your face, schedule it about 6 months before your wedding. Your skin needs time to produce the tightening collagen and elastin as well as the moisturizing hyaluronic acid you need to have beautiful, healthy, and firm skin.
Strengthen Your Hair
Hair texture and thickness changes with time, and whether you want to thicken your hair, grow more hair, or work to prevent hair loss before your wedding, we have options for you.
Platelet-rich plasma (PRP) injections stimulate hair growth and are proven to improve hair density by approximately 15%. This regenerative medicine is made from your own blood, which is drawn, spun in a centrifuge to isolate the platelets, then injected into the area of hair loss. To learn more about PRP injections, visit ncbi.nlm.nih.gov
xIf this procedure isn't for you, we also recommend vitamins and topical medications for confronting hair loss. Finasteride, or "FinPlus," is a daily pill that usually works within the first 90 days to measurably slow, stop, and reverse hair loss. You can take this exclusively, but we commonly use FinPlus treatments in combination with topical medication, PLP or Platelet Rich Fibrin Matrix treatments, nutritional supplements, and Viviscal Shampoo and Conditioner. Come in for a consultation, and we can recommend the best option for you.
A couple of weeks or so before…
If you like to cut it close to the wire, it's time to add in the treatments that can make a big impact in a small amount of time. You may think that surgery's out of the question at this point, but it's not. Read on:
Lift your face
If you want a tighter, tauter, and younger look that can last for up to 8 years, choose a surgical mini-lift. This "lunchtime" procedure only takes 1-3 hours. Dr. Kulbersh removes excess fat from under your chin, then lifts and tightens the skin on your lower face. 
You only need a couple of weeks to recover from the bruising and swelling. People will think you've spent a year at the spa — that's how refreshed a mini-lift can make you look.
Erase your wrinkles
Our expert injectors Heather Bryant MPAS, PA-C and Courtney Whitley, FNP-C use a combination of neuromodulators Botox® or Dysport and hyaluronic acid-based dermal fillers such as Juvéderm to smooth out or fill in fine lines, wrinkles, and deep creases. 
Botox smooths away:
Forehead wrinkles 
Frown lines
Crow's feet
Bunny lines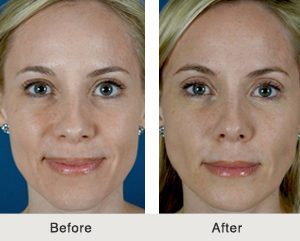 Dermal fillers fill in:
Perioral lines
Marionette lines
Nasolabial folds
Add volume
If your skin or lips have lost volume over the years, or if you never had the luscious, sexy lips you desired or the high cheekbones you've envied, now's your chance to make up for nature's loss. Our expert injectors use dermal fillers to:
Create a sexy pout
Correct lip asymmetries
Restore lip volume
Restore midface volume
Build up your cheekbones
Fill in tear troughs and hollow temples
We even create a non-surgical lip flip using a combination of Botox and fillers. Or correct a gummy smile by relaxing it with Botox. Neuromodulators last just 3-4 months, so be sure to schedule a touch-up after your honeymoon. Fillers last from 6-18 months.
Smooth a bumpy nose
Not ready for rhinoplasty? Dr. Kulbersh creates a non-surgical rhinoplasty with dermal fillers that fill in the spaces between your nose bumps, creating a smooth and visually appealing surface. Erasing your nose bumps with fillers can even make your nose look shorter!
For now and forever …
Some procedures are one and done. Others stay with you for life. Regular chemical peels and medical-grade skincare are a duo that can help you look as fresh and lovely on your 50th anniversary as you did on your wedding day:
Get an instant glow with a chemical peel that removes the outer, dead layer of your skin, revealing new skin underneath. Regular peels help your skin stay fresh and glowing for years. Peels by our medical aesthetician Terri Edson not only remove surface irregularities, such as fine lines, wrinkles, and brown spots, they stimulate your skin to produce new, strengthening and tightening collagen and elastin.
Not only do we offer most of the top brands of skincare products at Carolina Facial Plastics, but we also have our own proprietary brand. Our aestheticians work with you to find the perfect products for your skin type and needs. From cleansers to sunscreens, we have it all. 
Schedule Your Pre-Wedding Treatments Today
As you might imagine, women (and men!) in the Southpark neighborhood of Charlotte, North Carolina area tend to book their appointments with us far in advance. Contact us now to set up a consultation and plan your picture-perfect wedding look.