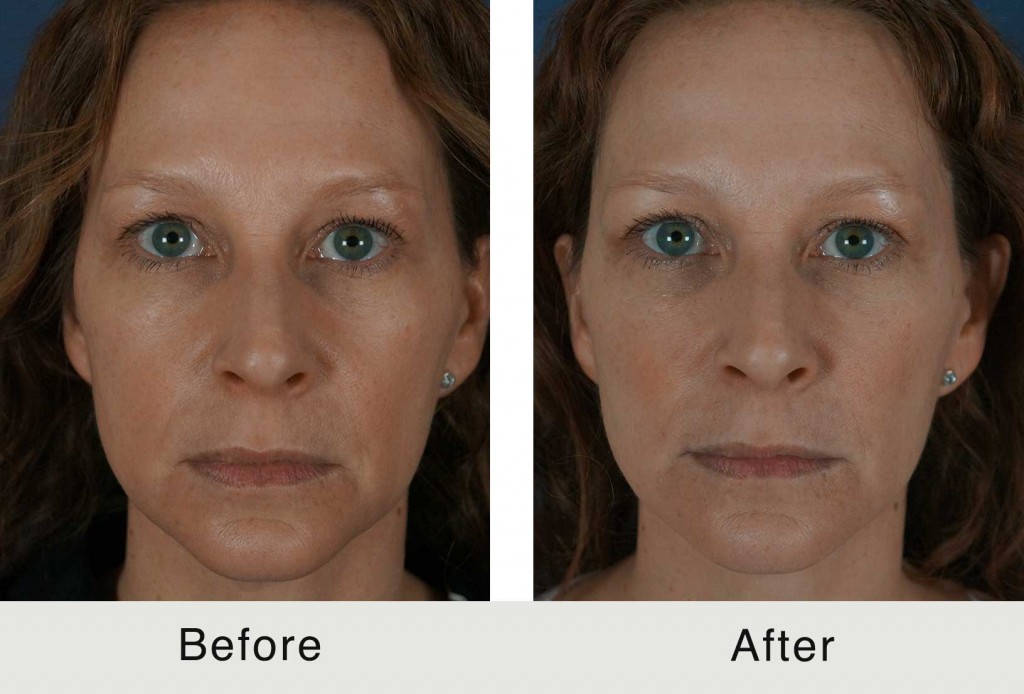 While it is true that lines and wrinkles can make a person look much older and more tired than they really are, an often-overlooked aspect of the effects of age on one's appearance is the loss of volume around the temples. As a person ages, the fat pads in temple region begin to shrink creating a gaunt appearance of the face.  As the temple loses volume, the bone becomes more visible, and the top aspect of the head narrows.  This is one of the main changes that contribute to the changing proportions of the face.  The changing proportion is a key aspect in the aging face. Fortunately, there is an easy solution available at Carolina Facial Plastics in Charlotte.
Dermal Fillers. What are They and How Can They Help?
Injectable dermal fillers (such as Juvéderm and Restylane) are ideal for restoring shape and volume to the temples. This is because they are made of a hyaluronic acid (HA) gel substance that replicates the natural, supple look and feel of collagen in the skin. Since HA is a naturally-occurring substance in skin tissue, these HA dermal fillers are safe and provide instant results that can last up from three months to a year, depending on each patient.
Another type of dermal filler that is perfect for restoring a youthful appearance to one's face are collagen building fillers. These dermal fillers, which include Sculptra and Radiesse, provide gradual, natural-looking results by stimulating the body's own collagen production. While the full results may take longer, the effect is much longer lasting because the skin's new collagen does not get reabsorbed as quickly as hyaluronic acid does.
Make an Informed Decision about Injectables
Before undergoing any cosmetic treatment, it's important to discuss your options with an experienced, board-certified facial plastic surgeon. Not every doctor can achieve the same amazing results simply because they are using the same products on the market. Dr. Kulbersh is highly-trained and highly experienced when it comes to injecting dermal fillers, whether to create supple temples or to reduce fine lines, wrinkles, and creases. While HA fillers are temporary and can be reversed, collagen boosting fillers require greater skill and cannot be reversed.
Have a Needle-less Injection
Dr. Kulbersh injects dermal fillers in the temples using a needle-less technique at his Charlotte office.  He uses blunt tipped microcannulas to inject this area.  Cannulas have an advantage over needles in producing a better result while significantly reducing the chance of bruising.
Learn more about dermal filler treatments at WebMD.com.
Schedule Your Dermal Filler Consultation with Dr. Kulbersh Today!
If you've noticed that your appearance has changed due to age, sun exposure, or other environmental factors in Charlotte, do not hesitate to set up a meeting with the expert team at Carolina Facial Plastics. We can help you determine the best treatment options for regaining the youthful, beautiful, and healthy appearance you want. Contact our office in Charlotte today to schedule an appointment for dermal fillers!
Next, read Unhappy with Your Nose But Afraid of Surgery? Non-Surgical Rhinoplasty Might Be an Option for You