We've all had someone come up to us and ask, "Are you OK? You look tired!" at some point or another. For some, though, that is a daily occurrence. For people suffering from loose, baggy skin around the eyes, it is nearly impossible to look well rested. If you always look tired and no amount of make-up and/or rest seem to make any difference, you may want to consider a blepharoplasty or eyelid lift in Charlotte.
What is blepharoplasty?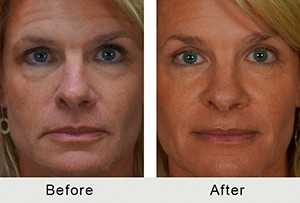 Simply put, blepharoplasty is a procedure aimed to rejuvenate your upper and lower eyelids. It is a minimally invasive outpatient procedure with a very high rate of satisfaction. Because our eyes often give away our age and can even make us look older than we are, undergoing a blepharoplasty surgery can take years off of a patient's appearance. 
When I perform an eyelift surgery in Charlotte, incisions are made in the natural creases of the eye, right under the eyelashes, or inside the lower lid (depending on the type of blepharoplasty) to ensure scars are hidden. The recovery is fairly easy, with full results evident in 3-6 months. Undergoing a blepharoplasty is a very easy procedure for the patient and comes with a minimal recovery time. It's quite normal for my patients to look and feel better just days after they've had their eyelid surgery in North Carolina.
What does blepharoplasty treat and could you be a candidate?
My patients, male and female alike, come to me with both functional and aesthetic reasons for seeking a blepharoplasty. Eyelift surgery can help treat symptoms such as the following: 
Loose skin, pouches, or bags under the eyes

Excess skin on the upper lid (that may or may not impede vision)

Droopy, tired-looking eyes
If you are in overall good health, but want more vibrant, youthful looking eyes, or if you wish to restore vision that is limited by excess skin, a blepharoplasty may be the procedure for you.
Contact Dr. Kulbersh for a Blepharoplasty Consultation
If you think blepharoplasty is right for you, and if you have any questions about the procedure, or would like to schedule a consultation, contact me today. As a board certified head and neck surgeon who specializes in facial plastic surgery, I am certain I can restore the vibrancy you have been longing for and put an end to "You look tired!"
For more information or to schedule a consultation, please contact Carolina Facial Plastics today by calling (704) 842-3644.
Next, read about forehead and brow lifts.