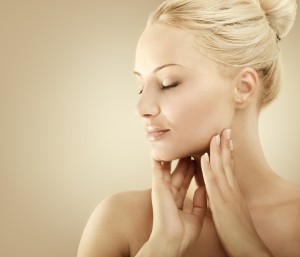 Yes, all patients should wear sunscreen in the winter.  Sunscreen should be worn regardless of the season.  Most people only think of it during the summer months but the sun is shining and emitting dangerous UV rays year round that can damage your skin.  For optimal skin care, I suggest daily sunscreen use regardless of season.
Ultraviolet rays are equally intense during all daylight hours throughout the year.  UV rays can penetrate both clouds and glass.   Your skin is exposed to photo-damaging rays on a cloudy day while driving in the car.  
The sun emits both UVA and UVB rays.  UVA, which penetrates the skin more deeply than UVB, has long been known to play a major part in skin aging and wrinkling (photo aging). As we all try to fight Father Time and protect our skin, finding the right sunscreen can be difficult.
There are generally 2 types of sunscreen:
1) Physical
2) Chemical 
Physical sunscreen contains either zinc oxide or titanium dioxide. They provide a physical barrier sitting on top of skin and reflecting dangerous UV rays.  
A chemical sunscreen uses a combination of different chemicals that absorb the sun. The skin and the body absorb chemical sunscreens and they convert UV rays into energy before they can harm skin.  
At Carolina Facial Plastics, we recommend a physical sunscreen for a few reasons:
1)    Physical sunscreen is the best choice for patients with sensitive or inflamed skin. Since the skin does not absorb physical sunscreens, they will not irritate the skin and will often calm the skin.
2)    We try to limit the amount of unnatural chemical we expose our bodies.
So when you are investing in your skin, in addition to anti-aging products and peels, sunscreen is one of your best investments!
If you are interested in scheduling a full skin evaluation at Carolina Facial Plastics, please call (704) 323-5091 or fill out the contact form.
About the Author: Aesthetician Dede Wick is the Director of Skin Care at Carolina Facial Plastics. With more than 10 years of experience in the skin care field, she offers advice for caring for and protecting the skin, as well as a variety of advanced skin care treatments here in Charlotte