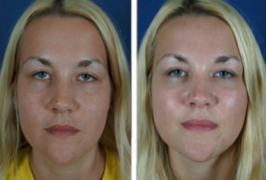 When we're young, we never imagine that an aging face will ever become our reality. Alas, into our mid twenties and thirties, signs of the inevitable process start to begin. As a facial plastic surgeon in Charlotte who specializes in facial rejuvenation techniques and minimally invasive methods, I'd like to inform my patients about the preventative measures that they can take to slow the aging process.
Aging In Your 20's
Skin Care
Taking good care of your skin in imperative to ensure graceful aging and to make sure that you are looking your best.  People with great looking skin will look good for their age for many years to come.  Medical grade skin care is unique from over the counter skin care products.  By definintion, over the counter skin products cannot go beneath the surface of the skin, therefore limiting their results.  The medical grade products that I offer in my office in Charlotte, Image skin care, will help turn over old tired skin with new vibrant skin.  The addition of medical grade chemical peels can quickly improve the quality of the skin.
11 lines and Forehead Wrinklest
It's never too soon to start using an effective regimen of nightly skin firming products or creams. However, as the aging process continues, combating wrinkles in the forehead and between the eyes can prevent the formation of deep wrinkles in the future. I often recommend that my patients undergo Botox treatments, which temporarily paralyzes the muscles that cause unsightly wrinkles between the eyes and on the forehead. Botox is not permanent and is a great way to prevent new facial wrinkles.
Under Eye Bags
The skin under our eyes is very thin and prone to a loss of elasticity. For these reasons, it's common for people to begin to experience dark, puffy circles under their eyes in their mid to late twenties. To combat under eye bags, I find that hyaluronic acid fillers like Restylane offer patients natural and effective results that don't look overdone.
Aging in Your 30's
Hyperpigmentation
As we enter our thirties, it's very common for people to notice even more signs of aging, including problems with hyperpigmentation, or discolored skin. This happens as a result of several different factors, including damage from the sun over time. To combat hyperpigmentation, chemical peels are common and effective methods that can help a patient achieve a smoother skin tone.
Nasolabial Folds
Are you starting to notice small lines around your mouth that extend to the corner of your nose? Welcome to the wonderful world of nasolabial folds, another common occurrence of the aging process as we delve into our thirties. It's important to realize that these types of lines only get worse with time, so treating them at first notice can be very effective. At my office in Charlotte, I use injectable treatments like Restylane to soften these lines. This adds volume back to the face and also diminishes their appearance.
Contact An Experienced Facial Plastic Surgeon Today
Remember, the aging process isn't something that's avoidable, but it can absolutely be slowed. If you'd like to learn more about the anti-aging procedures that I offer at my practice in Charlotte, I encourage you to contact me today to schedule your initial consultation by calling (704) 842-3644, during which the best procedure or procedures for you can be decided upon. The facial rejuvenation techniques offered at Carolina Facial Plastics are among the most advanced minimally invasive techniques available today. For additional information, please contact my practice today.