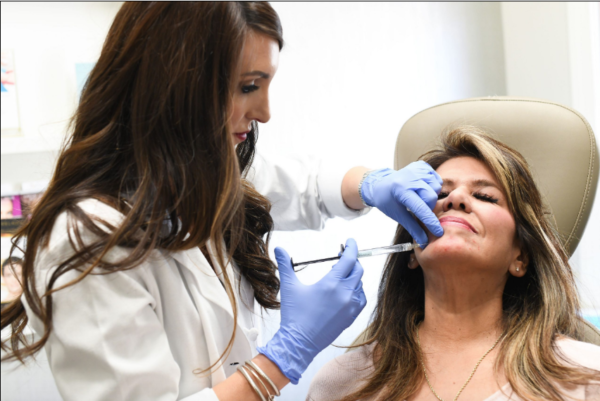 I believe everyone deserves a healthier and more youthful-looking appearance – and the boost in self-confidence that goes along with it. But does the thought of a needle or a scalpel cause you to break out in a cold sweat? Don't let your fear deprive you of the many benefits you can gain from skin rejuvenating procedures.
Keep in mind that as the demand for these anti-aging procedures continues to grow, so does the number of methods that could help you have a more comfortable treatment experience.
At Carolina Facial Plastics, my team consists of myself, a double board-certified facial plastic surgeon, two physician assistants, Heather Bryant, MPAS, PA-C and Amanda Piligian, PA-C, and a nurse practitioner, Courtney Whitley, FNP-C. We emphasize the patient's comfort and goals throughout all steps of our procedures.
Trained in Beverly Hills, I have created an atmosphere where all the patients' desires and concerns are met through comfort and guidance. I utilize the safest and most effective techniques to provide the best results for my Charlotte, NC patients while making sure they are at ease before, during, and after their procedures.
The Truth about Painful Treatments
We've all heard the saying, "beauty is pain." Honestly, it doesn't have to be. Today's aesthetic techniques and devices are designed with the patient's comfort in mind. More importantly, the patient should always be the top priority. Doctors must always ensure that patients receive the highest quality care and that safety and comfort are maintained with each patient and every surgical and non-surgical procedure performed.
At Carolina Facial Plastics in Charlotte, NC, we go the extra mile in creating a comfortable, luxurious, and private experience while ensuring patients receive fabulous results. Below, I list 5 ways we help ensure cosmetic procedures are as pain-free as possible.
Dermal Fillers Contain Lidocaine
Patients treated with dermal fillers such as Juvéderm® and Restylane® will experience greater comfort and less swelling because these injectables are already mixed with lidocaine, a local anesthetic that diminishes or eliminates pain felt by patients during the procedure. And since lidocaine helps to reduce swelling, our expert injectors Heather, Courtney, and Amanda can more precisely sculpt and correct facial features.
At our plastic surgery clinic, we can also use a needleless injection technique for lip augmentation that is more comfortable for patients.
When a needle is used for this treatment, the treatment area is poked multiple times. The blunt-tipped cannula used for the needleless technique is similar to a needle except that it is rounded on the end.
The blunt tip pushes the tissue to the sides, thereby causing less trauma than a needle. This approach results in less pain, swelling, and bruising.
Topical Numbing Cream Offers Comfort
Just like its name suggests, topical numbing cream functions as a local anesthetic and works to numb or dull the sensation of pain in an area to which they are applied.
Topical numbing cream will typically have ingredients like lidocaine, benzocaine, pramoxine, dibucaine, or tetracaine, which all block nerve signals in the body, so the patient does not feel any pain.
The cream is applied 30 minutes before a minimally invasive procedure, such as laser or injectable treatments.
Pronox (Laughing Gas) Leads to a More Positive Experience
Pro-Nox is a patient-controlled inhaled analgesic (fixed mixture of 50% Nitrous Oxide and 50% Oxygen) that you can request to help prevent or alleviate discomfort during minimally invasive procedures.
Pro-Nox is designed to reduce anxiety and provide relief but does not put you to sleep or cause you to become unaware of your surroundings.
Since it is patient-administered, you have complete control of the dosage. If and when you need it, you simply breathe through a mouthpiece until you achieve your desired level of pain control.
It has a quick onset (takes effect in seconds) and clears from the body within minutes.
Local Anesthetic for Small Treatment Areas
A local anesthetic will numb a specific part of the body to prevent pain during a minor outpatient procedure. To achieve the numbing effect, our expert physicians will either use topical application or make one or several injections (typically lidocaine) into the area to be treated, numbing the nerves before your procedure.
It usually takes a few minutes for local anesthesia to take effect, and it wears off after a few hours. For more invasive procedures such as a facelift or blepharoplasty, I will combine sedation with the local anesthetic to further relax you for your procedure.
Sedation for Surgery and Non-Surgical Procedures (Oral, IV)
We also use sedation to ease discomfort, pain, and anxiety for patients undergoing surgical and non-surgical procedures. Sedatives can be administered orally through a pill or liquid form such as Valium (Diazepam) or intravenously.
Also known as twilight anesthesia, monitored anesthesia, or conscious sedation, intravenous (IV) sedation consists of both a sedative (to help calm and relax you) and an anesthetic (to block pain) which you will receive through an intravenous line.
You will feel very drowsy, but IV sedation won't put you into a deep sleep as general anesthesia does.
Learn More Today: Schedule Your Consultation at our Plastic Surgery Clinic
Carolina Facial Plastics is an all-inclusive aesthetic destination where me and my first-rate patient concierges will ensure you have a comfortable and welcoming experience at our luxurious offices. We will be available throughout your entire experience, whether a first consultation or a full surgical facial rejuvenation procedure.
To learn more about our procedures and how we can help you have a more comfortable experience, contact our Charlotte, NC plastic surgery clinic to schedule a consultation.
Next, learn about your alternatives to a surgical facelift.