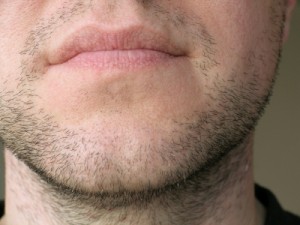 Since the beginning of time, hairstyles and fashions have come and gone. While some have faded and transformed, one seems to linger: the beard. From Abraham Lincoln to Brad Pitt, beards come in all shapes and sizes, but what is their purpose? In light of No-Shave November, we at Carolina Facial Plastics in Charlotte wanted to delve a little deeper into the inner workings of the beard, goatee, fu-man-chu, or whatever other name you might have for facial hair.
According to recent studies, men have kept beards for one purpose and one purpose only—to disguise a small and feminine chin. Sure, some may say that beards project masculinity and demand attention, but that's because the beard is doing its job—too disguise a chin that is more petite than a man would like. Because beards appear bushy and grow outwards from the facial features, it results in a manly look of strength and respect.
Overall, there are three main facial traits that distinguish a manly appearance from a feminine appearance. First off, the skull of a woman is much smaller than that of a man. When either is reversed for the opposite sex, it can result in an unwanted appearance. Secondly, a woman's forehead is usually more vertical, while the ideal look for a man's forehead is to have a slight bulge directly over the brow bone followed by a slope to the top of the face. Lastly, and in some cases most importantly, the lower jaw and chin is the final distinguisher in whether or not one has a manly or feminine appearance. A man's jaw and chin area should be much larger and wider than a woman's and also project outwards.
As a facial plastic surgeon in Charlotte , I perform chin augmentation surgery to provide both men and women with their ideal cosmetic results.
Chin Augmentation In Charlotte
In the past year alone, chin implants and augmentation procedures have become the fastest growing cosmetic plastic surgery. Some attribute this to the prevalence of our images in social media and to video chatting through services like FaceTime and Skype, which often take place at non-flattering angles and cause the users to view themselves in a different light, seeing a much different chin than they've ever noticed.
A chin augmentation is ideal for patients who have  a weak or soft chin, a shortened jaw line, and even a sagging neck. At my practice in Charlotte, I provide patients with chin augmentation surgery to reshape the chin with a silicone  implant.  The implant is placed through an small incision underneath the chin so that it is well hidden.  For patients that do not wish to undergo surgery, chin augmentation can be performed with facial fillers, namely Perlane, Juvéderm, or Sculptra in my office in Charlotte.  This can instantly create a stronger jaw with little to no downtime.. Chin augmentation can help patients increase facial balance, harmony and proportions.
Contact Carolina Facial Plastics Today
If you're wondering whether or not you might be a good candidate to undergo a chin implant or chin augmentation procedure, please contact Carolina Facial Plastics by calling (704) 842-3644 to schedule your initial consultation. As an expert facial plastic surgeon in Charlotte, I can assure you that your every question and concern will be addressed during this time.