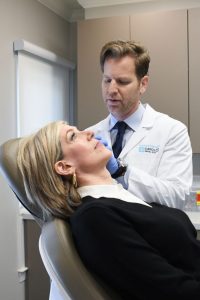 We've been covering half our faces most of 2020, and we'll likely continue doing so into 2021. While the reasoning for this may be causing us stress and worry, our faces don't have to give those feelings away. With only half of our faces appearing to the outside world, now is a great time to focus on beautifying what is showing, like our eyes, forehead, and skin to look and feel our best during this challenging season. 
At Carolina Facial Plastics, our expert team is ready to help you refresh your upper face with our comprehensive cosmetic treatment options. We focus 100% on cosmetic treatments for the face in our luxurious Charlotte, NC office and Fairview Surgical Suites and Recovery Retreat. I, along with our physician assistant Heather Bryant and nurse practitioner Courtney Whitley, will create a customized treatment plan for you and your facial rejuvenation goals so you can attain remarkable results.
What Makes An Ideal Upper Face?
Everyone has their own unique features that make them beautiful. It can also be helpful to understand what qualities create the most aesthetically pleasing faces to most people, such as: 
Skin: clear, has a smooth texture, radiant tone, no laxity

Minimal muscle movement: no dynamic wrinkles 

Volume and contours: in the forehead, cheeks, and upper nose

Brow: no drooping over the upper eyelid

Under eyes: no bags or discoloration

Proportions: midface is widest point
Signs and Causes of Aging in the Upper Face
Our faces change as we age, so qualities our faces once showed may have diminished over time, often before we are ready. Some signs of aging are brought on early due to genetics, such as lines and dark under-eye circles. Other common signs of aging in the upper face include:
Eyebrow shortening and drooping

Skin laxity

Volume loss (creating a caved-in effect)
These changes may make us appear grumpy or sad, despite that not being how we truly feel.
Many superficial changes like bumpy skin, brown spots, and facial wrinkles are caused by sun damage. Sun exposure damages collagen, an essential protein in the dermal structure that gives skin its smooth, supple appearance. UVA and UVB rays penetrate our skin, with UVA rays usually going deeper. Most sun damage happens early in life, during the first 18-20 years, but it doesn't become apparent until later.
Aging is a multi-level process that includes:
Fat pad shrinkage: we lose a teaspoon of fat each year, which begins in our 30s, leading to drooping upper eyelids, volume loss, and hollowing between the eyes

Muscle atrophy or hypertrophy: causes tugging on the skin, creating facial creases

Bone loss and remodeling: eye sockets enlarge and bones decrease in size
Rejuvenation of the Upper Face
Aging is inevitable, but the aesthetic effects do not have to be. They can be reversed and adjusted so you can look as youthful as you feel. At Carolina Facial Plastics, we offer a comprehensive menu of surgical and nonsurgical aesthetic treatments to help you look and feel your best.
Nonsurgical Rejuvenation
Rejuvenation techniques that do not require surgery are a common way to try out anti-aging treatments on the upper face. Heather Bryant, MPAS, PA-C, and Courtney Whitley, FNP-C, are expert injectors, each with more than a decade of injection experience. They can place neuromodulators and dermal fillers precisely where they need to be for your desired results.
Relax Facial Muscles with Neuromodulators
Wrinkles that appear in the upper face are most often dynamic wrinkles because they form as you repeatedly make certain facial expressions. These forehead lines typically appear across the forehead, between the eyebrows (glabellar lines), and in the outer corners of the eyes (crow's feet). Neuromodulators like Botox and Dysport can reduce the appearance of these lines, while maintaining a natural appearance.
These neuromodulators work by relaxing the muscles used to form the dynamic wrinkles. Results do not last forever, typically 3-4 months, so most patients receive neuromodulator treatments three times a year to maintain their results. Some patients who begin treatments early may prevent or delay lines from forming. To learn more about Botox, visit medlineplus.gov.
Restore Volume with Dermal Fillers
While neuromodulators can be effective for diminishing lines and wrinkles above your mask, they cannot restore lost volume in your upper face like dermal fillers can. Fillers are the best option for this concern and can be used to treat:
Wrinkles: around the eyes or forehead

Tear troughs

: brighten dark circles and fill hollowing

Lower eyelids

: restore curvature of cheeks, fill hollowing, lessen tear trough

Deep nasal grooves: add volume to improve curvature of upper nose

Cheekbones: restore volume and definition

Temples: volume restoration to frame eyes and enhance facial contour
We may recommend combining fillers with neuromodulators to achieve the best, most long-lasting results, according to your goals.
Surgical Rejuvenation
When long-lasting results and dramatic changes are the top priorities for your upper face rejuvenation, surgery might be the best option for you. At Carolina Facial Plastics in Charlotte, NC, surgery doesn't have to be an added stress to these already trying times. At our Fairview Surgical Suites and Recovery Retreat, you can enjoy private and luxurious accommodations before, during, and after your procedure. For optimal privacy and sanitation, we only perform one surgery at a time. After your surgery, our team will take you to your private room, where all your meals, snacks, and medical needs will be taken care of by our medical staff and on-call nurse.
Refresh Your Eyes
Your eyes are the clearest indicators of how you feel when your mouth is being completely covered by your mask. It's more important than ever to keep your eyes viewable, not hidden by loose skin, and looking awake. As a double-board certified plastic surgeon who focuses 100% on the face and neck, I can help your eyes look their best with an eye enhancement procedure:
Brow and Forehead Lift

: This outpatient procedure might be good for you if you're concerned about a sagging brow. You may experience swelling for about 10 days, but you should be able to return to work 1-3 days after your procedure. Your results can last 5-10 years.

Blepharoplasty

: You may elect to have an

upper

or

lower

blepharoplasty or both, depending on what part of your eye needs refreshing. During these procedures, I will remove excess skin, tighten loose muscles, and reposition fat around your upper and lower eyelids, depending on your specific aesthetic goals. This can rejuvenate the appearance of your eyes, giving you a well-rested and alert look. Swelling may last for several weeks, but results are long-lasting.

Facelift

: A facelift can address signs of aging across your face and give you a more youthful appearance for 10 years or more. This procedure can: 

Remove excess fat in the neck and jowls

Tighten underlying muscles

Reposition underlying tissue that has fallen over time

Elevate cheeks to a higher, more youthful position

Remove excess, loose skin for a smoother appearance

Mini Facelift

: If your signs of aging are less severe, or if you can't take much time off for recovery, a mini facelift might be a good option for you. You may need 3-5 days to recover, and results typically last 7-10 years.
Schedule Your Rejuvenation Treatment in Charlotte, NC Today
We are experiencing challenging times today, but we hope that by focusing on what you can control, you are able to feel a little better in the midst of the pandemic. To learn more about rejuvenating what's above your mask, contact Carolina Facial Plastics today to schedule your consultation in Charlotte, NC.