When you make the decision to undergo a cosmetic procedure, your goal is to leave the treatment room looking better than you did when you entered. The intention is always subtle improvement that allows you to look like the very best version of yourself without looking like you just had a procedure done. But what if, instead of looking better, you end up looking like you belong on the TV show Botched?
I trained with Dr. Paul Nassif of Botched, so I know all too well the telltale signs of a procedure gone wrong. More importantly, I know how to avoid those results and instead provide exceptional results for my patients. Our team maintains the highest standard of care at our Charlotte, North Carolina plastic surgery clinic, including myself, board-certified physician assistants Heather Bryant and Amanda Piligian, and board-certified nurse practitioner Courtney Whitley. We're sharing some of the clues someone has had work done that you should never experience if you receive care from an experienced, board-certified plastic surgeon.
Rhinoplasty Tip-Offs
Every rhinoplasty is different because everyone's nose and facial structures differ. If a surgeon doesn't understand how to customize this complex procedure, a patient may end up with a one-size-doesn't-fit-all result. Some of the tip-offs of a poorly performed rhinoplasty include:  
Pinched Nasal Tip
The nose tip is often adjusted during a rhinoplasty, but if a surgeon shaves off too much cartilage, the tip can collapse and appear pinched. The tip can also appear too full and droop, creating a "pollybeak deformity" as the nose resembles a parrot's beak.
Turned Up Nose
Some patients undergo rhinoplasty to correct a naturally droopy tip. If a surgeon shaves too much cartilage or septum, the nose can jut upward beyond what is cosmetically desirable. I have fixed this error before with a revision rhinoplasty, as seen in the photo above.
Crooked Bridge
Another rhinoplasty-gone-wrong symptom is a crooked bridge. This can happen when a surgeon attempting to straighten the bridge overcorrects and creates a divot along one side. I have also corrected this mistake with revision rhinoplasty.
Facelift Fails
Facelifts are immensely popular for their ability to address a multitude of cosmetic concerns. When done correctly, the surgery can shave up to 10 years or more off your appearance. If performed sloppily, however, facelifts can cause a multitude of problems, including the telltale surgical signs below: 
Incisions You Can See
When I perform a facelift at my plastic surgery clinic, I place the incisions within the hairline and natural creases of the skin around the ears. The deep sutures allow me to close the incision with no tension so the incisions can heal to the point of being nearly invisible. Inexperienced surgeons sometimes cut the skin in apparent places and do not suture using the most advanced techniques, causing scars to be visible on the face after the incisions heal.
Misshapen Ear Lobe
Facelifts require the perfect amount of lift and stability to look natural and maintain positive results. A surgeon needs to secure the skin to not just other facial skin but also cartilage. If the skin is too taut or not appropriately attached to cartilage, the earlobes may droop over time.
Too Tight Appearance
A wind-blown look after a facelift used to be what everyone expected, but with advancements in technology and techniques, this result should be a thing of the past. This look comes from a surgeon pulling the facial skin too tight without repositioning the underlying tissue. Today, experienced surgeons know how to reposition tissue and muscle before redraping the skin to create a natural, beautiful result. 
Telltale Blepharoplasty Signs
Blepharoplasty can give patients a more awake, youthful look. I often remove fat, excess skin, and muscle. These are sensitive areas of the face that require precision and skill to correct. An inexperienced surgeon can create further issues instead of producing the improvement a patient desires.
Misshapen Lower Lid
In this small area, every micro-centimeter counts. When I perform a lower blepharoplasty, I make sure both eyes are symmetrical in their size and position. A lower blepharoplasty gone wrong can result in misshapen lower lids or lids that droop beneath the iris of the eye, revealing the white of the eye for an unnatural look.
Surprised Appearance
I place upper blepharoplasty incisions in natural eyelid creases. If a surgeon places an incision outside of a natural crease, the entire eyelid shape can change, resulting in an asymmetrical and often surprised look.
Scars You Can See
Eyelid scars become more noticeable when depressed or if a surgeon removes too much muscle or connective tissue. I am careful to place incisions either inside the eyelid or in the natural creases of the eye, using advanced suturing techniques to ensure post-procedure scarring is nearly invisible. 
Filler Flops
You might think filler treatments are a straightforward process, but they require a great deal of precision, skill, and artistry to achieve the most natural results. When your filler flops, the results can be embarrassingly visible, giving you the opposite of the confidence boost you were aiming to achieve. While fillers containing hyaluronic acid can be dissolved if the results are less than stellar, why invest time and money in a treatment you will have to reverse right away? At Carolina Facial Plastics, our expert injectors get it right the first time so you can leave our office with an enhanced appearance and that confidence boost. 
Some of the signs of poorly performed filler treatments include: 
Trout Lips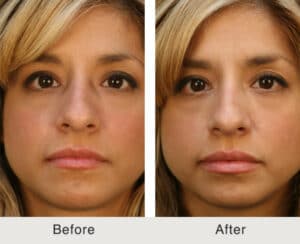 Lip fillers have become a trendy treatment choice, as patients of all ages are tuning into the aesthetic advantage of having fuller, more shapely lips. However, too much of a good thing can leave you with what has become known as "trout pout." When it comes to lip filler, less is usually more, as you can see from these photos of one of our patients.
Puffy Face
Just like the lips, too much filler in other areas of the face can leave you looking overfilled, puffy, and unnatural. Fillers require precision in the amount of filler placed to create the best outcome. Although there can be some minor swelling for a day or two that affects your result, if you are still seeing puffiness after a few days, you likely got too much filler in the treatment area. 
Discoloration
Dosing isn't the only factor that can impact your filler results. When filler is injected too superficially, it can lead to discoloration in the treatment area, known as the Tyndale effect. This is particularly problematic when filler is injected under the eyes to treat hollowing and dark circles. If the discoloration is worse after treatment, it may be that your injector didn't place filler deeply enough to produce the desired effect.  
Bad Botox
Neuromodulators like Botox, Dysport, and Xeomin are effective in smoothing away many facial wrinkles to create a youthful appearance. These products work by targeting the muscles that lead to the formation of certain lines. Without the necessary expertise in facial anatomy to perform these procedures correctly, the result can be asymmetry and unnatural results. 
Arched Browline
The forehead is a common treatment area for Botox, where it can address horizontal lines and even give the browline a subtle lift. However, when it is not placed right, it can lead to an unnaturally arched brow. This might give you a surprised expression or even a sinister look. 
Drooping Brow
At the same time, too much Botox might cause a drooping effect, making you look perpetually bored or tired. This can also prevent you from making natural facial expressions. And while fillers are reversible, you will need to wait 3-4 months for a neuromodulator to wear off before you regain your original appearance.
No Wrinkles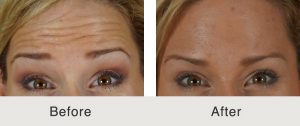 While the goal of Botox is to smooth away wrinkles, a completely wrinkle-free forehead takes on an almost frozen appearance. Most patients want subtle improvement and a naturally youthful look, so placing Botox carefully and using just the right amount of the product is essential to a satisfying outcome.
Achieve Natural Looking Results From Our Plastic Surgery Clinic
No one wants to walk out of their plastic surgeon's office looking like they just had a procedure performed. Dr. Kulbersh and the rest of his expert team in Charlotte understand the importance of subtle, natural-looking improvements that make you more confident in your appearance. If you are ready to transform what you are sure to love but won't be evident to those around you, contact Carolina Facial Plastics to schedule your consultation or book your injectables appointment online today.