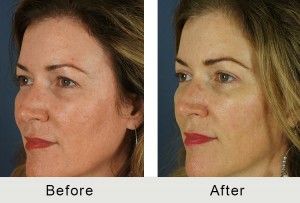 As we age, our eye area can become dull, heavy, and tired looking due to drooping skin, bags, and hollows under the eyes. Our eyes are an important part of our expression, and if they constantly look tired, it can affect our entire demeanor. People may think you are older, sadder, or more tired than you actually are, and it may affect your everyday interactions. A blepharoplasty, also called an eye lift, can help you to regain a youthful, bright expression that matches what you feel on the inside!
I have performed many blepharoplasty procedures, and am able to customize each procedure to my individual patients. Plastic surgery is not one size fits all! I am double board-certified and was trained with the best plastic surgeons in Beverly Hills. I aim to bring the expert knowledge I picked up in the plastic surgery capital of America to my patients here in Charlotte.
Blepharoplasty Eyelid Surgery
Blepharoplasties are one of the most commonly performed plastic surgery procedures because they can open up the eye area and allow a much brighter and more youthful expression to shine through. Rejuvenating the eye area can take years off the face. There are a variety of blepharoplasty procedures: upper, lower, and ptosis repair. These can be done as single procedures, or they can be combined for a full, comprehensive eye lift. Patients often find that an eye lift opens up their entire face, giving a more friendly and vivacious appearance that helps them in their workplace and everyday interactions.
Upper Eyelid Blepharoplasty and Ptosis Repair
An upper eyelid blepharoplasty aims to correct the appearance of drooping, heavy, or puffy eyelids. Drooping eyelids, also called ptosis, is where a person's eyelids droop so low that they affect vision, in which case a blepharoplasty can help to restore that vision by raising the point where the eyelid crosses the iris. Ptosis can be present from birth or appear as a person ages. Even if vision is not obscured, though, many people feel that excessively heavy eyelids give them a sad, tired look that they would like to correct.
During an upper blepharoplasty, the upper eyelid is reshaped by removing excess skin, fat, or both. In some cases, fat can be transferred into hollow areas around the eye to create better shadows and contour. Each individual is different, and I make sure to have a thorough consultation with each of my patients to ensure that we are on the same page regarding optimal goals.
Lower Eyelid Blepharoplasty
A lower eyelid blepharoplasty can address the presence of "eye bags," which many people develop as they age and which can contribute to an older, fatigued appearance. During a lower blepharoplasty, the fat from the eye bags is actually repositioned into the upper cheek, which fills in any hollows left behind and ensures that the area between the cheek and eye is smooth. Lower blepharoplasties are a great way to create a bright and energized appearance.
Non-Surgical Eye Rejuvenation
If your main concern is wrinkles or dark circles rather than drooping eyelids or eye bags, you may be a better candidate for a non-surgical procedure such as facial fillers, chemical peels, or laser resurfacing. Eyelid surgery will not change the color of the skin if the skin has a darker pigment in the under eye region. At times the dark circles underneath the eyes can be cause by a depression or hollowness in the tear trough region. Some of these patients will be candidates for nonsurgical rejuvenation if there are issues are due to depressions in the area. Nonsurgical options include dermal fillers such as Restylane can improve the contour in this area.  As for wrinkles, Botox is a good option for decreasing crow's feet around the eyes, and chemical peels or lasers can be good for wrinkles underneath the eyes.
Schedule an Eye Lift Consultation at Carolina Facial Plastic Surgery in Charlotte Today
For more information about these popular procedures, call Carolina Facial Plastic Surgery located in the Southpark region of Charlotte, North Carolina at (704) 842-3644. You can also contact us by filling out our online form. We are happy to answer your questions and will set up a personal consultation to see if you are a good candidate for an eye lift.