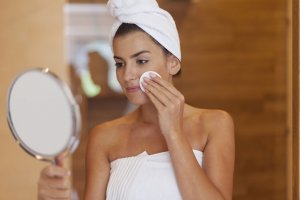 Working for Charlotte's #1 expert facial plastic surgeon Jonathan Kulbersh, MD, definitely brings a few perks. One of them is having access to top-of-the-line, medical-grade skincare, including their own custom-designed medical skin care line, CFP skin care. The other is working with skin experts such as board-certified Nurse Practitioner Courtney Whitley, FNP-C, and aesthetician Terri Edson.
In this blog, Courtney and Terri share their insights about the importance of nourishing your skin with the right skincare products and developing a routine that ensures you maintain a youthful, healthy glow for life.
MORNING ROUTINES
STEP 1: Cleanse and stimulate
Courtney: I start each day by cleansing my skin with a Clarisonic® https://www.clarisonic.com  brush. The brush has made a big difference in my skin over the years.
The Clarisonic:
Whisks off dead skin and debris
Cleanses skin of oils
Enhances skin's ability to absorb serums
Terri: I use the Clarisonic Mia Smart https://www.clarisonic.com/face-brushes/mia-smart-connected-beauty-device.  In addition to a cleansing head, the Mia Smart features another attachment that:
Massages face, neck, and decollètage
Tightens pores
Firm up skin
The Mia Smart is a great way to keep your skin stimulated and rejuvenated in between laser treatments or after you've healed from facial plastic surgery. I also use the Mia Smart with Skinbetter Lines (Lines is a no-needle, hyaluronic acid solution that improves the appearance of lines and wrinkles)
STEP 2: Nourish and moisturize
Courtney: After cleansing, I use Skin Quench — a proprietary formula we developed here at Carolina Facial Plastics. It's drenched with hyaluronic acid (HA).  
Next, I use the InterFuse Intensive Treatment Lines on areas that are prone to wrinkling, including around my eyes and on my neck.
I end this phase with a Carolina Facial Plastics product called Necks Best Thing. In addition to supporting your skin with nourishment, it really smooths out the look of your neck lines.
Terri:  I apply a small amount of Skinbetter https://skinbetter.com/products/ Eye Treatment Cream to my under eye area. I've been using SkinBetter products for about a year and a half now and I love them. They're only available through physicians and can be purchased at our office.
The Skinbetter Eye Treatment Cream is formulated with:
Peptides to relax crow's feet
Vitamin C to brighten skin
Caffeine blend to relieve under-eye puffiness
STEP 3: Defend and Protect
Courtney and Terri: We both use Skinbetter Alto Defense Serum™ on our face and neck, followed by GlowBiotics https://www.glowbiotics.com/ Probiotic HydraGlow Oil, and then finally Elta ® UV Daily Tinted 40. 44.https://eltamd.com/product/eltamd-uv-elementsbroad-spectrum-spf-44/
Alto Defense serum:
Delivers 19 different antioxidants to skin
Shields against environmental free radicals
Reduces redness
Gives overall healthy glow
Strengthens skin
Hydra Glow:
Adds moisture back to skin
Infuses skin with probiotics and antioxidants
Makes your skin radiant and glowing
Is cruelty-free
100% free from parabens, phthalates, sulfates, and other carcinogens.
Has natural-looking tint
UV Elements provides:
Physical sunscreen
Moisturizers
Natural tint
We wear sunscreen (Elta Daily Tinted 44) every day, no matter how sunny or gray.
Courtney: In between the HydraGlow and UV Elements, I add Even Tone Correcting Serum™ Face to reduce the appearance of brown spots and other kinds of hyperpigmentation caused by sun damage.
EVENING ROUTINES
Courtney: After removing my makeup and washing my face, I repeat the first few steps of my morning routine:
Interfuse Face and Neck Cream
Alto Defense Serum
Even Tone Correcting Serum
At night, I get to use my all-time favorite product: SkinBetter's AlphaRet® Overnight Cream. This unique combination of an alpha hydroxy acid (AHA) and a retinoid provides visible skin rejuvenation with little to no irritation.
AlphaRet:
Reduces fine lines and wrinkles
Improves skin texture
Tightens skin
Doesn't irritate or redden skin
Terri: I actually just repeat my morning routine at night, except I don't use the GlowBiotics or the sunscreen.   
Book a Consultation Today
Want beautiful skin? From medical-grade skin care to aesthetic treatments, Carolina Facial Plastics in Charlotte, NC is your best resource to restore and maintain your skin's radiant glow. It's important to buy your medical-grade skincare from a medical practice in order to avoid counterfeit products that can be found online. Contact us today for a consultation or to stock up on your favorite skincare products. Not sure what products to buy? Come in and test our recommendations for yourself, or call us and we can help you find the products perfect for your skin.
More like this: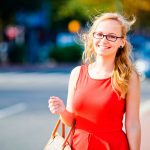 Carolina Facial Plastics Skincare Routines Part 1