To help you achieve all your skin goals this year, I've come up with a treatment plan that will guide you through your skincare journey. This is simply a basic guide, but during your consultation, My team and I can customize a comprehensive 12-month beauty regimen just for you. We will also refresh your procedures every few months to maintain optimal results.
Your Year-Long Commitment To Beautiful Skin
Every Month
Facials

–  A good daily skincare regimen at home is essential for maintaining beautiful and healthy skin. But once in a while, you need to leave it to the skin experts to give you a more thorough treatment. Monthly facials by

Terri Edson

our medical esthetician will not only remove those stubborn layers of dirt, debris, and contaminants but will also allow your skincare products to penetrate even deeper into your skin, providing the most benefits possible. At Carolina Facial Plastics in Charlotte, we also offer advanced skincare lines such as SkinCeuticals that prolong the benefits of a cosmetic procedure as it rejuvenates, hydrates, and nourishes your skin.
Every Other Month
Chemical Peels

– This skin rejuvenating treatment from Terri Edson can effectively improve the texture and appearance of your skin. Chemical peels work by removing a layer of damaged skin. Light peels will only remove the skin's top layer, while stronger peels can remove its deeper layers. As the old, damaged skin is removed, new, healthy skin cells will be produced, giving you clearer, more radiant, and glowing skin. Specifically, a chemical peel can improve skin issues such as fine lines and wrinkles, brown spots, sun spots, dull skin, superficial acne, pimples, and blackheads.

Dermaplaning – aiming to make your skin look smooth, radiant, and youthful, this safe and effective exfoliation procedure promotes cell regeneration that not only rejuvenates the skin but allows your skincare products to better penetrate the skin too. It involves using a scalpel to shave off the surface of your skin to remove the top layer of dead skin cells as well as any fine surface hair which can often accumulate oil anddirt. Dermaplaning can be used on all skin types with conditions such as dullness, dryness, acne scars, fine wrinkles, and sun damage.
Every 3 Months
Neuromodulators – These injectables work by preventing or weakening a particular muscle movement. Administered by our expert injectors Heather

and

Courtney

, neuromodulators such as

Botox

and

Dysport

address common signs of aging such as forehead horizontal creases, crow's feet, "11" lines, smoker's lines, and vertical neck bands, giving you a more youthful appearance. In addition, these wrinkle smoothers can also be used to subtly raise the brows for a mini brow lift effect or can be injected into the masseter muscles in the jaw for a slimming effect to soften and feminize a square jaw. We only use the smallest needle possible for these injections, to avoid bruising and discomfort.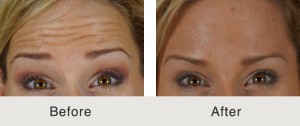 Every 6 Months
"Vampire Facials" with Microneedling

– Using your body's own PRP (platelet-rich plasma) and microneedling procedures to inject growth factors directly into your face to encourage your body to repair the skin naturally. PRP is pulled from your own blood and separated with a centrifuge in our office, hence the name "vampire facial". PRP is proven to repair damaged cells and is often used by orthopedic doctors to repair joints and ligaments. Micro-needling creates small channels and injuries, allowing the platelet-rich plasma to sink into the skin. As platelets penetrate these micro-injuries, they will become activated and will stimulate cell growth, collagen production, and overall healing of the skin. This additional boost of your natural healing factors enhances the final results of the micro-needling treatment.

Facial Fillers

– Loss of facial volume is one of the biggest contributors to your tired and aging appearance. Facial fillers are injectables that can restore your lost volume, making your face look more refreshed and youthful. They can treat a variety of age-related problems including smile lines, marionette lines, decreased cheek definition, smoker's lines, under-eye circles, wrinkles, facial creases, and recessed scars. Facial fillers can provide you with subtle yet powerful anti-aging results. Heather and Courtney are expert injectors and can give you the full, natural look you want. I have coined the "Needle-less Injection Technique" which aims to decrease any discomfort, as well as any bruising or swelling. Instead of using a needle to inject the filler, I use a blunt tip cannula. By minimizing any side effects, you can show off your new look much faster than traditional needle injections.

Intense Pulsed Light (IPL) Treatments

– For a comprehensive anti-aging treatment plan, I believe in a medical-grade skincare regime that includes

IPL and laser treatments

. These treatments can improve your skin's tone and texture. The Limelight Intense Pulsed Light procedure, for instance, is wonderful at treating pigmentation and vascular issues including brown spots, redness, spider veins, and broken capillaries. The IPL we use at Carolina Facial Plastics has three wavelengths to choose from, allowing us to customize every treatment according to your pigmentation issues and to provide the greatest versatility for achieving the best results. To learn more, visit ncbi.nlm.nih.gov
Begin Your Skin Care Journey Today At Our South Park Skin Care Clinic
If you'd like to learn more about our nonsurgical beauty treatments that will help you achieve all your skin goals this year, or would like to schedule a consultation, please contact our Charlotte skin care center by filling out our online contact form.