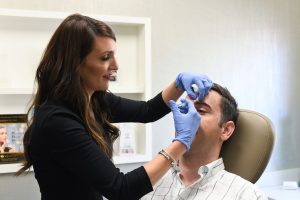 Most people recognize the name Botox for wrinkle reduction. We all have friends who think Botox is everything in facial aesthetics! When that moment occurs, we at Carolina Facial Plastics are here to step in and explain the differences. We do LOVE Botox, but it is not the only option. There are alternatives to Botox that work in the same way and originate from the same source. When it is explained to patients that they have options of wrinkle reducers, their interest is piqued, and the most common questions that follow are "What is the difference?" and "Which one is right for me, and why?"
At Carolina Facial Plastics, we understand why our patients want to know about their choices in order to determine which treatment is best for them. Every patient is unique, and during your consultation, we will determine the best choice for you, together. There are a few different options for wrinkle reduction and what may work well for one person might not be the best choice for another.  During the consultation, we will assess your facial muscles by having you scowl, raise your brows, and do some other funny faces. These facial movements allow us to determine your unique muscle strength and movement. This allows us to make the correct choice when determining the best wrinkle reducer for our patients.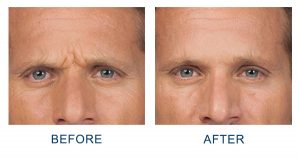 After your consultation and assessment, we will discuss the different options for treatment. Once our patients understand the difference and why we may recommend a certain wrinkle reducer, along with knowing that we have their best interest at heart, they often seem to defer the decision to us. Trust is so important in a patient/provider relationship, especially when it comes to your face!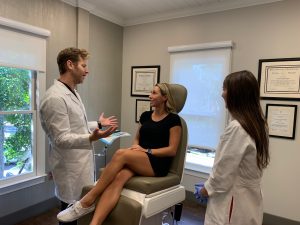 Botox, Dysport, and Xeomin are all FDA-approved to soften fine lines and wrinkles to the upper face. The most commonly treated areas are crow's feet, frown lines, and the forehead.  At Carolina Facial Plastics, we have chosen to use Botox and Dysport. All three work well, but Dr. Kulbersh and his associates have made the decision to use Botox and Dysport, as we feel they provide the best results. Both Botox and Dysport have the ability to last from three to six months with each treatment. The amount of time the results last can vary from patient to patient.  
What is Botox?
Botox is owned by the company, Allergan.  Allergan is a large company and they have the ability to run large amounts of advertisements on TV, social media, and magazines. Botox was the first of its kind and therefore most people recognize its name. Millions of Americans have been using Botox as part of their anti-aging regimen for many years.  Once injected into the treatment areas of choice, Botox takes about 7-14 days to fully "kick-in." We decide where to use Botox in areas of the face depending on whether we want to minimize the spread of the toxin or have it stay exactly where we put it.  Typically, we use Botox in the scowl lines (or 11's) and forehead area or with patients that have smaller features, such as a shorter forehead. The results are amazing and like a lot of our patients say, "life-changing." Personally, we have to agree!  Along with softening the lines of the upper face, Botox somehow has the ability to make the quality of the skin look better.  So not only do you have to soften fine lines and wrinkles, you have great skin too! To learn more about Botox, visit fda.gov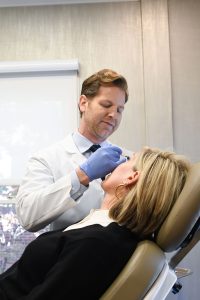 What is Dysport?
Dysport is owned by the company, Galderma.  Galderma is also a very large company with the ability to run many advertisements in various outlets, but with Botox being the first to the market, we still get a lot of patients that do not recognize the Dysport name. At Carolina Facial Plastics, we actually have a large population of patients that prefer Dysport once they try it. Dysport typically kicks in a little quicker than Botox, usually 3-5 days, and, according to many of our patients, "lasts longer."  Dysport often has a larger spread and can cover larger areas of the face. Dysport is our personal favorite for crows feet, as we feel it has the ability to reduce the lines around the eyes more effectively. We also prefer Dysport for patients that have longer foreheads and those pesky wrinkles that form at the top of the forehead or hairline. We have also been told that Dysport is "life-changing" and makes the skin look amazing as well. Again, we have to agree with this!!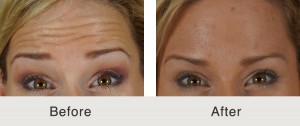 There are instances where we will use both Botox and Dysport on the same patient to give optimal results. Every patient is unique and we will work hard to come up with the best-individualized treatment plan for you.  The most important decision in undergoing Botox or Dysport is the choice of your injector.  At Carolina Facial Plastics, we have specialized in only the aesthetic treatment of the face and all of our injectors have completed many thousands of successful injections of Botox and Dysport.  We would encourage you to trust your face with an expert.
How Do I Schedule a Consultation for Wrinkle Treatment in Charlotte?
If you'd like to learn more about whether Botox or Dysport may be an option for you, or would like to schedule a consultation, please contact our office by filling out our online contact form or by calling (704)323-5090. We look forward to seeing you.  
Next, read about a single year's guide to skincare treatments.